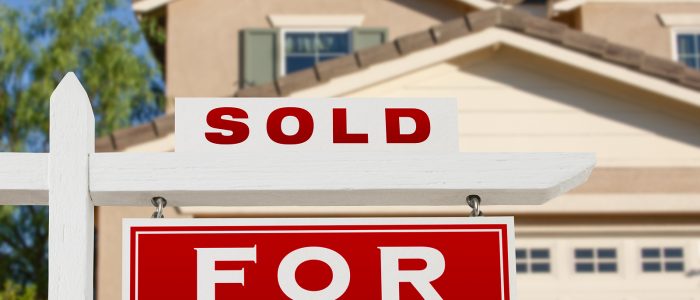 Home sales and under contracts counter new listings keeping median prices steady
ENGLEWOOD, CO – Oct. 12, 2021 – With new listings easily countered by the volume of closed and under contract properties, the median price of homes remains steady or has continued to rise in markets across the state, according to the latest monthly market data and analysis from the Colorado Association of REALTORS® (CAR).
As a result, active listings in the seven-county Denver metro area fell 6.4% from August to September for single-family homes while condo/townhomes slid 12%. Year over year, active inventory for single-family is down 36.7% and just shy of -60% for condo/townhomes. Statewide, those numbers were mirrored with a -5.4% for single-family and -11.9% in the condo/townhome category. Year over year, single-family actives are down more than 30% while condo/townhomes are off more than 55%.
While potential homebuyers may not be facing the same flurry of competition, the median price of a single-family home in the seven-county Denver metro area sits at $562,000 at the end of September, a more than 14% appreciation over the same time last year. At a median $380,000, condo/townhomes are nearly 12% higher than September 2020. Statewide, median pricing remained relatively flat from August to September however, single-family homes are up 15.6% over the same time last year at $520,000. Condo/townhomes show a year-over-year appreciation of 11.6% taking the median price to $385,000.
SEVEN-COUNTY DENVER METRO AREA
STATEWIDE SINGLE-FAMILY REPORT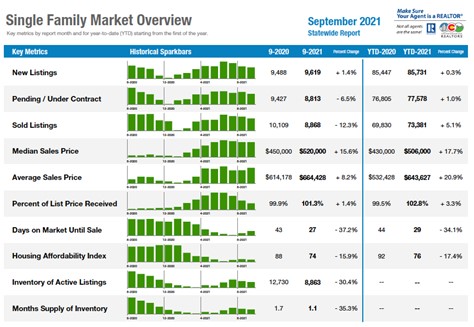 Taking a look at some of the state's local market conditions, Colorado Association of REALTORS® market trends spokespersons provided the following assessments:
AURORA
"September continued to reflect our very low inventory numbers overall. However, it's interesting to note that in Centennial, inventory was up about 20% from August 2021 and the median price down just slightly to $595,000 for single-family residential. Under contract listings were still very robust, up 16% from 2020.
"Aurora also saw a few more listings on the market, up 38% from August 2021. Great news for buyers. Despite that increase, the median price held steady at $495,000, clearly indicating that listing inventory is in very high demand.
"An interesting zip code to watch is 80019 (northeast Aurora near the Gaylord Hotel); where listings were up about 30% from August 2021; and the median price was up $50,000 in just one month. Year over year, the median price is up 28%, or $130,000. Buyers that purchased a new build, dirt-start construction home nine months ago are experiencing closings with $75,000 to $100,000 in equity. This is a great investment for these buyers that purchased new construction. Buyers that went under contract in the mid $400,000 price range are closing with appraisals in the mid to high $500,000 price range. Resale buyers in this area are experiencing the same appreciation in the 30% range from the median price just one year ago. The amount of building in this area is incredible," said Aurora-area REALTOR® Sunny Banka.
BOULDER/BROOMFIELD
"While Denver enjoyed a solid appreciation rate around 15% so far this year, Boulder has been on fire with about 30% appreciation in the single-family home market. The lure of working remotely with the Flatirons right out your window and trails right out your door has taken this market to a new level. Migration from Texas, California and New York has picked up steadily over the year and Boulder now is enjoying its new neighbors from all over the country.
"While the market has slowed with the typical fall seasonality, it remains strong with houses selling in less than about 45 days and for an average 3.6% over list price. The townhome and condo markets have rebounded from their pandemic slumber and have appreciated 10% since the beginning of the year. They are also typically selling for over list price.
"Broomfield seems to be equally as popular with single-family homes and townhomes all selling in around 30 days. Appreciation isn't quite so robust, but mirrors Denver's appreciation at 14.4% for the year. The window for buyers to get in while the market is slower is right now. I expect the spring market in 2022 will be back to the races," said Boulder/Broomfield-area REALTOR® Kelly Moye.
COLORADO SPRINGS/PIKES PEAK AREA
"The fresh scent of fall was in the air. The days were still hot, but the evenings were cooling off and you could sense a change in the weather. Colorado can really have some great fall weather when it cooperates. And I think real estate is also this way this time of the year. School is back, summer is over, and housing was really hot, and yet, at some points, felt like it cooled off a bit. While many homes continued to receive multiple offers, others were actually sitting a little bit. Some even saw a price drop before going under contract. And real estate seems to be this way every year around September. So, for most of us, we were expecting a mixed feeling in September. Maybe even a little breather.
"September remained a very good month though. Year over year, we were up 14.8% on median price, and a lot of that can be attributed again to low inventory and high demand. We dropped on active listings 14.9%. So, once again, sellers were in the right place at the right time to sell their homes, and buyers remained competing most of the time. Toss in the investors and iBuyers and you still run into a frustrated buyer pool and equally frustrated buyer agents. Both competing often and losing out frequently.
"But are the winds of change upon us? Nationwide unemployment continues to be a concern as first time unemployment claims are consistently in the 350,000 per week range. New jobs created was dismal in September coming in far below expectations. Toss in higher gas prices at the pump, inflation fears that won't go away, grocery prices skyrocketing, and a pandemic that appears to never leave the news. All of this may be a set up for an actual cool down. The economy is retracting. Economic trends take time to work through the economy. My best guess is we have about six months before we begin to hear that housing has peaked throughout most of the Pikes Peak region and that we may actually be settling in for a more balanced market," said Colorado Springs-area REALTOR® Patrick Muldoon.
DENVER COUNTY
"Condos and townhomes are back. While we finally see a massive rebound after the urban-flee and living space expansions of last year, the freestanding home category was nearly a carbon copy of pre-pandemic September 2019. With virtually indistinguishable new and sold listings during the month and the appreciation year-over-year coming in within a rounding error, the only highlight is really the now predictable median price increase, now $610,000 vs. 2019's $490,000. Not to completely ignore 2020, (though many of us would like to) it's hard to compare it to anything that resembles 'normal' or otherwise follows a trend.
"In contrast to the otherwise mellow freestanding market is the condo and townhome world. Having not only recovered from the 2020 mass exodus, the median price has skyrocketed to $448,000 vs. 2019's $380,000. Of particular interest over 2019's numbers are the fact that 2018 to 2019 saw a whopping 7.8% decrease in median price, '19 to '20 saw a positive 2.6% and last to this year, 15.4% appreciation.
"While quarantine-limited interaction and an ever-so present return to 'normal' seems to be looming, the stigma of attached living appears, at least for now, to no longer be affected by worry and fear," said Denver-area REALTOR® Matthew Leprino.
DURANGO/LA PLATA COUNTY
"In September, we simultaneously watch the fall temperatures drop along with the number of new residential listings on the market. The number of active listings is being outpaced by pending sales two-to-one. Durango had one of the busiest tourist seasons on record, and the typical shoulder season we see in the fall has yet to happen, though total residential volume sold is less than we've seen in the past few months. The demand for housing continues to be very robust. Because inventory leaves limited choices, buyers continue to pay premiums for their homes. September finally saw the percent of list price received falling to 99.1% from 101%, an indicator that buyers are beginning to shy away from the competing offer game. Prices for single-family homes continued to rise to new highs with an average sales price for September creeping up to almost $800,000, a 22% increase over 2020 values. Days on market continues to decline to more than 35% from 2020. Inventory levels of homes for sale remain very low at just under a two-month supply. Historically, inventory levels decrease over the winter months. With just over a hundred active properties to choose from in the entire county, we expect slim pickings for buyers in the market this winter.
"The townhome/condo market currently mirrors the single-family market with similar appreciation, decreased sales when compared with summer months, and new listings coming on to the market. The current supply stands at less than one month of homes on the market, making it even more competitive than the single-family market. Affordability is a huge issue, with the average sales price breaking the $480,000 mark in September. Townhomes and condos traditionally have been great options for workforce housing. Now, fewer and fewer residents can afford the prices. As of the writing of this report, there are only three active condo listings in La Plata County. Buyers are hopeful that prices will begin to fall with the leaves as we approach winter, but the off-balance supply to demand speaks otherwise," said Durango-area REALTOR® Jarrod Nixon.
ESTES PARK/LARIMER COUNTY
"Larimer County is a fun and fast-paced market, but maybe not so fun for buyers as homes continue to fly in/off the market as fast as the MLS will allow the entry. Days on market have been slashed in single-family homes by 32.1%, taking the average to just 38 days. Townhouse/condos are going even faster with a 51.4% reduction in days on market as compared to September last year, down to only 36. Sold listings are down 21.3% for single- family homes, and down 2.7% for townhouse/condos. However, townhouse/condos are keeping the market moving with new listings up 11.3% compared to September last year while single-family homes aren't quite doing the same with a dip of 20.3% in new listings.
"The average sales price continues to climb with the fast-paced and competitive market. Single-family homes are up 10.4% compared to September 2020. Year-to-date, the average sales price has jumped 16.3% to $579,262. Townhouse/condos are following suit with a jump in average sales price of 14.1% to $384,530 year to date.
"The inventory is a hardship with a 38.7% dip in single-family homes and an even bigger shortcoming in townhouse/condos at -51.8% from September last year," said Estes Park-area REALTOR® Abbey Pontius.
FORT COLLINS
"Northern Colorado's September sales numbers show a seasonal downshift from the accelerated pace of the spring and summer months. A rise in COVID cases in August, a focus on back-to-school logistics for families, and a continuing constrained inventory of homes for sale has led to a drop in all sales categories.
"In Fort Collins, new listings available for sale dropped to just 249 homes at the end of September – a drop of 17.5% from the previous September and a drop of 28.5% from August. Increased inventory continues to be hampered in the new construction arena from the continued fallout of supply chain driven materials shortages and price increases along with skilled labor shortages. Resale inventory is still in short supply as potential home sellers remain frozen in place with nothing to either trade-up or trade-down to and the influx of buyers from other states continuing to drive demand. Greeley remains one of the most affordable in Northern Colorado as the only community with a year-over-year increase in listings. This is likely due to the high number of new construction homes available in Weld County.
"Pricing is still quite frothy for Fort Collins as the median price remains over the half-million-dollar mark at $525,000, down $30,000 from the year-to-date peak of $555,000 set in August. Nonetheless, pricing sensitivity has forced the over-asking phenomena to ease somewhat as the average sale price to asking price was just 1.3% over asking. Considering the high water mark this summer was nearly 5% over-asking in June, fierce competition is waning a bit as we head into Autumn.
"Affordability in northern Colorado continues on its decade-long decline as the median priced home to median annual income ratio has fallen to 75%. With so few single-family homes available below the median price – median income buyers are turning in greater numbers to condos and town homes where the affordability ratio is at 114% which relieves a bit of the financial pressure of home ownership.
"For the time being, interest rates remain quite low – but that is likely to change once winter is over. Even with the limited inventory of homes available, making a purchase in this somewhat slower and less competitive market may be a buyer's best bet for getting into a home of their own before the holidays are in full swing. Sellers will want to make sure their homes are in tip-top showing shape and priced aggressively to get the best price and terms from the buyers actively looking right now," said Fort Collins-area REALTOR® Chris Hardy.
GOLDEN/ARVADA – JEFFERSON COUNTY
"Jefferson County saw a seasonal slowdown and sold listings declined 2.9%, enough to make an impact. Buyers were advised if they had not purchased a home yet, now was the time to get back into the market. Also on a downward spiral, inventory fell 20% and average days on market was down 40% to 12 days compared to this time last year. The median sales price ticked up to $600,000 for single-family homes, an increase of 12.1%. Now that school is in full force, some additional homes have hit the market but not a huge amount.
"For condo/townhomes there are more declining numbers. New listings fell 13.6%, days on market -23.6% and inventory a whopping -41.7% year-over-year. To make matters worse, the median sales price increased to $370,000 for condo/townhomes, an uptick of 17.6% pushing more and more first-time homebuyers out of the market. People who have lived in the metro area for decades are now finding themselves at a disadvantage with the competition to buy a home," said Golden/Jefferson County-area REALTOR® Barb Ecker.
PUEBLO
"While many area REALTORS® believe the market has slowed down, the numbers don't support that opinion. New listings were up 23.9% in September compared to September 2020 and were up 11.6% year-to-date. Pending sales were up 5.9% over last September however, solds dropped 6.5% over last September. But solds are still up 3.9% year-to-date.
"September's median price was up 15.5% to $283,000 and up 21.7% year-to-date to $280,000. The sales price to list price is up 0.5% to 100.3% in September and up 2.3% to 101.1% year-to-date. This marks nine months that solds have remained over list price in the past year.
"We are starting to see a few more contracts fall through, more buyer issues than sellers. Also, we're seeing more price reductions as sellers are getting more realistic about pricing their homes too high. We've had more out-of-town builders coming to the Pueblo area, that will provide a little relief to our low inventory issues once they get rolling," said Pueblo-area REALTOR® David Anderson.
STEAMBOAT SPRINGS/ROUTT COUNTY
"Two weeks into the 4th quarter and I'm in disbelief as to where this year has gone? Maybe that's why Jim Croce's lyrics of 'Time in a Bottle' keeps churning through my head? Undoubtedly, if I could save time in a bottle, it would be back to a simpler housing situation. For September, single-family had 25% less new listings and 43.1% less active listings; multi-family was similar with 26% less new listings and 47.9% less active listings than September of 2020. Median sales price YTD now sit at $1.175M for homes and $646,740 for townhomes and condos."
"Buyers who have a box just for wishes of purchasing real estate in Routt County ponder this inventory situation and wonder if this dream may never come true, or at least, in the near future? On October 11, 2021, Aldo Svaldi, a reporter for the Denver Post, wrote, 'More isolated areas tend to lack active new home construction. When more buyers show up, prices can surge and gains off smaller values can look huge, even if they are still manageable. The more fundamental problem, one that was an issue before the pandemic, and one that will remain so after it passes, is an inadequate supply of homes.' This statement certainly rings true for Routt County and so the supply for single-family homes teeters at about two months and slightly less than a month for multi-family, both of which represent a 50% decrease from the same time last year. "
"There are good things on the horizon for Steamboat and Routt County – both with the west-end development and the ski area – both of which will take time. Virtues of patience and endurance will continue to be factors for Buyers for some time. Those may be the words that could make wishes come true," said Steamboat Springs-area REALTOR® Marci Valicenti.
SUMMIT, PARK AND LAKE COUNTY
"The leaves on the Aspens are changing and so is our market. Seasonality trends typically see real estate starting to slow down as families leave their second homes to get their kids back in school. We are usually wrapping up sales from the busy summer season; but bump into any mountain REALTOR® today and the first comment you will hear is about how busy our market is. Compared to last September, new listings were up 16.2%, all average prices are rising, properties are getting asking price and selling faster as days on market are down almost 63%. These numbers still show there is plenty of opportunity in a wide price span for ownership in the mountains.
"Our local buyers have jumped up to 24% of the market and the front range buyers make up 44%. This September, the lowest cost residential property that sold was $315,000 for a one-bedroom condo, more than 5% over list price, and the highest sold was $5.75 million for a five-bedroom, single-family home.
"We continue to watch Breckenridge and Summit County as they discuss and change short-term rental regulations. There is a lot of turmoil as Breckenridge tries to figure out a new ordinance for capping licenses. Summit County is trying to take a more flexible approach, but ultimately rules are changing, and a close eye will be kept on if or how these changes will affect our market," said Summit-area REALTOR® Dana Cottrell.
September Average Prices (% change YTD from Previous Year)
| | | |
| --- | --- | --- |
| Single Family | Year to Date | Average Price YTD |
| Summit County | 29% ↑ | $ 1,876,658 |
| Park County | 33% ↑ | $ 542,139 |
| Lake County | 46% ↑ | $ 495,339 |
| | | |
| Townhouse / Condo | Year to Date | Average Price YTD |
| Summit County | 17% ↑ | $ 662,886 |
TELLURIDE
"The Telluride/San Miguel County real estate market continues its record pace with $132.8 million in sales in the month of September pushing the total dollar volume over $1 billion for the first three quarters of 2021. The third quarter of 2021 produced a dollar volume of more than $373.9 million, an all-time dollar volume record for any third quarter sales in San Miguel County. The year-to-date number of sales (711) is up 143% over the five-year average for the same period of time.
"Highlighting a sector of our market is the Mountain Village condominium sales with 124 units sold in the first three quarters ending September 30. That is up 130% over the first three quarters of 2020 in the number of condominium sales. What is so unbelievable is that on September 30 of this year, there were only eight condominiums for sale in the Mountain Village in all price ranges.
"In the last two years, the Mountain Village hasn't seen a home sale over $10 million. Just last week, a home sold for $17 million, just over $2,000 per square foot. Also, last week, a ranch 30 minutes west of Telluride went under contract asking $24 million and a home in the town of Telluride went under contract asking $18 million. While the high-end market in the Telluride region has been setting new records, so is the lack of inventory," said Telluride-area REALTOR® George Harvey.
VAIL
"September 2020 was a record unit and dollar sales level for the Vail Valley Market. Sold transactions totaled 235 units valued at $487,672,240 which were well above any previous single month in our history. This was the pinnacle of the tremendous surge we experienced starting in July 2020. We have been comparing with 2020 performance for the past couple of months and predicted we would still see a very strong market, but it would have to settle into a more normal market trend. September 2021 was historically a strong month with 163-unit sales and $320,013,560 in dollar volume. Obviously, a dramatic decline in units and dollars. However, to put it in perspective, we need to look at YTD numbers to evaluate the market performance. In 2020, the transactions were 1,070 with $1,660,351,332 versus 2021 at 1267 units and $2,191,542,395 on a YTD comparison. This performance in transactions YTD is positive 18.4% and dollars plus 32%, which reflects the appreciation and change in mix toward higher priced units.
"There are a myriad of reasons driving the dynamics of the market. Lack of inventory, with particularly low inventories in opening price points. The result is driving buyers into higher priced niches to secure the right product. The inventory of actives is a total 258 units which is negative 52.2% with a preponderance of inventory in the mid- and upper-price niches. This translates to 1.6 months supply which is 64.4% below September 2020. The buyers are still looking for homes, but the inventory is holding back the market at this stage. We have seen more activity than usual for this period in our normal market and look to the coming ski season for increased activity in new listings which will help to feed the hunger of buyers.
"Predicting the fourth quarter is next to impossible with inventory so low however, we are optimistic about buyer enthusiasm and just need some more sellers to enter the market," said Vail-area REALTOR® Mike Budd.
Seven-County Denver Metro Area – Inventory of Active Listings
Statewide – Inventory of Active Listings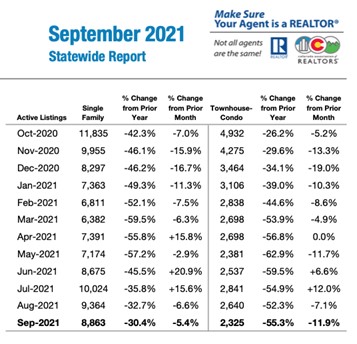 Seven-County Denver Metro Area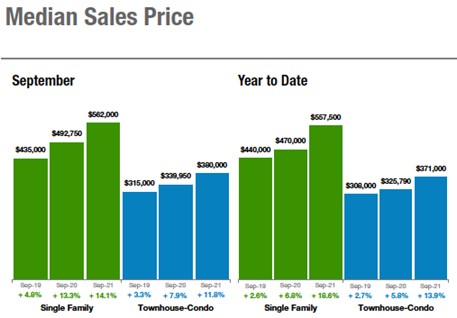 Statewide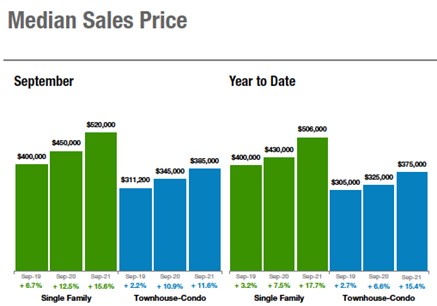 The Colorado Association of REALTORS® Monthly Market Statistical Reports are prepared by Showing Time, a leading showing software and market stats service provider to the residential real estate industry and are based upon data provided by Multiple Listing Services (MLS) in Colorado. The September 2021 reports represent all MLS-listed residential real estate transactions in the state. The metrics do not include "For Sale by Owner" transactions or all new construction. CAR's Housing Affordability Index, a measure of how affordable a region's housing is to its consumers, is based on interest rates, median sales prices and median income by county.
The complete reports cited in this press release, as well as county reports are available online at: https://www.coloradorealtors.com/market-trends/
###
CAR/SHOWING TIME RESEARCH METHODOLOGY
The Colorado Association of REALTORS® (CAR) Monthly Market Statistical Reports are prepared by Showing Time, a Minneapolis-based real estate technology company, and are based on data provided by Multiple Listing Services (MLS) in Colorado. These reports represent all MLS-listed residential real estate transactions in the state. The metrics do not include "For Sale by Owner" transactions or all new construction. Showing Time uses its extensive resources and experience to scrub and validate the data before producing these reports.
The benefits of using MLS data (rather than Assessor Data or other sources) are:
Accuracy and Timeliness – MLS data are managed and monitored carefully.
Richness – MLS data can be segmented
Comprehensiveness – No sampling is involved; all transactions are included.
Oversight and Governance – MLS providers are accountable for the integrity of their systems.
Trends and changes are reliable due to the large number of records used in each report.  
Late entries and status changes are accounted for as the historic record is updated each quarter. 
---
The Colorado Association of REALTORS® is the state's largest real estate trade association representing more than 29,600 members statewide. The association supports private property rights, equal housing opportunities and is the "Voice of Real Estate" in Colorado. For more information, visit https://www.coloradorealtors.com.