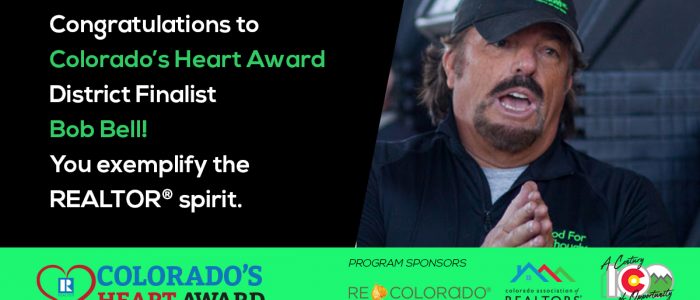 NAR Honors Realtor® from Denver as 2021 Good Neighbor Award Finalist
WASHINGTON (September 2, 2021) – The National Association of Realtors® has selected Bob Bell, a Realtor® from Denver, Colorado, among 10 finalists for its 2021 Good Neighbor Awards program. This award honors Realtors® who have made significant, tangible volunteer contributions in their communities to improve the lives of their neighbors in need.
Every Friday, Bell and hundreds of volunteers meet to pack and deliver weekend meals for 10,000 at-risk children scattered across 72 Denver-area schools. By eliminating overhead and relying on his dedicated volunteers, Bell has turned Food for Thought into a powerhouse, with 497,205 backpacks of food delivered to date, the equivalent of almost 4 million meals.
"Despite the many challenges navigating COVID-19 restrictions and running a nonprofit during the pandemic, Bob was there to help his communities at a time when those contributions were needed most," said NAR President Charlie Oppler. "I am so proud to honor Bob and the rest of this year's Good Neighbor Award finalists for continuing the Realtor® tradition of giving back and making a difference."
Beginning today, the public can vote for their favorite of the 10 Good Neighbor finalists. The top three finalists will be recognized as Web Choice Favorites and take home an additional donation of $2,500, $1,250 and $1,250, respectively. Cast your vote at realtor.com/goodneighbor between September 2 and October 1.
Both the winners, as determined by judges, and the Web Choice Favorites will be announced on October 6. The five winners will receive a $10,000 grant and national media exposure for their charity, including a feature in the fall issue of REALTOR® Magazine. The winners will be honored during the 2021 REALTORS® Conference & Expo in San Diego, Calif. Five honorable mentions will receive $2,500 grants.
NAR's Good Neighbor Awards is supported by primary sponsor realtor.com®, plus Chase and The Center for REALTOR® Development.
"Volunteers help bring and hold communities together, especially during challenging times like those we continue to face today," said realtor.com® CMO Mickey Neuberger. "The Good Neighbor Awards finalists exemplify that spirit of volunteerism, and we are proud to celebrate and recognize the impact these changemakers have had and the lives they've touched."
Nominees were judged on their personal contribution of time as well as financial and material contributions to benefit their cause.
###
Bob Bell was also a Metro District Finalist for the CAR Foundation's Heart Award in 2021 for his work through Food for Thought, a program that feeds students and their families over the weekends.