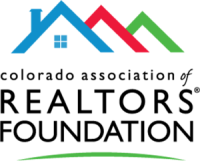 MAKE A DIFFERENCE IN YOUR COMMUNITY
REALTORS® make a difference in their communities every day, and in 2020, Coloradans across the state needed our help more than ever. Thousands of Coloradans lost their jobs during the COVID-19 pandemic, jeopardizing their ability to pay for housing in a market already in the midst of an affordable housing crisis.  At its peak, more than one in ten Coloradans was unemployed.  Concurrently, catastrophic wildfires roared through the state, burning more than 650,000 acres across Colorado, much of that acreage torched in the three largest wildfires in state history.  Hundreds of homes were destroyed. The Colorado Association of REALTORS® Foundation took action by distributing more than $350,000 in grant funds to approved nonprofits, an increase of nearly 600% over the prior year. 
Funding from the CAR Foundation helps families like John and Carolyn's. Longtime teachers in the Salida School District in Chaffee County, they couldn't afford to buy a home near their workplace. Median home prices in Chaffee County have soared to more than $475,000 and there is little inventory of lower priced homes. With nothing on the market they could afford, John and Carolyn were forced to rent. When they became guardians of their three granddaughters (two of whom were under the age of five!), their landlord complained about the noise and told them they would have to move out. John and Carolyn feared they had no choice but to move away from the Salida community they loved, which would impact not only their family but many students and families in the Salida School District.
The Chaffee Housing Trust, an organization funded by the CAR Foundation, came to the rescue.  Grants from the CAR Foundation enable the CHT to develop and build affordable homes in the Salida area.  Potential homeowners are guided through an application and qualification process to purchase the homes.  John and Carolyn were elated when they were approved for a CHT home, built with grant funds from the CAR Foundation.  Now they and their granddaughters live in a stable home in a community of neighbors where they can socialize on their front porches, share food, and even get help with childcare.  John and Carolyn can see themselves retiring in their home after the girls grow up.  The stability of homeownership has been a saving grace for their family and the Salida community.
INVEST in Colorado
REALTORS® can make a bigger difference in their communities when they invest in the Colorado Association of REALTORS® Foundation. Coloradans still need our help in 2021. It is clear that Colorado communities are still struggling through the disastrous effects of the pandemic and wildfires amidst a shortage of affordable housing in the state.
Your Gift Makes a Difference:
$50 gift could provide a hotel voucher to a family in need of emergency short term housing
$100 gift could provide educational materials to potential home buyers, preparing them for the process and helping them learn to save for a down payment.
$250 gift could provide case management for a victim of domestic violence working through the process of procuring independent housing for the first time.
$500 gift could furnish a tiny home for a veteran with all the kitchen, bath, and bedding items needed.
$1000 gift provides mortgage or rent assistance to a family displaced from their home due to a natural disaster.
$2500 gift provides housing near the hospital for two families while their loved ones undergo cancer treatment.
$5000 gift provides construction services to retrofit a family home to enable access for a disabled family member.
$10,000 gift provides building materials for an affordable housing site in a county where the median home price far outpaces the average worker's wages.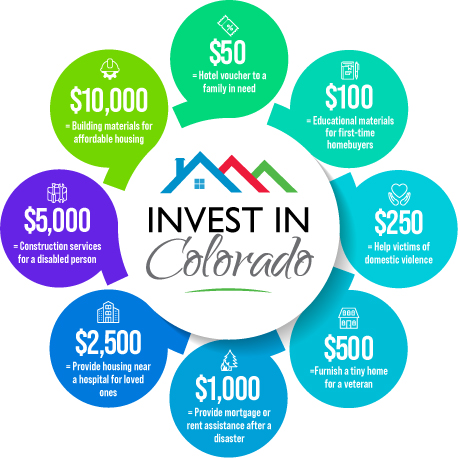 The CAR Foundation is asking for your help to support our 2021 Grant Cycle. Your donation today will have DOUBLE THE IMPACT through a pledge to match dollar for dollar by the Colorado Association of REALTORS®.
Join us in investing in Colorado today, and make a difference in the lives of Coloradans. We can't do it without you.
Donate $100 or more and receive a digital badge to make marketing your impact easy, as well as our iconic Heart Pin.