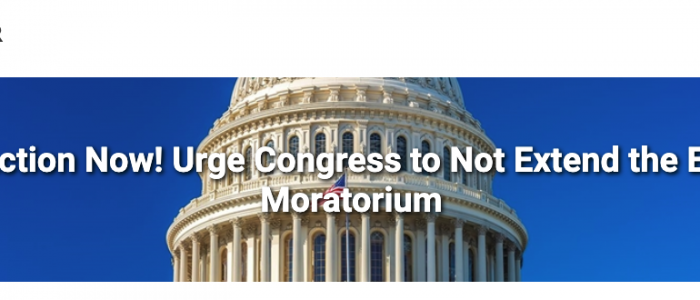 Take Action Now! Urge Congress to Not Extend the Eviction Moratorium
We need your help immediately! House Democratic leadership is working on legislation, extending the CDC Eviction Moratorium through December 31, which is moving quickly and could happen TODAY! We need Congress to hear our position:
REALTORS® are opposed to any "unreasonable effort by Congress to extend the eviction ban without assistance for small housing providers."
Forcing landlords to provide free housing for vaccinated Americans may be good politics, but it cannot be called health policy, and the total cost to the nation's landlords, could approach $200 billion.
Urge Congress to focus on effective deployment of the nearly $50 billion in federal Emergency Rental Assistance Program ("ERAP") funds rather than extending any eviction moratoriums. ERAP assists both tenants and their housing providers who are struggling financially.
Now is the time to end the unsustainable nationwide federal restrictions on property operations. Encourage your Colorado Member of Congress to concentrate on implementing practical solutions for renters facing housing instability and supporting the millions of property owners around the country who rely on rental income to sustain their own livelihoods.