June delivers influx of new housing inventory however, pending sales and closes push median pricing to record highs across Denver metro area and state
REALTORS® seeing some signs of change in markets across Colorado
ENGLEWOOD, CO – July 13, 2021 – A strong month for new listings in June helped give potential homebuyers a little hope and opportunity however, the volume of sales and homes going under contract continued to grow as well pushing the median sales price for single-family homes in the seven-county Denver metro area and statewide to record highs, according to the latest data from the Colorado Association of REALTORS® (CAR).
Denver metro new listings rose 24% to a little more than 7,000 single-family units, while statewide the increase was 20% to just over 12,000 homes. Offsetting those new listings, the month of June also delivered nearly 6,000 homes under contract in the Denver metro area, 10,256 statewide. Further diluting the gains in new inventory, another 5,500 single-family properties closed in the Denver metro area, with 9,857 solds statewide.
The results, median pricing continued to rise reaching new records in the Denver metro area, $585,000, up nearly 26% from a year ago. Statewide, the median single-family price hit a record $530,000, up more than 24% from June 2020.
"We are starting to see a slowdown in terms of showings, offers received, and we are actually seeing price reductions on homes that haven't sold," said Boulder/Broomfield-area REALTOR® Kelly Moye. "This is typical for July and into August so the real question of whether the market is changing will be determined in the fall. Buyers have an opportunity now to take advantage of the price reductions and slower pace and still get into the market."
With the percent of list price received still at record highs, 105.4% in the Denver metro area, and 10$.4% statewide, available inventory continues to move from list to sale at record speed – just 10 days in metro Denver and 23 days statewide, both record lows. All of these conditions have pushed the Housing Affordability Index, a measure of a region's housing affordability based on interest rates, median sales price and median income by county, to record lows as well.
METRO DENVER REPORT
STATEWIDE REPORT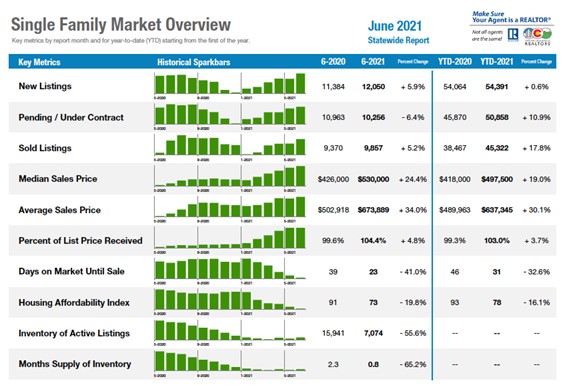 Taking a look at some of the state's local market conditions, Colorado Association of REALTORS® market trends spokespersons provided the following assessments:
AURORA
"It seems that perhaps we are starting to see the winds of change in our real estate market. We have watched the inventory increase over that past 30 days but, even with the increase, active listings are still very low in the Aurora and Centennial markets. Depending on the location, prices are up 20% to 35% over last year at this time. The median price in Aurora, citywide, is $502,500. Days on market are approximately 7 days with only 275 active single-family listings in the entire city. The townhome/condo inventory has also increased from last month but remains down 76% from a year ago. You will find only 117 multi-family listings in Aurora and expect to pay a median price of $309,500.
"Centennial is experiencing much of the same. Inventory increased over the past month however, it is still 62% below the inventory of last year. The median price in Centennial for single-family homes is now $650,000, with only 6 days on market. The townhome/condo market in Centennial provides only 9 active listings in the entire city as of this writing with an average 5 days on market and a median price 30% higher than June 2020 at $401,000.
"If you speak to your local REALTOR®, you will hear that perhaps the frenzy is slowing. It is hard to tell if that is the typical July slowdown or if the winds of the real estate market are changing," said Aurora-area REALTOR® Sunny Banka.
BOUDER/BROOMFIELD

"For those buyers who want to be in Boulder and Broomfield counties, it's time to perk up, get re-energized and get back out there. While the numbers show a sizzling seller's market for June, the statistics reflect the market in May and here on the street, we are seeing changes.
"Listings are still down in each county and the number of sold listings is up, indicating the buyers gobble up any inventory we have quicker than we can replenish it. Single-family homes are up 32% in Boulder County and 20% in Broomfield since the beginning of the year, leaving many buyers wondering if they will ever get in the market at this pace.
"However, we are starting to see a slowdown in terms of showings, offers received and we are actually seeing price reductions on homes that haven't sold. This is typical for July and into August so the real question of whether the market is changing will be determined in the fall. Buyers have an opportunity now to take advantage of the price reductions and slower pace and still get into the market.
"The only fly in the ointment is the attached market in Boulder. There has been a healthy 9% appreciation since the beginning of the year, but days on the market are up to 49 now and we are seeing many price reductions and lower activity in this part of our market. The university is a big driver for the condo market and with many students not returning due to COVID and the opportunity for remote learning, it has affected this segment of our market," said Boulder/Broomfield-area REALTOR® Kelly Moye.
BRIGHTON/I-76 CORRIDOR
"As we near the middle of summer, the market along the I-76 corridor is showing a slight softening. Listings are up approximately 50% from a month ago, giving buyers a better opportunity at home ownership. While prices continue to hold strong, the I-76 corridor going east of the Denver area provides lower home prices. In Morgan County, the average sales price in June was $350,642. In Washington County it was $171,500. Buyers are driving east until they qualify," said Brighton-area REALTOR® Jody Malone.
COLORADO SPRINGS/PIKES PEAK AREA
"June, the month that finally ushered in Summer!!! June 20th struck the official date of summer, but the housing market had never left last summer. There was never a fall or winter for housing. It was really like nothing changed. Just one more month, but the days got longer so REALTORS® could show later, still get beat out on offers, still compete, and hopefully relax on a patio somewhere after getting dragged through this battle called, real estate.
The front range echoed what most of the country has been feeling. Shortages in homes for sale. In fact, a 52% drop from the year before. Buyers once again would be in a position of weakness as they trudged through homes, writing offers, losing, and then doing that all over again. Some buyers are hitting 10+ offers before they get a home, or fatigue and go rent again. Shortages result in higher prices. Too many people chasing not enough product pushed the medium prices up 24.3% across all properties. Buyers not only have to compete against rising prices, but they now battle with major hedge funds who are buying homes above market and turning them into rentals. Buyers cannot get a break.
Is there a softening in our future? First time unemployment claims continue to be high. We know that delinquencies across the nation are high. Interest rates likely cannot go up, and the forbearances should be ending in August. Maybe some of this pressure will begin to subside and buyers who have been trying to find a home, might. Or July hits with a lot of the same and we will continue the brutal pursuit of trying to find buyers homes," said Colorado Springs-area REALTOR® Patrick Muldoon.
DENVER COUNTY
"Wanting the 'good news or the bad news first' usually means 'do you want the headline or the subtext-first.' Starting this time with the subtext; Denver's supply of inventory has increased from .3 month's worth to .6 – the headline obviously stating that inventory has gone up a whopping 100%.
"The remaining headlines from June of 2021 continue to use the word 'record' when describing Denver's real estate market. With the lowest-ever average days on market, seven, to the highest ever median, $665,000, the amount of new listings in June surpassed 1,000 for only the 4th time in a single month, rounding out 2nd place at 1102.
"With so much of Denver's market setting records and making headlines, the subtext this month is that while more freestanding homes sold in Denver last month than any other, 866, inventory is creeping it's way up as prices may have reached that 'we'd be crazy not to sell' point," said Denver-area REALTOR® Matthew Leprino.
DURANGO/LA PLATA COUNTY
"Like most resort towns in Colorado, Durango continues to see record increases in appreciation and a severe shortage of inventory. June set a new high for average sales price for single-family homes at $799,580. The year-to-date average sales price is now over $720K, which is a 35% increase over 2020. The median sales price for townhomes skyrocketed 79.5% in June to $493,500. Supply is still hovering at just over one month if you look at all sectors, but realistically, homes are selling within a couple of days of hitting the market. Many sellers are allowing showings for 24-48 hours and then accepting offers on a predetermined date, usually 72 hours after it hits the MLS. We are still experiencing multiple offers on most properties with an average percent of list price received just over 101%. There doesn't appear to be any softening of demand as prices continue to rise," said Durango-area REALTOR® Jarrod Nixon.
ESTES PARK
"Looking back at the real estate market a couple years ago, I would never have thought price tags like these would be popping up, and on a consistent basis. I remember when you could find a one-bedroom condo under $200,000, you had time to think about submitting an offer, and when inspections had a place for negotiations. We are definitely in a climate breeding more of a frenzy then a comfortable experience.
"In Estes Park there is no ceiling to the increase in price. Compared to June last year, the average sales price for single-family homes has jumped 49%. Now there can be large homes that sell that can skew the numbers, but there is clearly a steep incline happening. Year-to-date, the average sales price has increased 36%. Townhouse and condos are no different. The average sales price has climbed from $330,850 in June last year to $422,679 this year – a 27.8% increase.
"The days on market until sale are astonishing. Single-family homes have gone from 62 days in June 2020 to a measly 44 days; a staggering 29% decrease in time until close. The inventory has shrunk to about nothing at only 19 units on the market versus 58 last year, a 67.2% decrease in inventory. Townhouse and condos are again no different. Days on market have been slashed from 117 to 58 this June. That's a 50.4% decrease, also squeezing the inventory down to only 12 units, a 61.3% reduction.
"With this frenzy, the multiple offers are stacking up. Anything, I mean anything is selling, and anything is being waived to sweeten the deal. Cash offers, fast closings, waived inspection objections, escalation clauses, you name it. Single-family homes are exceeding list price and I don't anticipate that slowing down anytime soon, unless there are no homes left to sell. It's almost there. Year-to-date, single-family homes are getting 100.3% of list price, a 3.4% increase. Townhouse and condos are getting 99.8% of list price in June 2021. Year to date this is a 3.4% increase. I anticipate these over asking offers and percentage-of-list price to continue to climb as the competition is getting crazy," said Estes Park-area REALTOR® Abbey Pontius.
FORT COLLINS
"With summer temperatures rising, is the real estate marketing in a cooling trend?
"Throughout the early spring and into the beginning of summer, a combination of pent-up demand for housing, persistently low interest rates, an economy on the rebound, and a robust vaccination program led to record setting paces in housing units sold, housing units coming on the market, over-asking sale prices, and appraisals supporting the uptick in appreciation. Cost of building materials has also led to reduced inventory in new construction which has definitely not helped ease the supply shortage.
"Post-Independence Day market analytics are showing a bit of a stabilizing trend as you look at median price settling down closer to $500,000 at $506,750 compared to $533,435 the month previous. Average percent over list price was still pushing 4% for June (which means a house listed at $500,000, on average, sold for at least $20,000 over the list price). Competitive offers are the rule rather than the exception, and buyers are having to use all the tools in the competitive offer bag of tricks to have their offers stand out (waiving appraisal conditions, waiving or minimizing inspection objections, non-refundable earnest money, etc.).
"That being said, July is showing signs of a different kind of pent-up demand: Vacations. Folks are getting out and away after 16 months of essentially being shut in. This is resulting in a dispersed pool of potential buyers that are taking some time out for travel and a time out from buying houses. The statistics will likely bear this out next month, but there are some early signs like price reductions on listings and lower showing totals than what we saw earlier in the spring. This is good news for competing buyers. However, don't expect prices to come down – there's still plenty of demand for housing that will likely see prices stabilize for the remainder of the summer," said Fort Collins-area REALTOR® Chris Hardy.
GOLDEN/ARVADA – JEFFERSON COUNTY
"Jefferson County's median sale price for single-family homes continued to rise in June and now sits at $630,000, up 23% from this time last year. Low inventory is still a major problem with the huge buyer demand however, the numbers for July may be much different. In early July, the buyers seem to have taken a vacation from home searching and actually went on vacation now that the states have opened up from the pandemic. Buyers are winning contracts at the listing price and the high number of multiple offers have dwindled. It is now very important to list a home for sale at the right asking price so the home does not sit on the market long.
"As for townhomes/condos, the median sales price also rose and is now $380,000 with an average of seven days on market. For buyers, it is a better time to be looking than it was just a few weeks ago," said Golden/Jefferson County-area REALTOR® Barb Ecker.
GRAND JUNCTION/MESA COUNTY
"Mesa County continues to deal with low inventory challenges, currently down 44% from a year ago at just 373 units. The median sale price of $335,000 was up 21.6% over last year. For the month of June, new listings were down 3.5% to 446, and sold listings were 421. Our average sales price of $378,788, was up 25% from June 2020 and properties sold on average 101.3% over asking price. We have a one-month supply of inventory based on current activity.
"We are seeing a little pull back in some areas of the market, as buyers are getting discouraged and exhausted as they make multiple offers that go nowhere," said Grand Junction-area REALTOR® Ann Hayes.
PUEBLO
"The Pueblo real estate market closed out the first half of the year in consistent style – less than one month of inventory and for sales getting multiple offers. The conditions helped set a record high for median sales price in Pueblo at $300,000 in June, up 27.7% over June 2020.
New listings, up 7% compared to June 2020 and year-to-date, are going under contract quickly. The percentage of list price received in June was 102.7%, up 3.5% from June 2020 and up 2.8% to 101.2% year-to-date. List price received has stayed over 100% throughout 2021 prompting us to tell our buyers that list price is the starting point, and you go up from there.
Pending sales were up 1.7% compared to June 2020 and 5% year to date. Sold listings were up 8.8 % in June over 2020 and 8.4% year to date. There were 66 new building permits pulled in June 2021, up to 387 for the year. Pueblo West is leading the permit count with 291 pulled so far this year," said Pueblo-area REALTOR® David Anderson.
STEAMBOAT SPRINGS/ROUTT COUNTY
"It's the good news and the bad news; the good news is, a lot can change in a year – and the bad news is, a lot can change in a year. Looking back at June 2020, when coming out of a two-month pandemic-induced hibernation, our market realized more properties under contract than in any previous month in recent history.
"Like hungry bears in search of food, buyers emerged in record numbers, ravenous in their quest for mountain real estate. The food supply – inventory – has been waning for several years, and active listings are down 65% for single-family and 78% for multi-family year over year. New listings for this period tallied at almost 7% and 17% less, respectively for single-family and townhomes/condos. Understandably, the berry-picked properties are still seeing multiple offers and last less than seven days on the market. Despite the reduced number of offerings, pending sales differ only slightly in count – two less properties each in both single- and multi-family for this period vs last.
"As to be expected in a market like this, some brokers/sellers are testing the market and we do see some price resistance resulting in price reductions. However, for the most part, sellers received what they wanted in June- within 1.2% of list price for single-family and multi-family receiving 2% over list. Cash transactions are still a significant force, emanating a survival of the fittest approach, much to the frustration of very qualified buyers who need to finance. Brokers and committed buyers have to take on a tough Jeremiah Johnson mindset – persevering the market conditions as they continue their hunt and hopefully find it "worth the trouble" in the end," said Steamboat Springs-area REALTOR® Marci Valicenti.
SUMMIT, PARK AND LAKE COUNTY
"What is normal in real estate? The truth is, there is no normal. We hope for a balanced market, but we are always flowing from a seller's market to a buyer's market. Every now and again we get to stop in one phase or another for longer than we expect. Economic indicators help us to predict what is coming next, but since we are in the seller's market from the result of the pandemic, we are in unchartered waters. Interest rates remain low, and inventory is down because properties are being scooped up quickly. Can this pace be sustained? The answer is no – the real estate market is always changing.
How long will we be in the current phase? National economists are suggesting we will see a flattening of the market, that our prices will not sink but stabilize. My crystal ball has yet to give me a clear answer. For now, I am mesmerized by these statistics.
"This June as compared to last June, Summit and Park Counties have seen 56.4% more sales. Summit has seen a 127% increase in sales volume (amount of money spent) and 80% more residential sales. Prices are still going up. Currently, active listings are priced between $298,900 for a studio in Keystone to $18,999,000 for a house in Breckenridge," said Summit-area REALTOR® Dana Cottrell.
June Average Prices (% change YTD from Previous Year)
| | | |
| --- | --- | --- |
| Single Family | Year to Date | Average Price YTD |
| Summit County | 39%   | $ 1,798,640 |
| Park County | 22%   | $ 480,236 |
| Lake County | 41%    | $ 527,766 |
| | | |
| Townhouse / Condo | Year to Date | Average Price YTD |
| Summit County | 14%   | $ 705,652 |
TELLURIDE
"The greater Telluride market (San Miguel County) closes out the first half of 2021 with an incredible 207% increase in dollar volume at $684.4m as compared to the five-year average of $223m. This surge has been primarily driven by sales in the Mountain Village and rural properties 15 to 45 minutes west of Telluride.
"It continues to be apparent that vacant land sales are the new booming segment of the market due to the extreme lack of homes and condominiums in the Towns of Telluride and Mountain Village. There were 153 vacant residential lot sales in the first six months of 2021 with 88 of those happening in the rural market areas. However, with local architects and general contractors being booked out two to four years, vacant land buyers are going to have to wait a long time to move in their new homes.
"We are seeing a few sellers adjusting their asking prices downward for condominiums and homes in the Town of Telluride and Town of Mountain Village in the last couple of months. We are also seeing some of the super high priced home listings sitting on the market a bit longer. That being said, the only new inventory is coming from long time property owners who seem to want to take advantage of this remarkable boom for the last fifteen months," said Telluride-area REALTOR® George Harvey.
VAIL
Historic First Half of the Year – Subtle Shifts Ahead?
"As we embark on the second half of the year, there is both statistical and anecdotal evidence we are beginning to see some signs of a historic "normal" market. While the headlines will reflect on the strength of Q1 and Q2 compared to a year ago – the Eagle County market is up approximately 75% in closed sales from the first half of 2020 and has doubled in dollar volume. The summer months always bring buyers and demand remains extraordinarily strong with showing activity and open house attendance. But a few factors are pointing to perhaps some subtle shifts," said Vail-area REALTOR® Mike Budd.
The chart below illustrates the Pending and Inventory levels for the past year.
"The key takeaway is the pending as compared to inventory is flattening which bodes well toward normalization of the market.
As inventory builds the opportunity to maintain a more normal closed performance exists. Currently inventory is 59% compared to June 2020.
The importance of understanding market opportunity is critical in this analysis the top market pricing niches represent 59% of the inventory, however it only equates to 20% of transactions. Thus, the market is still out of balance versus demand.
The key to where the market goes will be increased inventory in the 80% of the market demand niches. This would also begin to diminish some of the frenzied multiple offers and bidding activity on listings. The next three months should maintain a robust sales performance with inventory being a critical factor."

Median Sales Price – Seven-County Denver Metro Area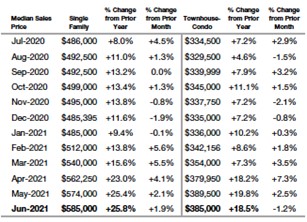 Median Sales Price – Statewide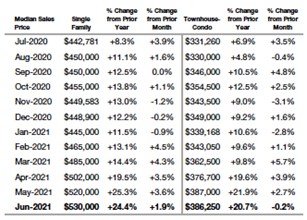 Sold Listings – Seven-County Denver Metro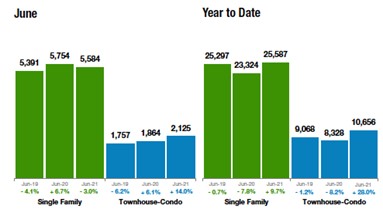 Sold Listings – Statewide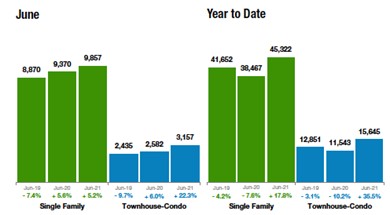 Housing Affordability Index – Seven-County Denver Metro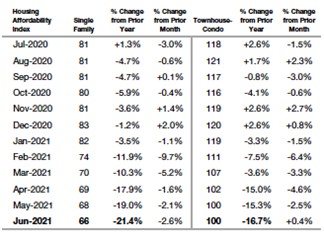 Housing Affordability Index – Statewide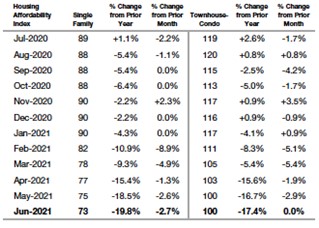 The Colorado Association of REALTORS® Monthly Market Statistical Reports are prepared by Showing Time, a leading showing software and market stats service provider to the residential real estate industry and are based upon data provided by Multiple Listing Services (MLS) in Colorado. The June 2021 reports represent all MLS-listed residential real estate transactions in the state. The metrics do not include "For Sale by Owner" transactions or all new construction. CAR's Housing Affordability Index, a measure of how affordable a region's housing is to its consumers, is based on interest rates, median sales prices and median income by county.
The complete reports cited in this press release, as well as county reports are available online at: https://www.coloradorealtors.com/market-trends/
###
CAR/SHOWING TIME RESEARCH METHODOLOGY
The Colorado Association of REALTORS® (CAR) Monthly Market Statistical Reports are prepared by Showing Time, a Minneapolis-based real estate technology company, and are based on data provided by Multiple Listing Services (MLS) in Colorado. These reports represent all MLS-listed residential real estate transactions in the state. The metrics do not include "For Sale by Owner" transactions or all new construction. Showing Time uses its extensive resources and experience to scrub and validate the data before producing these reports.
The benefits of using MLS data (rather than Assessor Data or other sources) are:
Accuracy and Timeliness – MLS data are managed and monitored carefully.
Richness – MLS data can be segmented
Comprehensiveness – No sampling is involved; all transactions are included.
Oversight and Governance – MLS providers are accountable for the integrity of their systems.
Trends and changes are reliable due to the large number of records used in each report.  
Late entries and status changes are accounted for as the historic record is updated each quarter. 
---
The Colorado Association of REALTORS® is the state's largest real estate trade association representing more than 28,500 members statewide. The association supports private property rights, equal housing opportunities and is the "Voice of Real Estate" in Colorado. For more information, visit https://www.coloradorealtors.com.