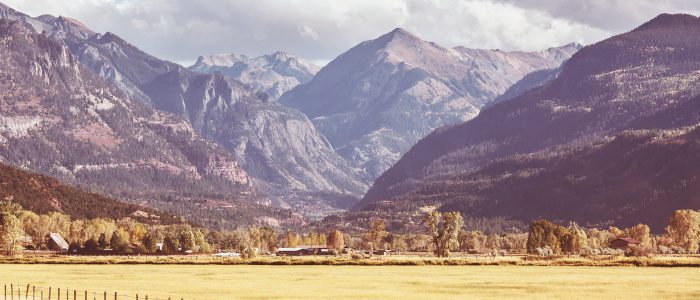 Colorado's Housing Market in Just One Word – Inventory
Active listings and months supply of inventory fall to record lows driving land sales in many communities
ENGLEWOOD, CO – Dec. 10, 2020 – High demand and a continually shrinking supply of homes available for sale across Colorado pushed active listing and overall inventory to all-time lows across the state and driving land sales in numerous markets, according to the latest monthly housing data from the Colorado Association of REALTORS® (CAR) which began tracking these figures in 2010. The 7,235 single-family homes and 3,266 townhomes/condos available in November statewide are down more than 60% and 46%, respectively from this time last year. In the seven-county Denver metro area, there were less than 3,000 single-family active listings in November, down nearly 70% from a year prior, while the 1,923 active townhome/condo listings were off 48% from November 2019.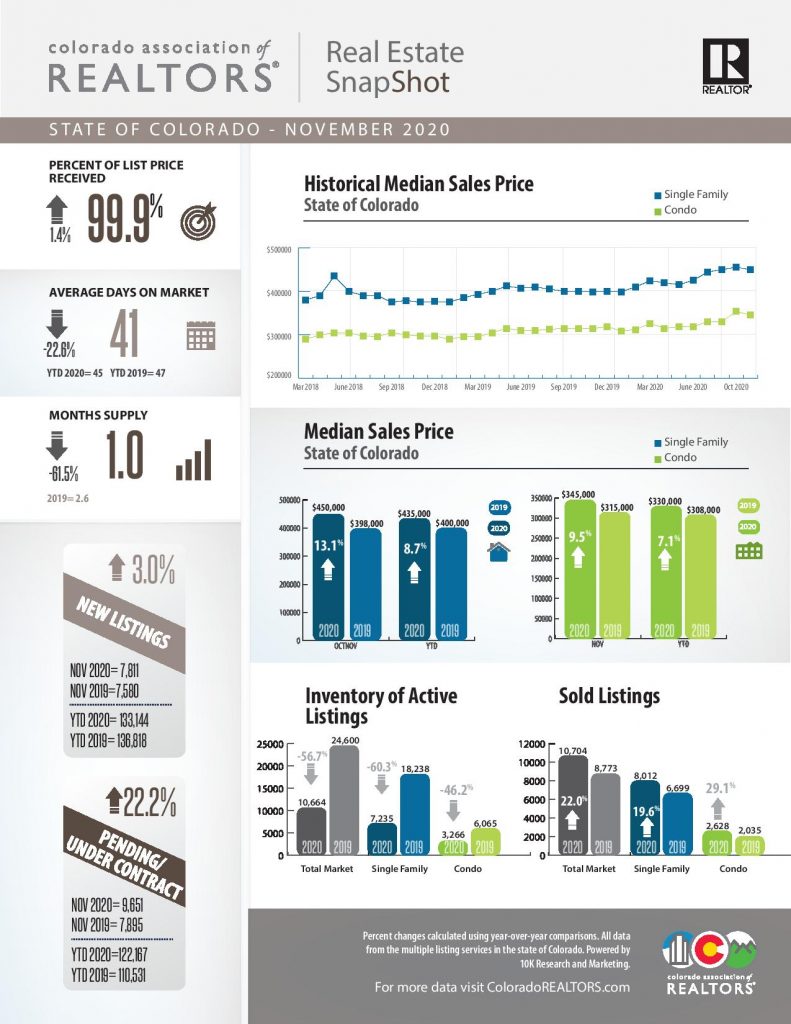 Our homes have evolved to be the nexus of everything – from work, to school, to a gym, and beyond. Buyers are looking to capitalize on great mortgage rates and search out the 'new and perfect' home for their changing needs. However, this doesn't come without some cost.
The conditions have pushed the months supply of inventory to record lows as well creating continuing and longer-term challenges for eager buyers statewide. Single-family inventory is down 64% across Colorado from a year ago and fell below a one-month supply for the first-time in November. In the Denver metro area, the months supply of single-family homes dipped to 0.6 months, down 72.7% from November 2019.
While the median price ticked down from their October record highs – down 1% for single-family homes and down 2.8% for townhome/condos statewide – they remain up more than 13% and 9.5%, respectively, from one year ago.
Taking a look at some of the state's local market conditions, Colorado Association of REALTORS® market trends spokespersons provided the following assessments:
AURORA
"The Aurora and Centennial real estate markets both have more amazing, local news to tell. In the 80010 zip code, year over year inventory is down 76% while prices are up 17.5% to a median $342,000. In 80013, a more central and south-Aurora location, shows inventory down 92.6% with a median price of $399,000. Turning to south Aurora and the 80015, inventory is down 87% with a median price of $445,000, up 9.6% over November 2019. Overall, Aurora inventory is down 75%, single-family home prices are up 11% and the median price is $422,000.
"The City of Centennial is showing similar numbers with inventory down 81%, an 11.5% rise in median price to $535,000. Days on market sits at 18 with a continuation of very strong demand," said Aurora-area REALTOR® Sunny Banka.
BOULDER/BROOMFIELD
"How can this be? It's a question often asked by buyers and sellers when told how the market has fared this year. For those who have been avoiding the news, the strength of the real estate market has come as a surprise. But when you consider how essential our home life is at this point, it actually makes sense. People need their home to be everything to them; work, play, and family.
"Boulder and Broomfield counties have experienced a strong but steady appreciation this year, averaging about a 5% increase in median prices since January. With days on market hovering around 30, we are still in a seller's market, with demand outpacing supply.
"Denver and other counties have seen more dramatic numbers. The elevated home prices of Boulder and Broomfield counties do not attract as many first-time buyers as the Denver market. The Boulder and Broomfield markets are holding strong, but the millennials are focusing on more affordable locations. Our numbers show a seller's market, but one that is tempered and fairly reasonable considering the extremely low inventory," said Boulder/Broomfield-area REALTOR® Kelly Moye.
BRIGHTON/I-76 CORRIDOR
"With no sign of the real estate market slowing down for the holidays, Brighton and the I-76 corridor are like most of Colorado where we see incredibly strong demand, low inventory and new builds gobbled up by buyers. The median sales price for the area is up 12% from a year ago – great news for homeowners whose equity continues to grow faster than normal. Looking ahead to early 2021, there are no signs showing any softening in the market," said Brighton-area REALTOR® Jody Malone.
COLORADO SPRINGS/PIKES PEAK AREA
"Yes, there is something new under the sun. We are not observing the real estate market collapsing because of the inflated prices, but we may be approaching a collapse because of the empty shelves. Last month, the inventory of single-family/patio homes in the Colorado Springs market shrank to 635 properties compared to 1,667 in November 2019, 2,153 in November 2018, and always above 3,000 in any November up until 2014. While the inventory sank to a new record low, sales skyrocketed to a new high of 1,482 homes.
"In November 2020, we recorded the highest level of monthly and year-to-date sales, monthly and year-to-date sales volumes, as well as record high average and median sales prices compared to any month of November ever.The year-over-year single-family home sales activity saw a 25% increase in monthly sales, an 8% increase in the year-to-date sales, a 47% increase in the months' sales volume, a 22% increase in the year-to-date sales volume, an 18% increase in the average sale price, ascending to $429,163, and a 17% increase in the median sale price rising to $380,000, with a devastating 60% decline in active listings.
The single-family home sales data shows that during the past five years, from November 2015 to November 2020, the monthly sales increased by 82%, year-to-date sales by over 31%, monthly sales volume by 192%, year-to-date sales volume by 102%, average and median sales prices by 60%. All of this while active listings declined by over 74%.
"Buyers generally purchase properties offering competitive values, even in a strong real estate market. Unsurprisingly, 22% of El Paso County, and 21% of Teller county active listings in the Pikes Peak MLS had price reductions. Unequivocally, pathetically low inventory and affordability challenges due to ever-soaring prices continue to be the most problematic aspect of the Colorado Springs area housing market," said Colorado Springs-area REALTOR® Jay Gupta.
"It is almost hard to be creative when writing these reports because the story remains the same. Much like the lack of snow fall to hit this winter we are seeing a total lack of inventory as well. Coming into November, we dropped another 6.4% on single-family home inventory. Like months past, as the inventory shrank, we saw pending sales increase and demand pushed prices up with the median sales price rising 18.4% year over year. This directly ties into the -59.7% drop in active listings from this time last year.
"The insanity continues despite the fact that we are seeing shutdowns again across our state and the nation. Unemployment filings continue to go up, forbearances are still being used and delinquencies across the major government loans are up. We have a detached economy, which has been the case all year with regard to real estate. Regardless of the economic data, the real estate market continues to be a shining light.
"Nationally, we will enjoy low interest rates, probably forever. As states shut down again, the economic damage becomes harder to reverse and 2021 could go either way. However, if real estate behaves like it has been, it should hold up well. Time will tell how quickly we can work past these closures," said Colorado Springs-area REALTOR® Patrick Muldoon.
CRESTED BUTTE
"Like most of Colorado, the real estate market in Crested Butte and Gunnison has been setting records since our communities reopened in June. November 2020 delivered one-and-a-half times the volume of single-family home sales compared to 2019 and the same increase for pending sales which indicates that our typical seasonal slowdown has not materialized. Sales in all categories are up, but the demand for single-family homes outpaces other segments. We have extremely limited inventory for homes and, those that come up for sale are selling quickly if they are priced correctly. Average and median prices for single-family homes are 20-30% above 2019 year to date.
"Condos and townhomes have also been selling quickly, but we are seeing more inventory come on the market. New listings are up 18% year to date, but with pending sales and sold listings up 30%, that isn't enough to keep up. Average and median prices are also up 5-15%.
"There continues to be opportunities in land in the area since prices have not reached peak levels from before 2008 in many cases. The number of land sales is up 45% with dollar volume up 20% compared to 2019. With over 500 active land listings in the Crested Butte/Gunnison area today, buyers who are willing to take the time and effort to build could find their ideal property.
"Looking ahead to 2021, there is no sign of slowing down. We need more inventory for sure, but sellers will continue to take advantage of high demand and high prices, so I anticipate more properties coming on the market throughout the ski season," said Crested Butte-area REALTOR® Molly Eldridge.
DENVER COUNTY
"If you've ever seen a flower growing through concrete then you'll understand what Denver's real estate market looks like. Despite the overwhelming surface evidence that things should not only be rough but also floundering, the truth is absolutely anything but.
"The latest data from the Colorado Association of REALTORS® shows not only a 15.6% median price increase over last year but also all-time record low inventory; just 0.6 months. Contributing heavily to that median increase is the 'list to sold-price' ratio, which crosses over 100% for the first time in our recorded Novembers.
"Despite many obstacles and the time of year, a flower emerges. Also occurring during November 2020, we saw 38% more homes sell than in November '19 and 42% more than 2018 – all while a staggering 18 days on market better resembles spring marketing than the typical winter lull," said Denver-area REALTOR® Matthew Leprino.
DURANGO/LA PLATA COUNTY
"Like last month, we continue to see record sales, appreciation, and low inventory. Since this time last year, the number of sold listings increased 65%, and the median price jumped 40% for single-family homes and almost 60% for townhomes and condos. It is easier to find the newest gaming console for Christmas than it is to find a suitable home in La Plata County. The current supply of affordable (under $300,000) homes in the county is about 10 days, while the overall supply is 2.2 months. Active listings are down more than 65% compared to last year. Land sales have escalated to record levels, depleting existing inventory levels. Buyers frustrated by the lack of available homes are turning to building as an option. Unfortunately, most architects, general contractors, and tradespeople are booked until 2022 and are not taking new clients. The big question on everyone's mind is how the lack of inventory will affect the 2021 market. Fasten your seatbelt and have your ducks in a row if you plan on buying in 2021. It will surely be an interesting and challenging adventure," said Durango-area REALTOR® Jarrod Nixon.
ESTES PARK
"With winter on the horizon and temps falling, Larimer County's real estate market remains hot. COVID undoubtedly has put a crimp on the ease of showings, open houses, daily field work, and how we can close transactions, but these are just small speed bumps in the big picture. As we spend more time in our homes this year the desire and awareness of where we live and its total satisfaction has become front and center. Our homes have evolved for everything from work, school, athletics and beyond. Buyers are looking to capitalize on great mortgage rates and search out the 'new perfect' home for our changing needs.
However, this doesn't come without some cost. Inventory is extremely low, and demand is high. New listings are down 13.2% for single-family homes, with a median sales price of $435,000. Townhouse/condos have added to the new listings in November with an increase of 36.5% helping ease the tension. Inventory overall is down even with the increase in townhouse/condos, -55.2% for single-family homes and -34.9% in townhouse/condos. This equates to just 142 townhouse/condos and a total of 350 single-family homes on the market throughout all of Larimer County. Townhouse/condos are fetching an average of $327,945, an increase of 4.8% from November last year. Single-family homes are reaching an average sales price of $498,047 an increase of 6.8% from November 2019. Days on market has been slashed with single-family homes closing in an average of 53 days, a 22.1% decrease from last year. Townhouse/condos are getting to close much faster as well at 80 days on the market compared to 93 in November 2019. It will be interesting to see how the typically slower time of the year pans out with this continued momentum carrying into 2021," said Estes Park-area REALTOR® Abbey Pontius.
FORT COLLINS
"Looking at the latest set of housing numbers for the Fort Collins area, one thing is abundantly clear – shift happens. Homebuyers in northern Colorado have had to shift their perspectives to enjoy the benefits of home ownership.
"This shift is best illustrated by two very different market segments: entry level single family on one end of the spectrum and luxury homes on the other. Homes sold in the $300,000 – $399,000 price point are down 15% year-to-date. Given how competitive it is to buy in that price point demonstrates that the number of homes sold is limited by the number of homes available. The corresponding inventory number shows that homes for sale in that price point are down by nearly 90%. There were 115 homes for sale in November 2019 and just 13 available in November 2020. Where's the shift? Look at townhomes and condos – in that same price point, condos and townhome sales are up 37.5% year-to-date. Buyers have to either shift to a higher price point or shift to a different type of property altogether.
"There's shift afoot in the luxury market as well. Year-to-date sales of homes over $700,000 are up nearly 49% and for homes over $1 million – that increase is nearly 54%. High demand for mid-tier priced homes that have built-up equity over the last several years, coupled with low interest rates, gives these sell/buy consumers an opportunity to up-shift into the house of their dreams. That shift is creating higher demand as inventories in that price point are also shifting downward over 30%.
"With the median sale price still climbing ($443,750 in November), to make sense of these prices, consumers need to shift their perspective as to what a low interest rate means to their buying buyer. Yes, it is competitive and prices are at historic highs – but interest rates are offsetting some of that price increase," said Fort Collins-area REALTOR® Chris Hardy.
FREMONT AND CUSTER COUNTIES
"Fremont and Custer County home sales continue the same pattern as in previous months with greater sales than new listings. This trend continues month-after-month and again, it appears that COVID-19 has had little effect on the housing market in these two counties.  
"Fremont County year-over-year new listings are down 7.3% while sales are up 5%. Fremont County's median sales price shows a year-over-year increase of 13.6% while the average sales price of $280,525 reflects an increase of 17.5%. With a little less than 2-months supply of inventory, our average days on market has increased 2.4% as we are selling properties at 98% of list price.
"Custer County's median sales price increased 32.9% compared to this time last year and the average price increased 46.2% to $411,067. We have a 3.7-month supply of inventory and the average days on market have rose nearly 18% from this time last year. We're all looking forward to a post COVID world and expect an increase in new listings as we edge back to normal," said Fremont and Custer County-area REALTOR® David Madone.
GOLDEN/ARVADA – JEFFERSON COUNTY
"Jefferson County remains an incredibly hot market for sellers as buyers grapple with an inventory that is down nearly 74% from a year ago. New listings for single-family homes increased 21.7% as the median sale price slipped slightly in November to $540,000 and average days on market falling to 17 days, a 50% decrease from this time last year. The Applewood community has become one of the hottest markets in Jefferson County where for sale homes are getting multiple offers well over asking price and covering differences between appraisal and sale price. With very little inventory, buyers must view homes and make aggressive offers quickly to win the bidding competition.
"For condo/townhomes, new listings increased 6.8% as the median sales price hit $313,900. Days on market fell 37.5% year over year to an average of 20 days. With price consistently ticking up, it is becoming increasingly difficult for first-time homebuyers to find a home they can afford," said Golden/Jefferson County-area REALTOR® Barb Ecker.
GRAND JUNCTION/MESA COUNTY
"Lagging in inventory, Mesa County closed out November with just 369 available single-family homes, a 1.3-month supply, and 29 available townhomes or condos, a 0.8-month supply. Both median and average sales prices are up, 14.8% and 11.1%, respectively. For the first time ever, the Mesa County median price hit $372,235. Average days on market was down to 74 days as demand remains strong with multiple offers and back-up offers being made on properties. The low interest rates are giving buyers the opportunity to buy more house than they might have qualified for previously, resulting in a greater number of higher inventory properties being sold," said Grand Junction-area REALTOR® Ann Hayes.
PAGOSA SPRINGS
"Pagosa Springs and South Fork is certainly one of Colorado's last ground floor pricing opportunities in mountain real estate. After years of staying on the sidelines, Pagosa Springs (and South Fork) continued to experience robust gains in 2020, and in the last quarter specifically. No surprise the Pagosa Springs average sales price increased to more than $535,00 through November (up 16.4%) and the median sales price came in at $410,000 (up 9.3%), as inventory shortages below those prices are prominent.
Contracts pending from November, as well as previous months, are strong (up 23.5%) even with historically low home inventory. Before the COVID pandemic, price points from $500,000 and higher showed 3-5 year inventories. Historic sales indicate most buyers are adjusting to higher prices to accommodate the COVID setting with remote school and work scenarios, including relocation to a rural community. November indicated a 2.7 months supply of inventory. This is not the case with homes priced under $500,000, as they are going under contract much faster than the average and with multiple offer scenarios. More than ever, buyers must be prepared to make a buying decision immediately. Year-to-date days on market averaging 146 days will be short lived with the exception of those homes priced above $900,000 as the horizon is set for an impossible task to bring inventory to meet buyer's current pricing needs and wants. Historic land sales continue in both Pagosa and South Fork, as home inventory continues to decrease," said Pagosa Springs-area REALTOR® Wen Saunders.
PUEBLO
"The Pueblo market has remained strong through November with most numbers moving in the right direction. New listings were up 17.1% compared to November 2019 with pending sales up 32.6%. Sales were also up 3.8% over a year prior and are up 7.4% year to date. The median price sits up 16% over last November and is up 11.9% year to date at $235,000. Our average days on market dropped to 62 days and pushed our inventory to a less than 2-month supply.
"New home permits in Pueblo County sit at 520 year to date, this is the highest total in the past 10 years. Builders can't build fast enough and we're seeing more and more people moving into the Pueblo area. With one month left to go, 2020 will go down as a very good year in real estate," said Pueblo-area REALTOR® David Anderson.
STEAMBOAT SPRINGS/ROUTT COUNTY
"Where's the snow? There have been so many fluctuations this year – why would anyone think weather would be left out of the guessing game? Exit El Niño and enter La Niña. There is some irony between snow and real estate activity from year to year, in that you never know how much you're going to get or how long it's going to last. So, what will 2021 bring? COVID certainly made 'home' a priority and allowed many people to purchase where they really want to live. Combined sales in the Steamboat Springs area are up 46.5% over this same time last year. Inventory continues to be brutally low with 58.2% fewer active listings than last year, so the impetus persists for multiple buyers vying for the same properties. With residential inventories as low as they are, 318 land sales have traded versus 153 same period last year; many contractors are already booked out two years from now.
"The upper-end market, $2 million and above, has closed 62% more homes than last year at an average price of $3.1 million, and there's an additional 18 currently under contract. The successful closing of these pending contracts solidifies increased sales in this range of 116%. This seems pretty telltale that having a larger, more luxurious home, likely with a home office with outdoor space and the desire for space for multi-generations to ultimately congregate is important.
"As the Steamboat Resort continues its process for approvals of a 650-acre expansion that would make it the second largest Colorado ski resort, and construction of the longest gondola in North America (the Wild Blue Gondola), the desirability of real estate in the Steamboat Springs area looks to stay promising," said Steamboat Springs-area REALTOR® Marci Valicenti.
SUMMIT, PARK AND LAKE COUNTY
"The siren song of the mountains sings strong for real estate. The chief economist for the National Association of REALTORS® speaks of a new real estate demand from people who can work remotely. Where better to work remotely than from the mountains and our statistics bear this out. Comparing this November to last November, Summit County has had 27% more sales, yet active inventory is 56.8% lower as properties are going under contract quickly. The good news is there have actually been more properties available to buy. Buying a residential home in Summit ranged in price from a single-family home for $4 million to a condo for $227,000. We saw the average price of a single-family home rise 30.9% to $1.8 million and condos rose 16.3% to $629,971.
"Economic indicators predict real estate will remain strong, especially with the chairman of the Federal Reserve saying he expects to maintain low interest rates through 2023," said Summit-area REALTOR® Dana Cottrell.
TELLURIDE
"The Telluride market continues like a tsunami with 88 sales in November totaling $157,841,253, both of which are about 50% more that November 2019. There were two sales at $10 million in November including a 1700-plus acre ranch 30 minutes west of Telluride and a 2000-plus square foot house on four lots in the town of Telluride. It is getting very challenging to price listings to the market because of such a limited amount of inventory. The Telluride market is on track to reach or pass $1 billion sales for the year which would be an all-time record," said Telluride-area REALTOR® George Harvey.
VAIL
"November continued the trend of the past four months with significant increases in both transactions and dollars compared to 2019. Transactions were positive 37% and dollars 16.7% for the month of November. On a year-to-date basis, transactions are plus 17.7% and dollars plus 45%. Neither of these performances could have been projected back in May, however every month for the past 6 months we have set performance records.
"As we go into our winter season the crystal ball becomes a little murky as our pending sales are basically flat. However, the mix has changed with single family/duplex off 20% and condo/townhomes positive 34% for a net zero change. The other head wind is inventory as single family/duplex is negative 55% and condo/townhome down 23%, leaving us with a historic low level of product. The lack of inventory is significant in the volume price point niches and only a couple of the higher-end niches have equal or slightly above 2019 numbers. In an absorption rate analysis, single family/duplex is off 65% which translates to 2.5 months of inventory across all price niches. The condo/townhome inventory is negative 29% which is 3.9 months of inventory. The standard for months of supply on an industry wide basis is six months for a stable market," said Vail-area REALTOR® Mike Budd.
Inventory of Active Listings – Statewide
Inventory of Active Listings – Denver Metro area (Adams, Arapahoe, Boulder, Broomfield, Denver, Douglas and Jefferson counties)

Months Supply of Inventory – Statewide
Months Supply of Inventory – Denver Metro area (Adams, Arapahoe, Boulder, Broomfield, Denver, Douglas and Jefferson counties)
Median Sales Price – Statewide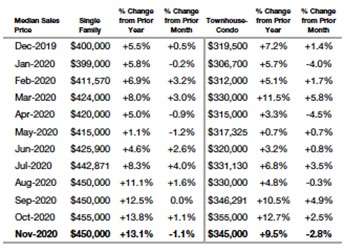 Median Sales Price – Denver Metro area (Adams, Arapahoe, Boulder, Broomfield, Denver, Douglas and Jefferson counties)
The Colorado Association of REALTORS® Monthly Market Statistical Reports are prepared by Showing Time, a leading showing software and market stats service provider to the residential real estate industry and are based upon data provided by Multiple Listing Services (MLS) in Colorado. The November 2020 reports represent all MLS-listed residential real estate transactions in the state. The metrics do not include "For Sale by Owner" transactions or all new construction. CAR's Housing Affordability Index, a measure of how affordable a region's housing is to its consumers, is based on interest rates, median sales prices and median income by county.
The complete reports cited in this press release, as well as county reports are available online at: https://www.coloradorealtors.com/market-trends/
###
CAR/SHOWING TIME RESEARCH METHODOLOGY
The Colorado Association of REALTORS® (CAR) Monthly Market Statistical Reports are prepared by Showing Time, a Minneapolis-based real estate technology company, and are based on data provided by Multiple Listing Services (MLS) in Colorado. These reports represent all MLS-listed residential real estate transactions in the state. The metrics do not include "For Sale by Owner" transactions or all new construction. Showing Time uses its extensive resources and experience to scrub and validate the data before producing these reports.
The benefits of using MLS data (rather than Assessor Data or other sources) are:
Accuracy and Timeliness – MLS data are managed and monitored carefully.
Richness – MLS data can be segmented
Comprehensiveness – No sampling is involved; all transactions are included.
Oversight and Governance – MLS providers are accountable for the integrity of their systems.           
Trends and changes are reliable due to the large number of records used in each report.  
Late entries and status changes are accounted for as the historic record is updated each quarter. 
The Colorado Association of REALTORS® is the state's largest real estate trade association representing more than 27,500 members statewide. The association supports private property rights, equal housing opportunities and is the "Voice of Real Estate" in Colorado. For more information, visit https://www.coloradorealtors.com.