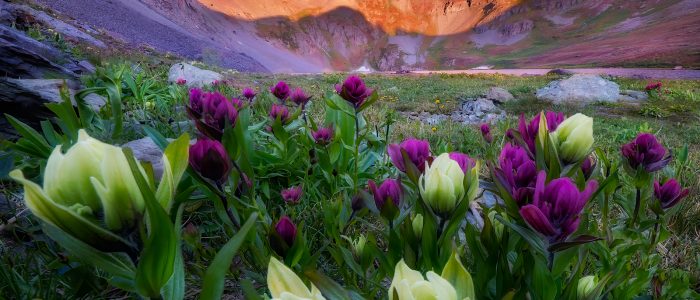 Housing Pipeline Surges Across Colorado in June Pent-Up Demand Drives Second Straight Month of Record-Setting Pending Sales
Marty Schechter for CAR
303-882-4585 cell
marty@schechterpr.com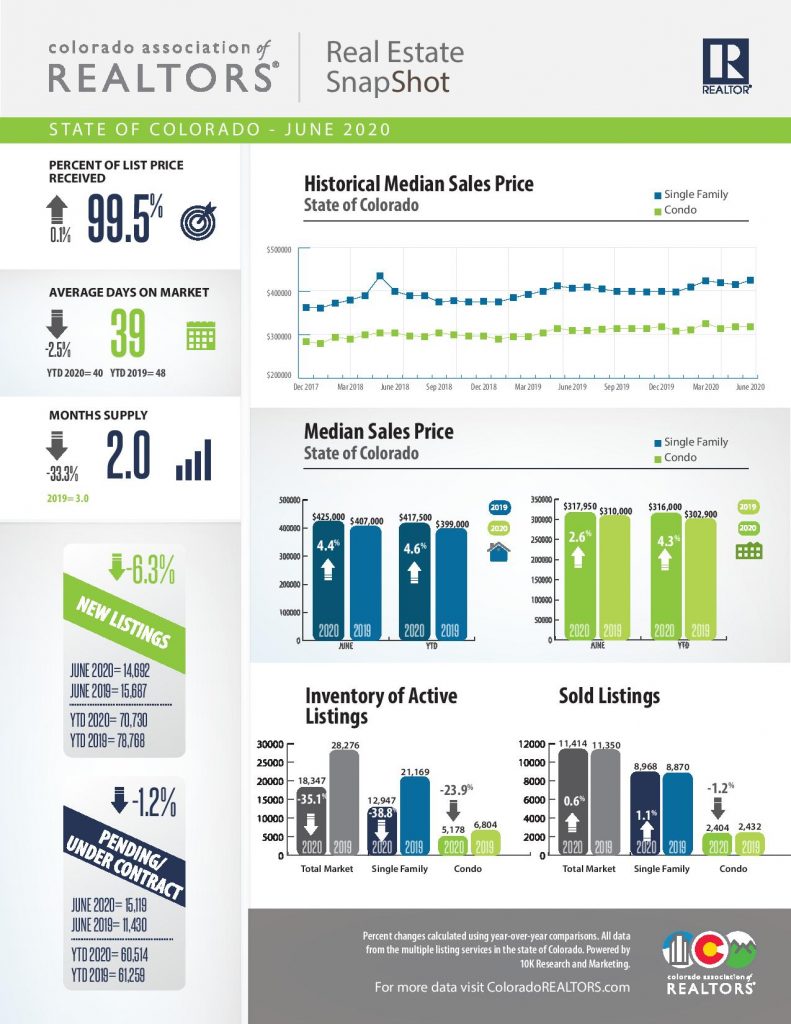 ENGLEWOOD, CO – July 10, 2020 – With pent-up demand and low inventory conditions prior to the COVID pandemic, the continued opening up of business and personal activities statewide created a surge of activity across Colorado's housing markets resulting in new record highs for pending sales and driving the inventory of active listings to record or near record lows in many local markets, according to the latest monthly housing data from the Colorado Association of REALTORS® (CAR).
June delivered a second straight month of record highs for pending/under contract properties in both the seven-county Denver metro region (7,122 single-family and 2,506 townhome/condos) and across the state (11,605 single-family and 3,458 townhome/condo) since CAR began tracking the data more than a decade ago. Those numbers all reflect a more than 30 percent increase from June 2019. Sold listings also spiked from May to June, up approximately 64 percent in both the Denver metro area and statewide.
Pending/Under Contract – Denver Metro area (Adams, Arapahoe, Boulder, Broomfield, Denver, Douglas and Jefferson counties)

Pending/Under Contract – Statewide

Despite another solid month of new listings, the surge in buyer activity has significantly impacted the pipeline and the inventory of active listings in the Denver metro area, as well as statewide. Active listings for single-family homes were down nearly 19 percent from May to June 2019 however, they are down more than 45 percent year-over-year in the Denver metro area. Statewide, single-family home active listings were down 14.4 percent from May to June and are down almost 39 percent from a year ago.
The combination of factors pushed the median sales price for single-family and townhome/condos to record or near record highs. In the Denver metro area, the median price of a single-family home hit $465,000, up 1.6 percent from May to June and up 3.3 percent from a year prior. The $325,000 median price of a condo/townhome in the seven-county Denver area stayed flat from May to June but is up 4.8 percent from June 2019. Looking at the statewide median price environment, single-family homes jumped 2.4 percent from May to June and are up 4.4 percent over a year prior at $425,000. Condo/townhomes hit a statewide median price of $317,950 in June, up 2.6 percent from a year prior.
"If you were one of those anticipating a housing crisis due to a worldwide pandemic, our most recent data would indicate that we are far from that becoming a reality. With inventory still at record lows and buyer activity strong, we see houses come on the market as new listings only to be immediately gobbled up, with no ability to build up any type of inventory. The metro Denver housing market experienced a 3.5 percent decline in new listings in June compared to June 2019 and overall inventory of homes, including single-family, townhome/condos dipped a dramatic 40.7 percent from a year prior to just 9,137 properties, compared to last June when there were 15,407 homes available for sale. If you're looking for further confirmation that a housing crisis is not in our immediate future, then look no further than the under contract/pending numbers, up 32.3% compared to last June" said Denver-area REALTOR® Karen Levine.
Taking a look at some of the state's local market conditions, Colorado Association of REALTORS® market trends spokespersons provided the following assessments:
AURORA
"It's summertime and things are hot. Not just the temperature, but home sales as well. Regardless of the zip code, Aurora's housing inventory is down about 50 percent compared to June 2019 while Centennial is seeing an inventory reduction of over 60 percent from 2019. For those homes that are available, they are selling in many areas in just 14 to 21 days with prices up 5.6 percent in Aurora where the average single-family home price is $406,650 and the average townhome/condo price reached $268,000, up nearly 9 percent over last year. The best housing buys are in the 80010 and 80011 zip codes with the average price at $325,000. This price reflects a 9.2 percent increase over 2019, yet it's not uncommon to find a mortgage payment that is less than rent.
"Centennial is experiencing a 63 percent reduction in home inventory as the median price of a single-family home reached $489,000. The median townhome/condo price hit $307,000 with an average days-on-market of 16. COVID restrictions have turned our traditional spring rush into a summer rush and we'll have to wait and see just how long it will last," said Aurora-area REALTOR® Sunny Banka.
BOULDER/BROOMFIELD
"Boulder County is holding its solid real estate market in spite of the global pandemic. Many believed that by not allowing in-person showings, along with significant job loss, that the real estate market would show a measurable decline by this time. Boulder County is holding literally flat – no change in price up or down, since June 2019. Listings are down 14 percent, and inventory is tighter than it has ever been. The strong buyer demand is still fueling the market as homes are selling in an average of 48 days. The numbers look as if time stood still as we are right about where we were in all aspects of the market as this time in 2019. The pandemic might have affected an improvement in the market in this county, but it certainly didn't cause a decline.
"People either love Broomfield County or just couldn't fathom moving during a pandemic, so the listings were down a whopping 20 percent. Sales followed, also down 20 percent. The demand for the limited inventory is strong and as soon as listings came on the market, they were gobbled up in less than 30 days. In spite of the pandemic, prices rose 4.3 percent making it appear like a decent spring market with nothing going on. One theory is that homes in Broomfield are bigger and more affordable than in its neighboring Boulder County. With people needing to work from home, have more space for children and exercise, the rush to the bigger homes in Broomfield may be one reason for the strength of this county's market at this time," said Boulder/Broomfield-area REALTOR® Kelly Moye.
COLORADO SPRINGS/PIKES PEAK AREA
"Last month, while the Colorado Springs-area single-family/patio home housing market shockingly recorded the lowest level of active listings, dropping to a dreadful 0.9-month supply. At the same time, we amazingly reached the highest level of monthly and year-to-date sales volumes, as well as the highest level of average and median sales prices, and fell just 59 total sales short of the highest level of monthly sales compared to any June on record. The year-over-year home sales activity saw a 2 percent increase in monthly sales, a 9.7 percent surge in the months sales volume, 2.5 percent increase in the year-to-date sales volume, 7.5 percent increase in the average sale price, and 8.8 percent increase in the median sale price. The average sales price soared to $401,980, and the median sale price climbed to $360,000. All of this while, alarmingly, active listings shrunk by more than 30 percent.
"When looking back 5 years and comparing single-family/patio homes sales in June 2015 with June 2020, monthly and year-to-date sales are up over 20 and 15 percent, respectively, monthly sales volume spiraled 73 percent, year-to-date sales volume soared 68 percent, median sales and average sales prices climbed 44 percent. All of this escalation took place while active listings were down by over 53 percent.
"Last month, 81.8 percent of the single-family homes sold were priced under $500,000, 15.4 percent were between $500,000 and $800,000, and 2.8 percent were priced over $800,000. Year-over-year, there was a 32 percent drop in the sale of single-family homes priced under $300,000, primarily due to the inventory shortage, while a 16 percent increase in homes priced between $300,000 and $600,000, over 43 percent increase in homes priced between $600,000 and $800,000, and over 58 percent increase in homes priced over $1 million.
"Sadly, pathetically low inventory and affordability challenges due to ever-soaring prices continue to be the most problematic aspect of the Colorado Springs area housing market, especially for first-time homebuyers. Though the current level of escalated prices presents a daunting challenge for our local buyers, for buyers from the Denver area, our housing prices are still very attractive. As a result, we continue to see a steadily increasing interest of Denver buyers in our Colorado Springs listings," said Colorado Springs-area REALTOR® Jay Gupta.
DENVER
"How's the market in Denver? Well, it's spectacular. There were more new homes coming to the market and there were more sales last month than during either of the previous two Junes. The average days on market is unchanged over last year, and the year-over-year median price increase was only $2000, or less than half a percent. The news is so good, in fact, that it almost overshadows the sole lousy statistic that supply is down 37 percent from June 2019. The delta between a lack of supply, despite a rise in the number of homes, can only be described as a sustained and increasing demand further proving that Pandemic or not, Denver is where people want to live," said Denver-area REALTOR® Matthew Leprino.
ESTES PARK
"Larimer County is showing relief and signs of a recovering market on the horizon as sold listings are up 18.1 percent and 13.5 percent for single-family homes and townhome/condos, respectively compared to June 2019. Our median sales price rose a pinch for single-family homes at 0.2 percent to $428,000, while townhome/condos saw a 5 percent increase to $315,000. Inventory remains tight however, with June's new listings down 10.1 percent for single-family homes and a dip of nearly 19 percent in the townhome/condo market compared to June 2019.
"Estes Park is booming with closed sales up 21.4 percent for single-family homes and just shy of 43 percent for townhome/condos. The median sales price saw a large upturn compared to last June with single-family homes at $525,000, up 34.8 percent and townhome/condos up 16.7 percent to $345,000. Single-family inventory was down 22.4 percent while townhome/condo inventory fell nearly 40 percent. The days-on-market for single-family homes and townhome/condos is not in sync. Single-family homes are closing much quicker, 59 days on average this past month, compared to 100 days a year prior. Townhome/condos have lengthened their average days-on-market from 68 days a year ago to 117 in June 2020, a 72 percent increase," said Estes Park-area REALTOR® Abbey Pontius.
FORT COLLINS
"Looking at the Fort Collins area June housing stats, it is clear that the easing of the public health order at the end of April created a surge in real estate activity that carried through into June.
"Pending sales, a leading indicator of transaction activity showing houses that have gone under contract, blossomed nearly 20 percent compared to June 2019. This bump up was sufficient to make the year-to-date number comparable to 2019 with total 2020 numbers shy of the previous year by just 3 percent. Sold listings also demonstrated a continued surge, outpacing last year's June numbers by more than 7 percent.
"While these numbers reflect the anecdotal conversations with brokers around the region of heightened activity, the number to watch is new listings. Without a new supply of inventory coming on the market to satisfy this uptick in demand, existing home prices are likely to continue to increase as evidenced by the 2.4 percent increase in median prices. New listings were down just over 16 percent for June compared to last year. This has lead to multiple offers across many price points in the region which is good news if you're a seller and somewhat frustrating news if you're a buyer looking for 'a steal of a deal.' Full price and over-asking offers remain a common element of purchase contract negotiations. However, potential sellers appear to be hesitant to put their properties on the market, perhaps due to concerns over COVID-19 and inviting buyers to tour a seller's home in person.
"Here's an interesting tidbit, however. Along with all these surging numbers, days-on-market also jumped up. It appears that buyers are taking a bit more time to bite as homes are on the market for nearly 12 percent longer. This could be due to several factors, among them, a concurrent surge in re-financing due to low interest rates, seems to have burdened lenders and appraisers, leading to some delays in completing transactions. Also, buyers appear to be taking a bit longer to make a decision on which property to buy, extending the days to offer, and then of course extending the days on market. In sum, the summer surge in temperature is keeping pace with the surge in real estate transactions," said Fort Collins-area REALTOR® Chris Hardy.
FREMONT/CUSTER COUNTIES
"Custer County's continuing decrease in listings and increasing sales holds our inventory low and keeps the buyer's market fixed. Looking back at the past two months, new listings for May were down 14.5 percent year-over-year while new sales climbed 16.4 percent. In June 2020 we saw new listings drop 24.4 percent but sales increased 58.3 percent compared to June 2019. Custer County's average sale price of $360,821, is up 33.3 percent year-over-year but property in the area typically includes larger acreage.
"Fremont County's new listings year-over-year are down 6.4 percent while sales, dropped nearly 12 percent. The average sale price of $252,599 is up 9.8 percent year-over-year. Comparing June 2020 to June 2019 shows an increase in new listings of 11.6 percent a possible sign that the market is catching up from the COVID shutdown. However, sales are down just over 8 percent compared to last June. Looking at the months supply of inventory, we sit at 2.8 months, a decrease of 28.2 percent from June 2019. Buyers, sellers and REALTORS® are all working together to find their way in this new era of doing business," said Fremont and Custer County-area REALTOR® David Madone.
GOLDEN/ARVADA – JEFFERSON COUNTY
"New listings across Jefferson County were down again in June and remain off -5.3 percent year-over-year while sold listings rose by nearly 10 percent. Our $510,000 median sales price is up 5.2 percent year-over-year with inventory on the market at an extreme low. As you would guess, the low supply and high demand will continue to drive increases in sale prices for the foreseeable future.
"Looking at the condo/townhome market, new listings fell 6.1 percent year-over-year as the median sales price rose slightly to $295,000. With a 46.3 percent decline in inventory and condo/townhome prices rising, it is a tough market for first-time homebuyers as we continue to see multiple offers and strong competition for properties below $400,000. With a shorter spring and summer sales season due to the virus, it will be interesting to see if the market stays hot well into the fall and winter months," said Golden/Jefferson County-area REALTOR® Barb Ecker.
Grand Junction/Mesa County
"The market in Grand Junction and Mesa County is still experiencing extreme inventory shortage. The consensus is that it is primarily because of COVID-19. For the month of June 2020 compared to June 2019, new listings were down 13.6 percent to 431. As a result, inventory levels shrank 38.2 percent to 629 active listings,which is 1.9 months of inventory.  Compared to the year-to-date over the same period last year, we are down 14.5 percent. Pending sales, driven by great interest rates, are up 21.8 percent; however, quite a few are falling out of contract. Both the median and average sale prices are up, 7.8 percent and 6.7 percent respectively. 
"As these prices increase, the affordability index gets more challenging as prices are rising faster than incomes. Our affordability as of June 2020 is 108 percent. As long as inventory stays low and demand high, we will see a continued gradual increase in prices. The effects of this are also rolling over into the rental market, where demand also is higher than supply, and rents are increasing," said Grand Junction-area REALTOR® Ann Hayes.
PUEBLO
"Similar to what we've experienced over the past four months, June brought many ups and downs to the Pueblo area housing market. Sold listings in June were down 6.2 percent compared to June 2019 and down 7.8 percent year-to-date compared to last year. Pending sales were up 29 percent year-over-year and are up 3.8 percent year-to-date as we continue to see properties go under contract quickly due to the ongoing lack of inventory. At the end of June our MLS has 272 homes for sale with 41 in Pueblo West.
"Looking specifically at sales, we were down 19.3 percent in June compared to last year but are off just 4.9 percent year-to-date. These conditions have helped drive the continued increase in median sales price, up 6.3 percent compared to June 2019 at $238,700. Buyers still find themselves in multiple-offer bidding wars to get a home. We're averaging 10 new home permits per week with a total of 266 since the beginning of the year," said Pueblo-area REALTOR® David Anderson.
STEAMBOAT SPRINGS/ROUTT COUNTY
"After two months of pandemic-induced hibernation, the Routt County real estate market has come roaring back. In June, more properties went under contract than in any previous month in recent history. A whopping 132 properties went pending in June, compared to a paltry 38 in April when in-person showings were banned. The largest spike was in single-family home contracts, up 50 percent versus multi-family contracts that were up 6.8 percent. Competition is tight as COVID has delayed some sellers from moving this year, impacting new listings which are down 30 percent for homes and -6.6 percent for townhome/condos from last year. While the uncertainty of COVID in April and May could have resulted in some sellers taking slightly more off their list price than they might have otherwise, the limited inventories are now resulting in several multiple offer situations. As such, we anticipate pending sales to replicate 2019s percent average of list price sold to within 3-4 percent. To be expected, with low residential inventory comes the increase of interest in vacant land. While there are 54 parcels under contract in Routt County, 48 of those contracts have occurred in the last 30 days. There is good vacant land supply in certain areas. Of the pending parcels, list prices start at $38,000 and go up to $4.9 million – with an average list price of $460,549.
"Historically, the third quarter produces Routt County's largest sales volume – particularly for the upper end segment. Activity of $2 million-plus continues to be strong with an additional 11 properties under contract this month plus eight existing for a total of 19. With nine properties in this caliber already closed, we are on pace to meet and likely beat the 37 sales of 2019.
"With persistent low inventory and new construction that is not keeping pace with demand, it likely means homes will continue to appreciate in desirable places like Steamboat," said Steamboat Springs-area REALTOR® Marci Valicenti.
TELLURIDE
"In my 37 years of practicing real estate here, I don't ever remember frantic buying in the Telluride regional market like the first six months of 2020. San Miguel County saw a 26 percent increase in the dollar amount of sales at $264.54 million. The prior five-year average was $209.81 million for the first six months of sales. A major factor was the surge in the dollar volume of Telluride condo sales and Mountain Village home sales. Sales in the more rural markets surrounding Telluride and the Mountain Village were also up 12.7 percent in dollar amount. For now, the 'new normal' seems to have pushed buyers to our local real estate to escape the urban areas and enjoy our outdoor activities. All of this surge is happening even though every summer festival has been cancelled in Telluride to date including the Fourth of July parade that usually takes our local population from about 2700 to as much as 25,000 for about three days. Every price point is busy as well as every sector of our real estate economy. Our biggest concern is just running out of inventory," said Telluride-area REALTOR® George Harvey.
Inventory of Active Listings – Denver Metro area (Adams, Arapahoe, Boulder, Broomfield, Denver, Douglas and Jefferson counties)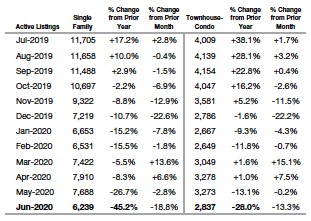 Inventory of Active Listings – Statewide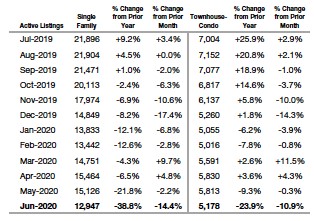 New Listings – Denver Metro area (Adams, Arapahoe, Boulder, Broomfield, Denver, Douglas and Jefferson counties)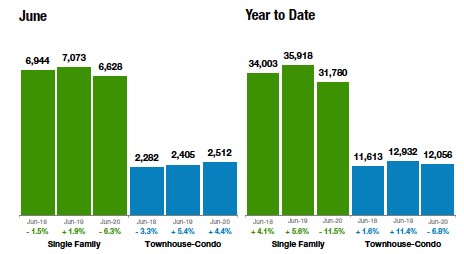 New Listings – Statewide
Median Sales Price – Denver Metro area (Adams, Arapahoe, Boulder, Broomfield, Denver, Douglas and Jefferson counties)

Median Sales Price– Statewide

The Colorado Association of REALTORS® Monthly Market Statistical Reports are prepared by Showing Time, a leading showing software and market stats service provider to the residential real estate industry and are based upon data provided by Multiple Listing Services (MLS) in Colorado. The June 2020 reports represent all MLS-listed residential real estate transactions in the state. The metrics do not include "For Sale by Owner" transactions or all new construction. CAR's Housing Affordability Index, a measure of how affordable a region's housing is to its consumers, is based on interest rates, median sales prices and median income by county.
The complete reports cited in this press release, as well as county reports are available online at: https://www.coloradorealtors.com/market-trends/
###
CAR/SHOWING TIME RESEARCH METHODOLOGY
The Colorado Association of REALTORS® (CAR) Monthly Market Statistical Reports are prepared by Showing Time, a Minneapolis-based real estate technology company, and are based on data provided by Multiple Listing Services (MLS) in Colorado. These reports represent all MLS-listed residential real estate transactions in the state. The metrics do not include "For Sale by Owner" transactions or all new construction. Showing Time uses its extensive resources and experience to scrub and validate the data before producing these reports.
The benefits of using MLS data (rather than Assessor Data or other sources) are:
Accuracy and Timeliness – MLS data are managed and monitored carefully.
Richness – MLS data can be segmented
Comprehensiveness – No sampling is involved; all transactions are included.
Oversight and Governance – MLS providers are accountable for the integrity of their systems.
Trends and changes are reliable due to the large number of records used in each report.
Late entries and status changes are accounted for as the historic record is updated each quarter.
The Colorado Association of REALTORS® is the state's largest real estate trade association representing more than 26,500 members statewide. The association supports private property rights, equal housing opportunities and is the "Voice of Real Estate" in Colorado. For more information, visit https://www.coloradorealtors.com.