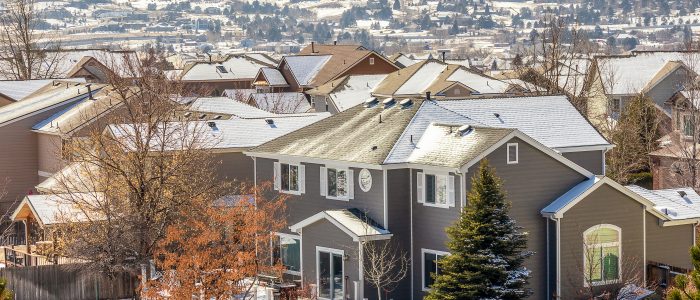 April's Real Estate Pause Not Nearly as Bad As Feared; Cautious Optimism Prevails as Delayed Selling Season Kicks In
Marty Schechter for CAR
303-882-4585 cell
marty@schechterpr.com
ENGLEWOOD, CO – May 12, 2020 – While the real estate universe paused with bated breath in April, the results of a complicated, pandemic-driven start to the typical buying and selling season weren't nearly as bad as many in the industry feared, according to the latest monthly market data from the Colorado Association of REALTORS® (CAR) and analysis from REALTORS® across the state.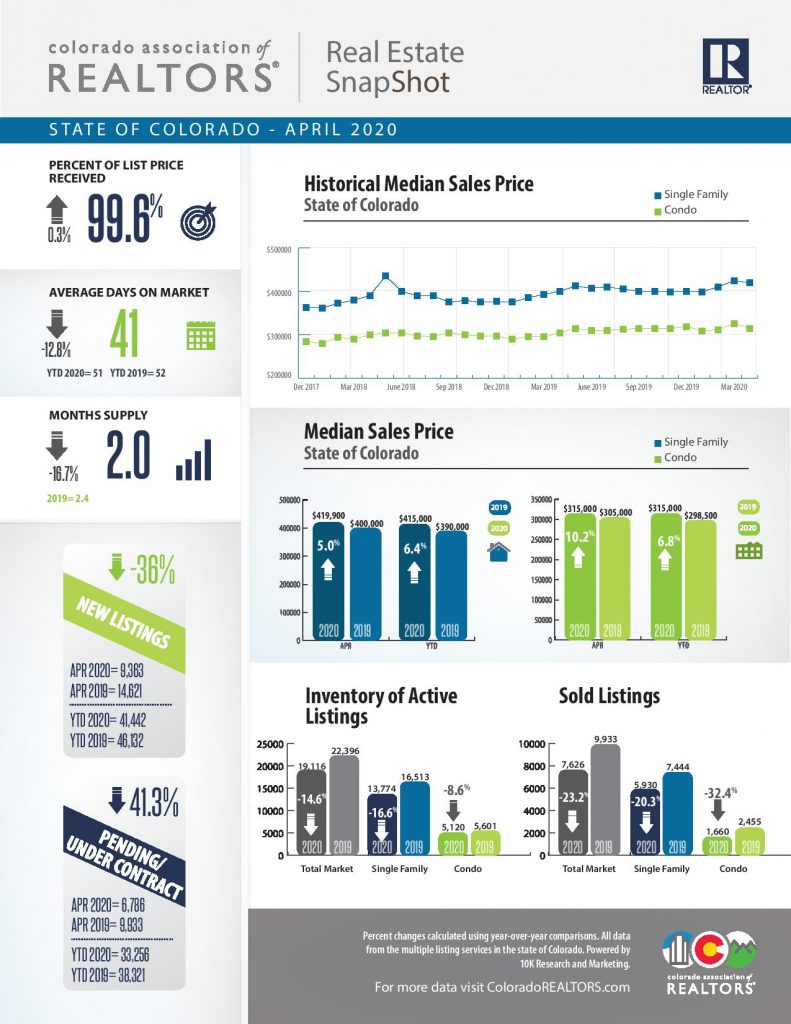 Navigating through complex and fast-changing stay-at-home and safer-at-home orders with varied restrictions and timelines from city to county to state, buyers, sellers and their REALTORS® continued to find new, creative ways to complete real estate transactions within mandated social distancing guidelines. Despite a more than 35 percent year-over-year drop in new listings, as much as a 20 percent decline in the inventory of active listings, as well as a 23-plus percent decrease in sold listings statewide, the market stood its ground with buyers who took advantage of low interest rates and drove sales in a wide range of markets and price ranges.
The conditions held median sales pricing fairly steady from March to April 2020, down just 1 percent for single-family homes statewide and just over 2 percent in the seven-county Denver metro area, but kept those prices up 5 percent from a year ago statewide ($419,000) and nearly 3 percent higher in the Denver metro area ($457,000).
With limited inventory pre-COVID now pushed to even lower levels, and strong demand continuing through the crisis, the average days on market fell nearly 13 percent statewide from a year prior to 41 days. In the seven-county Denver metro area, a dip of nearly 20 percent pushed average days on market to just 25, nearing a 10-year low as tracked by CAR. In addition, overall months supply of inventory fell nearly 17 percent statewide from April 2019 to just 2 months while in the Denver area, a nearly 24 percent drop from last year puts the months supply at just 1.6 months.
The National Association of REALTORS® conducted flash surveys of its members in April and early May which indicated that, despite concerns, buyer and seller sentiment is leaning toward completing the transaction, even if it's delayed by a few months.
"While the overall numbers aren't necessarily cause for celebration, they may in fact, be cause for cautious optimism," said Denver-area REALTOR® Matthew Leprino.
Taking a look at some of the state's local market conditions, Colorado Association of REALTORS® market trends spokespersons provided the following assessments:
AURORA
"It is very difficult to lump all of the Aurora home sales numbers together. The numbers vary drastically from one zip code to another. Inventory dropped more than 40 percent in the 80016 zip code while home median home price rose 6 percent to $577,925. Ironically, solds were down 40.7 percent as lack of inventory continued to have a significant impact. Looking at 80015, we saw a 17 percent drop in inventory and a 3.6 percent increase in median price for the 72 properties sold in the month of April in this very hot zip code. Taking a look at 80013, we had a 13 percent dip in inventory and a 9 percent price increase to $395,000 in the 80013 zip code which includes central and south Aurora. In the 80010 zip code we had a 31 percent drop in inventory and just over a 6 percent increase in median price to $315,000.
"The City of Centennial enjoyed a nearly 10 percent year-over-year price increase reaching an all-time high median price of $616,000. Not surprising given that the inventory was down nearly 40 percent from a year ago.
"Despite our COVID-19 challenges, the numbers clearly show inventory down, prices up, and homes still selling in Aurora and Centennial," said Aurora-area REALTOR® Sunny Banka.
BOULDER/BROOMFIELD
"The effects of the COVID pandemic on the real estate market have been the topic of many conversations in the last month. The numbers are starting to come in representing sales during this time and not surprisingly, new listings were down in Boulder County 17 percent in April. If anything, the surprise is that they weren't down more significantly. In fact, even though listings were down, sales were up 4 percent and prices stayed the same. The average days on market also remained relatively unchanged, as well, indicating the strength of our underlying real estate market. Even without the ability to show homes, buyers still purchased, and sellers still sold. The low inventory and high demand buoyed up what could have been a disastrous month for real estate. As the ability to show homes relaxes in the coming months, the spring market will be pushed into the summer and the indicators look positive for a strong, active summer and fall.
"In Broomfield County, sellers seemed inclined to wait to list their homes, with new listings down 30 percent. Sales volume followed in line with a decline of 17 percent, but homes that sold did so at a median price 7 percent higher than at the beginning of the year. In spite of not being able to show homes in person, average days on market remained around 34 days, indicating the underlying strength of the real estate market in this area as well. With showings allowed starting May 9, listings and sales are expected to soar and the busy spring market will likely be pushed into the summer and fall," said Boulder/Broomfield-area REALTOR® Kelly Moye.
COLORADO SPRINGS/PIKES PEAK AREA
"While the Colorado stay-at-home order was in effect during the entire month of April, prohibiting in-person showings and open houses, the Colorado Springs-area housing market performed amazingly well. The year-over-year home sales activity saw only an 8 percent drop in the monthly sales, less than a 2 percent decline in the monthly sales volume, a 10 percent increase in the year-to-date sales volumes, a 7 percent increase in the average price, and a 10 percent increase in the median sale price. The average sales price ascended to $395,724, and the median sale price climbed to $360,000. Last month, the single-family/patio home sales recorded the highest level of year-to-date sales volumes, as well as the highest level of average and median sales prices, and second highest level of year-to-date sales (only 13 sales below the highest level) compared to any April on record.
"The single-family/patio home sales data shows that during the past 5 years, April 2015 to April 2020, the monthly sales increased by 9 percent, year-to-date sales by 26 percent, monthly sales volume spiraled 62 percent, year-to-date sales volume soared more than 88 percent, median sales price rose 49 percent, and average sales price was up more than 53 percent. All of this escalation took place while, shockingly, active listings declined by 41 percent.
"Last month, 83.6 percent of the single-family homes sold were priced under $500,000, 14.6 percent were between $500,000 and $800,000, and 1.8 percent were priced over $800,000. Year-over-year, there was a 38 percent drop in the sale of single-family homes priced under $300,000, primarily due to the inventory shortage, while we had a more than 48 percent increase in homes priced between $400,000 and $500,000, and a 24 percent drop in homes priced over $800,000.
"Even in a strong real estate market, buyers generally purchase properties offering competitive values. It was not surprising that while the listing inventory was at an alarmingly low level with only 1.3 months supply, only 77 percent of active listings sold during the month compared to 84 percent last year.
"Sadly, pathetically low inventory and affordability challenges due to ever-soaring prices continue to be the most problematic aspects of the Colorado Springs-area housing market, especially for first-time homebuyers. Though the current level of escalated pricing presents a daunting challenge for our local buyers, for buyers from the Denver area, our housing prices are still very attractive," said Colorado Springs-area REALTOR® Jay Gupta.
"April was a very interesting month across the country and that was no different here in the Pikes Peak Region. Single-family listings were down just over 29 percent as sellers tried to avoid personal contact and the COVID unknowns. Pending sales decreased 28.2 percent and sold properties dropped 9.5 percent. But the market remained surprisingly hot as both buyers and sellers continued to work past major obstacles and creatively move home inventory. Median sales price across all properties was up 9.3 percent from last year.
"Nationwide, we saw tens of millions of Americans hit the unemployment lines in April. The U.S. went from the lowest unemployment to double-digit unemployment in one month and the effects of that have not been realized yet. But, by the end of April we had many workers going back to work in a limited capacity. The FED jumped in with massive spending throwing trillions of dollars at the economy as it free fell. Printed money was tossed at everything from $1200 being sent to taxpayers and PPP loans being offered to businesses. In 2008, we spent $750 billion on the TARP bailouts and we are spending double that a day, at times.
"There is little question that, with GDP plummeting, the country has likely entered into recession along with the rest of the world's major economies. It will take a few months to really understand what this economic 'break' and bailout has affected in areas of our economy, both locally and nationally. But one area that has not really felt it is housing. With low interest rates and low inventory, housing continues to sit on surprisingly solid ground through the month of April," said Colorado Springs-area REALTOR® Patrick Muldoon.
DENVER
"While the real estate universe paused with bated breath in April – wondering how bad it would get, the results are finally in and aren't quite what we'd feared. While the numbers for Denver aren't cause for celebration, they are in fact, cause for cautious optimism.
"From April 2019 to 2020, the number of new listings to market fell 41.4 percent, not surprising given both the Mayor and Governor's enaction of the 'pause button' on the ability to show homes. What occurred seemingly against that data is prices both increased and average days on market decreased. Falling 37.5 percent from April 2019, the average days on market for a single-family dwelling now sits at just 15 days. The median price, a number expected to grow considerably less than previous years, also increased this last April by 5.9 percent over last year – that in stark comparison to the previous year's (2018 to 2019) growth of only 1.3 percent and from 2017 to 2018 a number that grew by 16 percent.
"This being the first month of significant disruption from beginning to end, could be the wrapping up of a prosperous era in the real estate universe or it would be merely a pivot as the world adjusts to an altered state of supply and demand. Like any economic shift, the full results will take months if not years to see more clearly but for now, the truth of Denver's insatiable appetite for housing remains, at least for now, alive and well," said Denver-area REALTOR® Matthew Leprino.
DURANGO
"April sales numbers in La Plata County were down 16 percent, but with a strong first quarter, they were just enough to keep year-to-date sales above the prior two years and featured many more single-family sales than condos-townhomes. Looking ahead, pending sales, down 42 percent in single-family for the month and 69 percent for condo/townhomes, give a dismal outlook of May's potential with a stay at home order through most of the month, preventing any showings of homes.
"Looking forward to our 2020 outlook, our number one question is whether we will have a tourist season. The health of our local economy depends on our businesses being open and workers returning to their jobs. There are numerous small businesses that may not re-open, which will ultimately affect the local housing market.
As far as bigger picture real estate, with a remote 'vibe,' a large regional health care facility, as well as a local airport, Durango tends to win when buyers re-evaluate life choices as they have been sequestered during the COVID-19 crisis. It's too early to tell what the year will bring, but with interest rates as low as they currently are and an approaching tourist season, albeit smaller than we'll have seen in many years, we may break even to last year's number of sales with prices holding steady. Without a tourist season, the economic suffering we will experience in the community will spill over into the real estate market, with potential of more inventory, longer days on market, and prices softening," said Durango-area REALTOR® Jarrod Nixon.
ESTES PARK
"The Estes Valley is definitely showing short-term effects from the COVID pandemic, stay at home orders and lack of tourism as we are so dependent on out of town visitors for revenue and secondary home purchases, beyond the normal happenings of our rural mountain town. New listings were down 32 percent, sold listings were down 20 percent and pending/under contract numbers dropped a dramatic 48.2 percent from April 2019 for single-family homes. Townhouse/condos are having the same struggles with major reductions in activity. New listings fell 33.5 percent, sold listings fell 21.3 percent and pending/under contract numbers were drastically lower with a 57 percent decrease from the same time last year. The COVID pandemic has taken its toll in the short term, but there is still some growth to note the true strength of the market in this area. Median sales price continues to climb, up 5.4 percent for single-family homes, and a nice 3.5 percent bump for townhouse/condos, compared to April 2019. Year to date, the average sales price has increased 3.3 percent for single-family homes and 5.4 percent for townhouse/condos. Townhouse/condos continue to show desirability with the consumer in the Estes Valley as evidenced by continued increases in sold listings, up 13.2 percent year to date. While we don't know the long-term effects of our current health crisis, there is energy and positive momentum that real estate in the Estes Valley will move forward and recover," said Estes Park-area REALTOR® Abbey Pontius.
FORT COLLINS
"April's housing numbers, like most economic numbers around the globe, showed marked slowing due to pandemic-driven shelter in place orders. Many sellers continued to pull their once for-sale properties off the market, as we saw at the end of March, and with more restrictive guidance from the Colorado Department of Public Health and Environment (CDPHE), in-person showings halted altogether. In spite of these impediments, there were still substantial numbers of transactions to report across the Fort Collins metro area.
"We saw 189 properties close in April which is down 24 percent from April of last year, yet on the whole, purchases year-to-date have dipped only 4.2 percent with median price calculations showing an increase of 2.9 percent ending the month at $432,000. Demand for housing, coupled with limited inventory, still drives pricing.
"Other numbers illustrate the effects of the widespread economic shutdown with days on market jumping up 18 percent year-to-date. Homes available for sale took about two weeks longer to close during the time buyers were restricted to virtual home shopping. Part of what this number illustrates is how buyers adapted to making offers on property. Many offers were made sight-unseen, contingent on a physical inspection after going under contract. This strategy likely drove up days on market simply because it took longer to close a property subject to delays in inspections and even appraisals.
"Looking ahead to the May numbers – we may see a year-over-year bump in those numbers as the public health orders have eased with regard to showing property. The pent-up energy of homebuying is much like the pent-up energy of our mountain snowpack. With the increase in temperature, the frozen water is released and swells our streams and rivers. Buyers, previously frozen at home have been released into the marketplace armed with masks, hand-sanitizer, and low interest rates. Reports of surges in activity are common across the front range, especially at the median price points," said Fort Collins-area REALTOR® Chris Hardy.
FREMONT/CUSTER COUNTIES
"Custer County new listings were down 50 percent compared to April 2019, yet sales were up 75 percent for the same period. Year-over-year new listings were up 1.3 percent and sales were up 39.4 percent, depicting a fairly strong housing market in the area. Sales may see a bit of a lag in the area over the next month, but new listings will increase now that the statewide stay-at-home order is relaxed. The market continues to show a positive increase in the median price of homes and that positive increase has been steady over the last 10 months.
"Looking at Fremont County, we saw new listings finish April 30 percent lower than April 2019 and sales dipped nearly 21 percent. Year-over-year listings were down 6.7 percent and sales were down more than 13 percent. However, listing activity since the Governor's stay at home order has been relaxed appears to be very strong. This indicates that May new listings and sales will most likely catch up. The median home price has shown positive appreciation over the past 28 months bringing it to its current affordable value of $234,500," said Fremont and Custer County-area REALTOR® David Madone.
GOLDEN/ARVADA – JEFFERSON COUNTY
"In Jefferson County, April single-family homes sales fell 20 percent, new listings were down 33.5 percent, and inventory decreased 15.3 percent from this time last year. The median sales price increased to $495,000 and the homes that remained active were under contract an average of just 15 days.
"As for the condo/townhome market, sales dropped nearly 32 percent, new listings were down 33.5 percent and inventory decreased 15 percent from this time last year. The median sale price rose to $331,716 with average days on market also at 15.
"COVID-19 has affected the numbers greatly for all properties however, supply and demand is still driving the sales price up. There are plenty of buyers out there that still need to buy a home. We will see in the coming days, now that Jefferson County is operating under the safer at home order, if multiple offers come rushing back and how many new listings hit the market in May," said Golden/Jefferson County-area REALTOR® Barb Ecker.
STEAMBOAT SPRINGS/ROUTT COUNTY
"COVID's abrupt end to the ski season and the prohibitions of nightly rentals took a toll on April's real estate in Ski Town USA® and its bedroom communities. A total of 34 homes closed in April, a 55 percent decrease from April 2019. At a time when sellers would typically be getting a jump on the spring selling season, we saw increased activity of sellers withdrawing their properties from the market. New listings were down 48 percent, indicative of tactical decision-making as governments assessed and determined the restrictions of the quarantine. Buyers should anticipate the bulk of our market's summer listing inventory to hit around the first of June. Hopefully, this will correspond with the lifting of nightly rental restrictions and opening of restaurants at the end of May. Pending activity is occurring daily and buyers who may have hit the 'pause' button are coming off the sidelines. With current listing inventory at $384 million (compared to $924 million in 2008), average sales prices are at 96.2 percent of list price for single-family and 97.8 percent for multi-family.
"The quarantine has demonstrated that many occupations can now be performed location-neutral. In the past century, home has never been more important than it has been for the last eight-plus weeks. If people were not happy with their home prior to COVID, they may be further incentivized by low interest rates to become buyers once again or for the first time. Effects of the pandemic may also cause some people to reassess their priorities on where they want to live and feel safe. A destination location like Steamboat and the Yampa Valley could see activity as a result," said Steamboat Springs-area REALTOR® Marci Valicenti.
TELLURIDE
"April 2020 sales were up 134 percent over April 2019 putting the first four months of 2020 up 54 percent over the same period in 2019. However, most of those sales were in the pipeline from earlier in the year. San Miguel County has an ordinance prohibiting short-term rentals to anyone who lives outside of our county effectively prohibiting tourism, the major drive of our economy. That ordinance will be revisited on May 31. Several major festivals like Bluegrass, The Ride and the Fourth of July Parade have already been cancelled.
"Starting about a week ago, real estate brokers are now allowed to live stream a video to their client from a listing. Several health safety precautions are required regarding those video tours. We can show property to a buyer who lives in San Miguel County but that buyer pool is very small.
"The National Association of REALTORS® has published some new buyer trends that may be helpful for remote resorts. More people may want to leave higher density urban areas and move to remote locations that are potentially safer. Many professionals are able to work remotely and from their homes. Some buyers may look to real estate as an investment considering the recent volatility of the stock market. However, many of our second homeowners are from Texas and are in the oil and gas business which is being pounded in the global economy. To summarize, we really are unsure of our real estate and tourist economy in that none of us have ever experienced a health pandemic like we are in now," said Telluride-area REALTOR® George Harvey.
VAIL
"The month of April had a significant impact on year-to-date performance and comparison to April 2019. On a transactional basis, the overall market was down just over 50 percent versus April 2019 while our year to date is down more than 20 percent. On a product basis, single-family/duplex units were down 49 percent versus a year ago with townhouse/condo units off 55.4 percent. At the end of March, the market was basically flat compared to 2019 year to date. On a dollar standpoint the month of April was down 49 percent versus 2019 and the year-to-date dollars were off 13 percent versus a high single-digit number at the end of March.
"The near-term prognosis is murky at best as pending sales in April were down 53 percent on single-family/duplex and negative 59 percent on townhouse/condo units. From a year-to-date standpoint we are negative 45 percent on single-family/duplex and down 30 percent on townhome/condo units. Inventory is still declining and year over year we are down 16 percent which, although negative, is holding relatively steady as a trend which has been ongoing for the past 18 months.
"The initial impact of COVID-19 might appear bleak but we need to look forward. Since the beginning of May and the lifting of the in-person showing ban, we have seen a significant increase in activity particularly in the locals housing niche of the market. This is encouraging as the local's market generates 50-55 percent of our unit volume. Low interest rates help this segment and as activity picks up and businesses begin to open, jobs will increase and there is solid optimism for a reasonable recovery. The second home market is still the question mark as no one knows if and when travel limitations for the front range buyers will be lifted which represent approximately 20-24 percent of the market. The out-of-state buyers, who represent 25-27 percent of our market, will most likely be controlled by the level of air traffic increases over the summer months. The second home market is very important to us, as it is approximately half of the transactions but a far greater percentage of total dollar volume," said Vail-area REALTOR® Mike Budd.
New Listings – Denver Metro area (Adams, Arapahoe, Boulder, Broomfield, Denver, Douglas and Jefferson counties)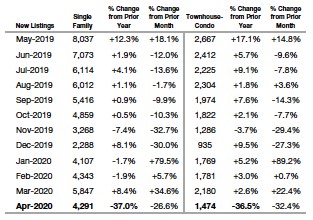 New Listings – Statewide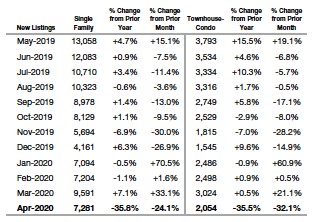 Inventory of Active Listings – Denver Metro area (Adams, Arapahoe, Boulder, Broomfield, Denver, Douglas and Jefferson counties)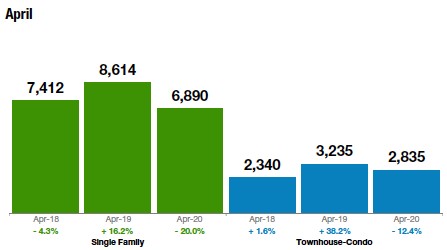 Inventory of Active Listings – Statewide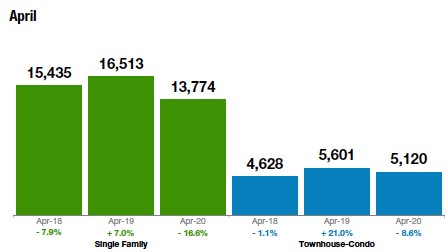 Median Sales Price – Denver Metro area (Adams, Arapahoe, Boulder, Broomfield, Denver, Douglas and Jefferson counties)
Median Sales Price– Statewide
Days on Market – Denver Metro area (Adams, Arapahoe, Boulder, Broomfield, Denver, Douglas and Jefferson counties)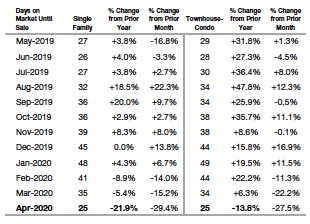 Days on Market – Statewide
The Colorado Association of REALTORS® Monthly Market Statistical Reports are prepared by Showing Time, a leading showing software and market stats service provider to the residential real estate industry and are based upon data provided by Multiple Listing Services (MLS) in Colorado. The April 2020 reports represent all MLS-listed residential real estate transactions in the state. The metrics do not include "For Sale by Owner" transactions or all new construction. CAR's Housing Affordability Index, a measure of how affordable a region's housing is to its consumers, is based on interest rates, median sales prices and median income by county.
The complete reports cited in this press release, as well as county reports are available online at: https://www.coloradorealtors.com/market-trends/
###
CAR/SHOWING TIME RESEARCH METHODOLOGY
The Colorado Association of REALTORS® (CAR) Monthly Market Statistical Reports are prepared by Showing Time, a Minneapolis-based real estate technology company, and are based on data provided by Multiple Listing Services (MLS) in Colorado. These reports represent all MLS-listed residential real estate transactions in the state. The metrics do not include "For Sale by Owner" transactions or all new construction. Showing Time uses its extensive resources and experience to scrub and validate the data before producing these reports.
The benefits of using MLS data (rather than Assessor Data or other sources) are:
Accuracy and Timeliness – MLS data are managed and monitored carefully.
Richness – MLS data can be segmented
Comprehensiveness – No sampling is involved; all transactions are included.
Oversight and Governance – MLS providers are accountable for the integrity of their systems.
Trends and changes are reliable due to the large number of records used in each report.
Late entries and status changes are accounted for as the historic record is updated each quarter.
---
The Colorado Association of REALTORS® is the state's largest real estate trade association representing more than 26,500 members statewide. The association supports private property rights, equal housing opportunities and is the "Voice of Real Estate" in Colorado. For more information, visit https://www.coloradorealtors.com.