Coronavirus Slows But Can't Stop Robust Housing Market
March numbers reflect a pause to the momentum of a healthy first
Marty Schechter for CAR
303-882-4585 cell
marty@schechterpr.com
ENGLEWOOD, CO. – April 10, 2020 – From a cold and snowy Colorado February to the COVID-19 pandemic in March that has impacted virtually every person and every community, the state's residential real estate market found a way to persevere with increases in sales, new listings, sold properties and median sales price, according to the latest monthly market data from the Colorado Association of REALTORS® (CAR).
Although some sellers and buyers have been rightfully rattled by the vast unknowns COVID-19 will have across our healthcare system, businesses, employment and of course, world financial markets, the fundamentals of our Denver metro and statewide housing market held up well in the early weeks of the crisis. While some buyers and sellers may have elected to hit the pause button on their planned move due to personal concern or other circumstances, pent up demand and record low inventory across the state drove sales. In the Denver metro area, 4,064 sold listings in March reflected a 24.4 percent increase from February and remain a half percent up from March 2019. Statewide, sold listings rose 26.7 percent (6,789 solds) from February to March and are up just shy of 1 percent from 2019.
Deemed a part of the state's essential services by the Governor in late March, REALTORS® continued to work with buyers and sellers, often in new, creative ways, to complete elements of real estate transactions within social distancing and stay-at-home guidelines to help ensure public safety and mitigate public exposure and spread of the virus.
A strong first half of the month served as a solid foundation as concerns grew and daily activities became increasingly limited during the second half of March. While inventory of single-family active listings was down 24 percent (5,937 listings) in the seven-county Denver metro area and 20 percent statewide (12,323 listings), compared to 2019, new listings were up 9.2 percent in Denver metro (5,894 listings) compared to March 2019, while statewide, they were up 7.4 percent (9,615).
Median pricing for single-family homes in the seven-county Denver metro region came in at $467,000, up 8.1 percent over March 2019. Statewide, median pricing rose to $424,050, also up 8 percent over the same period last year.
Taking a look at some of the state's local market conditions, Colorado Association of REALTORS® market trends spokespersons provided the following assessments:
AURORA
"The Aurora and Centennial markets were demonstrating strong signs of the typical spring rush, that is until COVID-19 hit. Inventory in Aurora finished the month down 30 percent compared to last year and Centennial inventory was down 51 percent year-over-year. Overall, pricing in Aurora was up more than 10 percent from 2019, Centennial pricing was up 6.2 percent. The median price in Centennial finished March at $515,000 as Aurora pricing continues to vary drastically by zip code including the 80010 area where inventory was down 60 percent and median price came in at $300,000. Looking at 80015, inventory was down 20 percent and prices were up 5.5 percent to a median of $440,000. We expect to see pent-up demand as we move out of the restrictions of COVID-19," said Aurora-area REALTOR® Sunny Banka.
BOULDER/BROOMFIELD
"Boulder County, which started the year with a bang, has been tempered a bit in March by the outside influences of the COVID pandemic. Listings were down during a time when they would be typically be rising. Sales were up 17 percent as pent-up demand from buyers gobbled up whatever inventory was left. Buyers were incentivized by the extremely low interest rates and they took advantage of it. Prices held stable, in spite of the outlying issues, up a modest 1.7 percent and days-on-market remained under 60, still indicating a low inventory and high demand situation. The more affordable attached dwellings put up better numbers with 25 percent more sold listings and a price jump of 8.5 percent since the beginning of the year. April's numbers will be more indicative of how the COVID pandemic is actually affecting our real estate market.
"The inventory remained tight in Broomfield County with 17 percent fewer listings than last year at this time. With the demand still high for this area, prices were pushed up 9.4 percent since the beginning of the year, indicating a hot start to the spring. This brisk market will no doubt be affected by the COVID pandemic and April numbers will likely show a change. The attached dwellings seemed to be the popular ones, with sales up 46 percent since last year at this time. Surprisingly, prices went down 3 percent, which contradicts the typically low inventory and high demand model. It appears buyers are looking and paying for properties that are on the more affordable part of the spectrum. Again, sales happened under 37 days on average, but those numbers are bound to change with the showing and buying limitations now in place," said Boulder/Broomfield-area REALTOR® Kelly Moye.
COLORADO SPRINGS/PIKES PEAK AREA
"During last month's horrific COVID-19 pandemic, the Colorado Springs-area single-family/patio home housing market astonishingly recorded the highest level of monthly and year-to-date sales and sales volumes, as well as the highest level of average and median sales prices compared to any March on record. The year-over-year home sales activity saw a 4 percent increase in both monthly and year-to-date sales, a 15 percent increase in the months' and year-to-date sales volumes, and over 11 percent increase in the average and median sale prices. The average sales price ascended to $390,721, and the median sale price climbed to $352,400. All of this while, shockingly, active listings declined by more than 9 percent.
"When looking back 5 years and comparing single-family/patio homes sales in March 2015 with March 2020, monthly and year-to-date sales are up over 26 and 34 percent, respectively, monthly sales volume spiraled 90 percent, year-to-date sales volume soared 101 percent, median sales price rose 57 percent, and average sales price was up 51 percent. All of this escalation took place while active listings were down by over 48 percent.
"Last month, 84.2 percent of the single-family homes sold were priced under $500,000, 13.7 percent were between $500,000 and $800,000, and 2.1 percent were priced over $800,000. Year-over-year, there was a 38 percent drop in the sale of single-family homes priced under $300,000, primarily due to the inventory shortage, while we had over 29 percent increase in homes priced between $300,000 and $600,000, over 94 percent increase in homes priced between $600,000 and $1 million, and there was no change in homes priced over $1 million.
"Even in a strong real estate market, buyers generally purchase properties offering competitive values. Unsurprisingly, over 22 percent of the El Paso County and 18 percent of the Teller County active listings in the Pikes Peak MLS had price reductions.
"Unequivocally, pathetically low inventory and affordability challenges due to ever-soaring prices continue to be the most problematic aspect of the Colorado Springs area housing market, especially for first-time homebuyers. Though the current level of escalated prices presents a daunting challenge for our local buyers, for buyers from the Denver area, our housing prices are still very attractive. As a result, we are seeing a steadily increasing interest of Denver buyers in our Colorado Springs listings," said Colorado Springs-area REALTOR® Jay Gupta.
DENVER
"Reporting a month's activity means we're able to gauge that activity against prior years and forecast accordingly – that is not the case for Denver in March of 2020. While we compare 2020's spring-opener, statistically-speaking it was a great month. There were 8.13 percent more arrivals to the market, the amount of sold homes ended 1.2 percent higher than March 2019 and the median price rose for single-family homes by 11.1 percent.
"An extremely important consideration when analyzing March data is that all of this occurred before and during a worldwide pandemic outbreak. It's not often that the average days on market decreases by a full week to 20 days when, for a good portion of the month, showings actually decreased by 49 percent.
"While the sold statistics don't necessarily tell the tale of a COVID-laced March, April most certainly will as it will more accurately reflect what did or did-not go under contract during one of the highest-activity months of the year," said Denver-area REALTOR® Matthew Leprino.
DURANGO
"La Plata County numbers in March were incredibly strong, up 25 percent in number over 2019, pushing year-to-date sales up 9.5 percent compared to the same time last year when our county experienced record snowfall and an extended snow season. For all the inventory coming into the market, buyers seem eager to purchase it. March sales started off very robust, however some sales were lost in later March as COVID-19 restrictions came into place due to buyer anxiety and stock market volatility, but most contracts pushed through to closing. Looking forward, pending sales in March were also up over 2019; time will tell whether the contracts will ride the storm of the COVID-19 crisis. Showing restrictions put into place in early April will eventually lead to diminishing 2020 sales, however we feel confident the market will rebound with pent up demand from buyers as soon as restrictions are lifted," said Durango-area REALTOR® Jarrod Nixon.
ESTES PARK
"Larimer County has been off to a good start in 2020 including March new listings up 17 percent for single-family homes and 1.2 percent for townhouse/condos compared to March 2019. Sold listings continue to stay strong with a 6.5 percent increase in single-family homes and an 8.9 percent bump for townhouse/condos. Compared to March 2019, average sales prices are holding steady. Single-family homes had a small dip of 1.1 percent, while townhouse/condos climbed 7.6 percent.
"Estes Park is keeping up the trend with new listings up 7.1 percent for single-family homes and 12.5 percent for townhouse/condos. The average sales price for a single-family home is down 9.8 percent from March 2019, while townhouse/condos gained 2.2 percent over last year. While the dip in average sales price for single-family homes is not ideal, the average days-on-market shortened dramatically from 84 days to just 58. Townhouse/condos are staying on the market longer at 100 days versus 76 last year.
"While Larimer County and Estes Park markets are holding steady, there certainly will be some change in stats starting in April and likely continuing for a couple months as we wait to see how this outbreak truly effects our real estate market," said Estes Park-area REALTOR® Abbey Pontius.
FORT COLLINS
"There's no doubt that your life has been changed by the outbreak of COVID-19 and real estate in northern Colorado has not been immune to the pandemic either. The monthly numbers paint a slightly sunnier picture than what the last week of March and the ensuing days into April are currently demonstrating.
While inventory was continuing to grow (3.6 percent year-over-year), demand was keeping pace. Low interest rates increased buying power and combined to create demand that pushed single-family sales up nearly 2 percent from the previous year. Median prices in the greater Fort Collins/northern Larimer County area crept up to $424,500, just shy of the $425,000 median price seen in March 2019. Days-on-market, heading into the statewide shelter in place order, also crept up by nearly three weeks compared to the year previous, demonstrating hesitation in the marketplace as the economic uncertainty building in February and the first half of March culminated in retail closures, job losses and the rest that we've witnessed either first hand or the various media access points we view every day.
"Historically, March is often both the snowiest month and the beginning of the busiest season in real estate sales for the year. Early numbers bore that out until the pandemic reached our region. With the March 26 announcement of the Public Health Order to shelter in place, we saw a substantial spike in sellers withdrawing their properties from the open market in the last three weeks of the month. We saw buyers step back from a purchase they didn't absolutely have to make or could no longer fulfill because of job loss or the potential for job loss. We saw sellers, buyers and brokers engage in social distancing by providing virtual walk-throughs of homes still for sale but not available for in-person showings and curbside closings so that all parties could remain insulated from possible exposure to the virus.
"A pause button has been initiated for real estate via the shelter in place order. There is still a real estate market out there. There are still sellers who need to sell and buyers who need to buy – but all of that is on hold until the outbreak is appropriately decelerated and our health facilities are given ample time to care for those multitudes still likely to become ill," said Fort Collins-area REALTOR® Chris Hardy.
"By now, everyone in the U.S. has felt the effects of the COVID 19 pandemic in some way, and real estate is no different. As our leaders at all levels, Federal, State and local municipalities work to deal with, and give us guidance through a situation that seems to change on a daily basis, the real estate market and the professionals at work in the industry, are working hard to provide the best service possible, while protecting the safety of buyers and sellers and doing our part to slow the spread of the virus.
That being said, properties are still being sold and the market continues to move. It's likely still too early to predict the long-term effects of the stay-at-home orders, unemployment and lost opportunity cost that will eventually shape the market in the coming months. The needs and motivations of buyers and sellers ultimately decide the final sales price and when a property will sell.
"Most economists and financial gurus are saying that we will experience a 'V' recession, with a quick, sharp downturn in the economy, and a quick upturn soon to follow. Most also agree that most areas of real estate will weather these events well, due to pent-up demand, low inventory and incredibly low interest rates. That being said, it will apply to each of us differently. Those looking to attain home ownership for the first time may benefit from a little slowing and softening in the market and be able to find great deals when taking the low interest rates into account. Investors may find opportunities now that were previously difficult to locate. If these opportunities appear, how long will they last? Is it the perfect time to 'move up' into your 'forever home' that you've always dreamed of? Would it be best to delay your plans until the economy shows signs of recovery? Everyone's situation is deeply personal and sound decisions should be made with expert guidance along the way," said Fort Collins-area REALTOR® Bob Sutton.
FREMONT/CUSTER COUNTIES
"March numbers continued in a positive direction in the mountains of Custer County. New listings were up nearly 32 percent and sales were up 28 percent year-over-year. The average sale price rose 2.2 percent, while the median sale price was up 5 percent for the same period. Inventory of homes for sale increased by 2.3 percent. April numbers will undoubtedly drop due to the COVID-19 pandemic and Colorado's stay-at-home order.
"Fremont County hit the ground running with March new listings up 15.6 percent over March 2019 and 4.6 percent year-over-year. While sold listings dropped 4.3 percent over last March, the median sales price increased nearly 2 percent. Average days-on-market has been fairly stable over the last six months, hovering right around 100 days, and we have maintained between 2.8 and 3.5 months-of-supply consistently over the last 6 months. Fremont County's abundance of government sector essential jobs tends to keep the local economy stable, but the effects of the pandemic will certainly have an impact. April's numbers will be a better indicator of the effects on housing in the area," said Fremont and Custer County-area REALTOR® David Madone.
GOLDEN/ARVADA – JEFFERSON COUNTY
"Jefferson County housing statistics remained strong in March. It will be the April and May stats that will really tell the story of the COVID-19 effects on our housing market. As for March, new single-family home listings increased 14 percent, sold homes were up just a tick (.02 percent), and the average days-on-market also rose 18.5 percent from this time last year. However, inventory has decreased 23 percent which will absolutely affect the market as we begin to operate under a more normal economy again – think multiple offers. The median sales price for Jefferson County single-family homes increased 10.3 percent and is now at $582,552.
"For condo/townhomes the increases including a rise in new listings (1.1 percent), sold homes were up 9 percent and the median sales price increased 2.2 percent, to $303,050, from a year ago. Days-on-market came in at 17, a decline of 22.7 percent as inventory dropped 28.3 percent from this time last year.
"As for Golden/Arvada areas, there have been price reductions, homes sitting on the market a bit longer and the number of homes withdrawn from the market increased significantly. Again, the next few months will tell the story of just how this virus is affecting our housing market," said Golden/Jefferson County-area REALTOR® Barb Ecker.
GRAND JUNCTION
"Like everyone else, we're definitely seeing the effects of COVID-19. For the month of March, 140 residential properties came back on market, primarily due to a buyer losing a job or being furloughed. New listings for the month were down 5 percent, pending sales were down more than 20 percent and solds were down 12.5 percent. Our residential inventory shrank to 726, but average days-on-market stayed steady at 92. We currently have a 2.1-month supply of inventory. Interestingly, the median price is up 12 percent.
"There's been a lot of confusion around the essential service mixed messages coming from different agencies, Hopefully, now that we have a clearer definition of what we can and cannot do, we will be able to help our customers and clients feel more confident in making and completing transactions," said Grand Junction-area REALTOR® Ann Hayes.
GUNNISON/CRESTED BUTTE
"The first quarter of 2020 was quite robust in the Crested Butte and Gunnison area. Crested Butte in particular was boosted by some higher-priced property sales with the dollar volume of residential sales up 65 percent vs. the first quarter of 2019 ($43 million vs. $26 million). The number of sales of residential properties also increased 60 percent from 35 in 2019 to 56 in 2020. Overall, sales were up 15-22 percent throughout the valley.
"Like everyone else, our ski season was cut short on March 15, instead of the planned April 12 closing date, just as we were entering our very busy spring break time. The loss of sales is evident when you look at the number of properties under contract right now vs. last year. Looking at this time in 2018 and 2019, the number of properties under contract is down 40-45 percent depending on the specific area you look at. I would expect this difference to widen as we continue to have severe restrictions on visitors and on doing any of the usual work involved with selling real estate. We are hopeful that Gunnison County will be able to reopen to visitors for the summer season to get our economy back on track and restart what seemed to be an excellent real estate market for 2020," said Gunnison, Crested Butte-area REALTOR® Molly Eldridge.
PAGOSA SPRINGS
"Pagosa Springs is a basecamp for southwest mountain adventures and certainly one of Colorado's last ground-floor pricing opportunities in mountain real estate. After years of staying on the sidelines, Pagosa Springs (and South Fork) continued to experience robust gains in 2020, in March specifically. No surprise the average sales price increased to more than $419,000 in March (up 26.5 percent) and the median sales price came in at $333,000 (up 11 percent), as inventory shortages below those prices are prominent. New listings were up an impressive 24 percent, thanks to less snow and homes going on the market early. Homes under $300,000 and what use to be the popular pricing and comfort level for the local and second home buyers have vanished. Its replacement of price points in the mid $300s and higher is an unfortunate reality to buyers. This has resulted in some buyers looking elsewhere in other neighboring states, trying to achieve their home buying price comfort level. Local buyers are experiencing frustration with the competition of second home buyers spinning all into multiple offer scenarios and driving prices higher than the list price.
"Contracts pending from March, as well as previous months, are strong (up 23.2 percent), even with the shutdown of Wolf Creek Ski area in mid-March. One would conclude that pending contracts could have been even stronger. However, with the ever changing COVID restrictions, unstable stock market, and tighter lender restrictions, we shall see if those sales prevail and close in April. We have experienced an abundance of terminations at the closing table and closing day extensions beyond April. Other home price points in 2020 are settling in the flat range. The exception are homes price one-million dollars and higher, as there is a five-year inventory of homes. Overall, stats indicate there is an almost 5-month supply of homes. This is not the case in homes priced under $500,000.
"Recognizing the massive housing shortage, Pagosa has at least a decade-long of homes underproduction. We need more construction and at buyer comfort price points (under $350,000). Most of the current new construction are buyers who purchased land years ago and are now building retirement and second homes. This building scenario does not add the current shortage of home inventory. Condo inventory is slim, with little new construction in general and no construction in the average sales price scenario. Condo prices continue to gain due to demand, little inventory and the convenience of the out-of-state buyer lock-and-leave home convenience.
"Days-on-market in homes priced above $300,000 is higher than most communities, as there are less Pagosa buyers in those market price points. Historically, days-on-market is longer as the discretionary resort buyers do not have the same sense of urgency to purchase as traditional home buyers. Land sales are brisk. Spec builders continue to gobble the less expensive desirable building lots. Buyers are forced to consider building as they are finding little inventory. Many buyers believe they can build for less and are finding a completely different realism. With labor shortages, high construction materials costs, highest ever building permitting fees increases, both builders and buyers building are struggling with authentic challenges.
"Once COVID restrictions are lifted, it is suspected the real estate market (here) will race forward. Real estate brokers continue to stand by buyers and sellers as we navigate this complex and ever-changing situation- together," said Pagosa Springs-area REALTOR® Wen Saunders.
PUEBLO
"Pueblo's housing market turned in a strong March with numbers mostly up to help finish out a good first quarter of the year. There's little doubt that April will be a little different. New listings were down 3.8 percent in March compared to 2019 but they were up 2.1 percent year-to-year. Pending sales were up 6 units month-to- month and up 90 units (14.3 percent) year-to-year. We saw solds up 18 (9 percent) in the first quarter of the year and 13.8 percent year-to-year. This is still resulting in low inventory where we saw a drop of 169 properties (37.3%) from February 2019. We are down to a 1.2-month supply of available inventory as the average sales price rose to $213,991. The percent of list price to sales price is the same as February 2019 (98.1 percent). The average days-on-market dropped in the first quarter of the year to 73 days.
"We were rolling in March and we know that April is going to be different. Homes are still being listed and sold, we're just working differently now," said Pueblo-area REALTOR® David Anderson.
TELLURIDE
"The first quarter of market sales for the Telluride region was up 32 percent at $152 million with the number of sales also up 14 percent with 125 sales. As of March 15, the first day Governor Polis closed all Colorado ski areas, we've had 21 properties go under contract. Of the 72 properties that were under contact on March 15, only two have fallen out of contract so far. My guess is that most buyers made the decision that the long-term health of the Telluride real estate market looks good with the shortage of inventory playing a big factor. There has been some 'value buyers' looking for deals, but most sellers here have great staying power. What has been a big effect in the last couple of weeks is the lack of buyers being able to see properties because we lost a lot of airline service to ski areas and the restrictions by state and county officials on seeing properties in person.
"Unlike non-resort markets, our buyers generally don't live here and only come to visit or stay here a few weeks or a couple of months sometimes. We did get lucky that the biggest part of this quarantine will happen in April and May our traditional 'off season'. It is too early to even guess at the long-term effect of our national crisis. Most of us worry about the survival of our small business restaurants and retail shops. Our biggest businesses are the ski area and government. One last thought: many of our second homeowners are from Texas which is getting double hit by COVID-19 and the plunge of the oil and gas industry. Just too hard to guess how long this will last at this point," said Telluride-area REALTOR® George Harvey.
VAIL
"Eagle County began 2020 with a strong January followed by a slight slip in February and a definite softening in March. Valley sales for March 2020 versus March 2019 were negative 23.7 percent in units sold. Pending sales were down 51.7% on a year-over-year comparison. On a year-to-date comparison, sales were down 8 percent on transactions and pending sales declined by 24.9 percent. Inventory is the lowest it has been in a decade, which puts our months supply of inventory at 5.8. In spite of the negative trend on units, we are still positive on dollar sales by 1 percent.
"As the ski resorts shut down in early March, we saw a dramatic drop in visitors. The decline in activity coupled with the COVID-19 pandemic, which makes Eagle County #7 out of the state's 54 counties, are factors. We are by a multiple of 3 times greater than the next closest county on the western slope for reported cases. I can only hypothesize that the combination of the disease and the macro economic factors have hit us a bit earlier than other parts of the state. The early activity for April coupled with the state and county wide regulations would indicate more slippage for the month. Hopefully, the macro effects will begin to subside as we enter our summer season and allow for a change to a positive trend," said Vail-area REALTOR® Mike Budd.
New Listings – Denver Metro area (Adams, Arapahoe, Boulder, Broomfield, Denver, Douglas and Jefferson counties)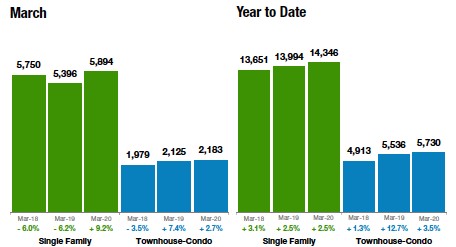 New Listings – Statewide
Inventory of Active Listings – Denver Metro area (Adams, Arapahoe, Boulder, Broomfield, Denver, Douglas and Jefferson counties)
Inventory of Active Listings – Statewide
Median Sales Price – Denver Metro area (Adams, Arapahoe, Boulder, Broomfield, Denver, Douglas and Jefferson counties)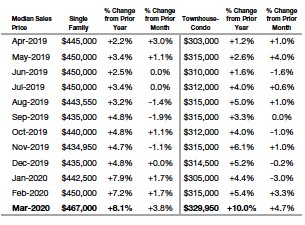 Median Sales Price– Statewide
Sold Listings – Denver Metro area (Adams, Arapahoe, Boulder, Broomfield, Denver, Douglas and Jefferson counties)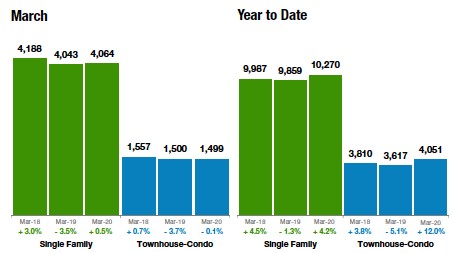 Sold Listings – Statewide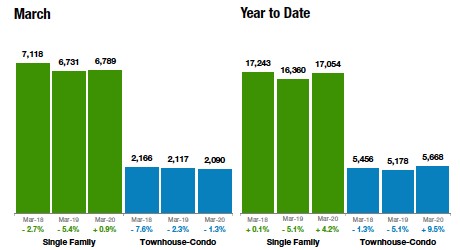 The Colorado Association of REALTORS® Monthly Market Statistical Reports are prepared by Showing Time, a leading showing software and market stats service provider to the residential real estate industry and are based upon data provided by Multiple Listing Services (MLS) in Colorado. The March 2020 reports represent all MLS-listed residential real estate transactions in the state. The metrics do not include "For Sale by Owner" transactions or all new construction. CAR's Housing Affordability Index, a measure of how affordable a region's housing is to its consumers, is based on interest rates, median sales prices and median income by county.
The complete reports cited in this press release, as well as county reports are available online at: https://www.coloradorealtors.com/market-trends/
###
CAR/SHOWING TIME RESEARCH METHODOLOGY
The Colorado Association of REALTORS® (CAR) Monthly Market Statistical Reports are prepared by Showing Time, a Minneapolis-based real estate technology company, and are based on data provided by Multiple Listing Services (MLS) in Colorado. These reports represent all MLS-listed residential real estate transactions in the state. The metrics do not include "For Sale by Owner" transactions or all new construction. Showing Time uses its extensive resources and experience to scrub and validate the data before producing these reports.
The benefits of using MLS data (rather than Assessor Data or other sources) are:
Accuracy and Timeliness – MLS data are managed and monitored carefully.
Richness – MLS data can be segmented
Comprehensiveness – No sampling is involved; all transactions are included.
Oversight and Governance – MLS providers are accountable for the integrity of their systems.           
Trends and changes are reliable due to the large number of records used in each report.  
Late entries and status changes are accounted for as the historic record is updated each quarter.  The Colorado Association of REALTORS® is the state's largest real estate trade association representing more than 26,500 members statewide. The association supports private property rights, equal housing opportunities and is the "Voice of Real Estate" in Colorado.  For more information, visit https://www.coloradorealtors.com