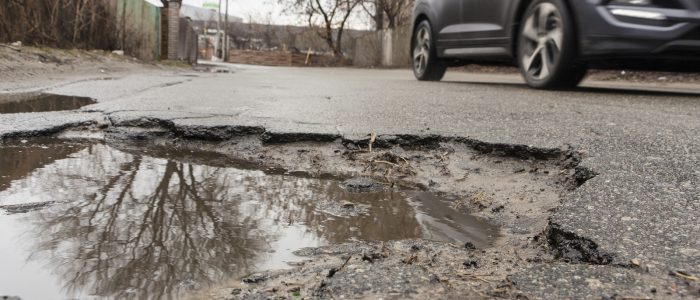 CAR, 35 Other Colorado Groups Call on Lawmakers to Prioritize Transportation Funding
CAR has joined forces with a diverse coalition of 35 other Colorado organizations calling on state legislators to prioritize funding to improve the quality of the state's roads and reduce traffic.
The coalition, A Way Forward, is comprised of the construction, shipping, and real estate, among other industries. It recently sent a letter to lawmakers making the case for action during the current legislative session:
"Each day, Coloradans waste time, energy, and resources waiting for a solution to a problem that vexes us all. Unfortunately, our communities and families are suffering – often spending more time in the car than with each other, and spending more money than they should have to due to poor road conditions.
Each year, Coloradans lose $7.1 billion due to roads that are in disrepair and congested. That amount can reach $2,300 per driver per year.
As a state we simply cannot continue to kick the can further down the road. It is time for us all to come together around a practical solution. We call on Democrats and Republicans to unite and put all available legislative tools to use and bring the issue to finality before the session adjourns."
A Way Forward was signed by the following groups:
Colorado Concern
Colorado Association of Mechanical and Plumbing Contractors
Associated General Contractors of Colorado
Colorado Motor Carriers Association
Colorado Contractors Association
Denver Metro Commercial Association of Realtors
Colorado Farm Bureau
Denver Metro Chamber of Commerce
Building Jobs 4 Colorado Coalition
Hispanic Contractors – Colorado
Plumbers Local Union 3
Colorado Association of Homebuilders
American Council of Engineering Companies of Colorado
South Metro Denver Chamber
Colorado Builds
Pipefitters Local 208
Freedom to Drive Coalition
Building Owners and Managers Association
Colorado Automobile Dealers Association
Urban Land Conservancy
Sheet Metal and Air Conditioning Contractors' National Association
Colorado Aviation Business Association
Pro15 Northeast Colorado
International Brotherhood of Electrical Workers – Colorado
Independent Electrical Contractors – Colorado
Colorado Springs Chamber & EDC
NAIOP, Commercial Real Estate Development Association – Colorado
American Society of Civil Engineers – Colorado Section
National Electrical Contractors Association – Rocky Mountain Chapter
Colorado Association of Realtors
Jefferson County Business Lobby
Associated Builders and Contractors – Rocky Mountain
American Planning Association – Colorado Chapter
International Association of Sheet Metal, Air, Rail and Transportation Workers Local 9 Colorado
American Subcontractors Association Colorado
Colorado Competitive Council