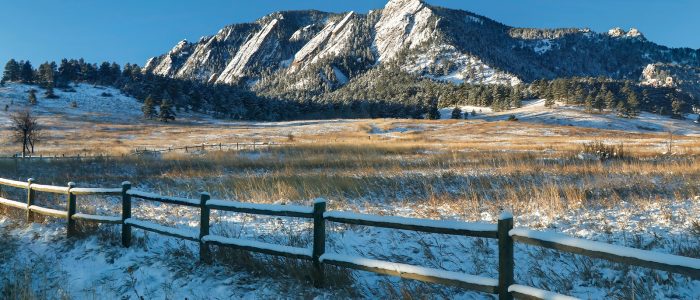 Decade Closes with Record-Low Inventory Across Colorado
Housing markets gear up for most active months with little inventory as affordability improves
Contact: Marty Schechter for CAR
303-882-4585 cell marty@schechterpr.com
ENGLEWOOD, CO. – Jan. 13, 2020 – Colorado housing markets closed out the past decade with 10-year record or near record lows in several key inventory related categories, according to the latest monthly market data from the Colorado Association of REALTORS® (CAR). Despite inventory lows, healthy, double-digit percentage gains occurred in the pending/under contract and sold listings across the Denver-metro region and statewide in comparison to the year prior and, median pricing stayed relatively flat from November to December resulting in solid single-digit appreciation across all product types statewide year-over-year.
December data from the seven-county Denver metro area and state revealed the lowest, if not close-to-the- lowest numbers in new listings, inventory of active listings and months supply of inventory for both single-family homes, as well as townhome/condos.
Single-family new listings fell nearly 30 percent for the second straight month in the Denver-metro region but remain up 9 percent compared to December 2018. Townhome/condo new listings fell nearly 26 percent, on top of their nearly 30 percent dip from October to November 2018 but also remain up 10 percent over the same time in 2018. Statewide, new listings of single-family homes fell more than 27 percent from November to December 2018 but remain up 4.3 percent over 2018. Townhome/condo new listings were off nearly 15 percent from November to December but remain up almost 9 percent over December 2018.
Looking to the inventory of new listings, the entire seven-county Denver metro area had less than 6,300 active single-family homes in December, down 29 percent from December 2018. Townhome/condos totaled less than 2,500 in December and are down 22 percent from a year prior. Statewide, there were just under 12,900 single-family homes active in December, down 23.6 percent from December 2018. Townhome condo inventory of actives in December (4,530) faired a little better but was still down 16.5 percent from a year ago.
Finally, the overall months supply of inventory for both single-family and townhome/condos in the Denver-metro region fell 27 percent from November to December to just 1.4 months and is down more than 33 percent from a year prior. Statewide, the 1.8 months of supply is down 25 percent from December 2018.
The CAR Housing Affordability Index (HAI) – a measure of how affordable a region's housing is to its consumers based on interest rates, median sales price, and median income by county – improved 3.4 percent (87 in December 2018 to 90 in December 2019) for the Denver-metro region and remained flat at the statewide level at 95. A higher HAI reflects greater affordability.
"As we move into 2020 that severe lack of choice for buyers will continue to be a challenge statewide and sellers will have to be mindful of how they price their properties initially to ensure sales at the best price," said Denver-area REALTOR®, Karen Levine. "While sellers continued to experience appreciation in 2019, it was not as robust as seen in previous years. The median sales price increased just 4.1 percent statewide and the average was just slightly higher at 4.6 percent."
Taking a look at some of the state's local market conditions, Colorado Association of REALTORS® market trends spokespersons provided the following assessments:
AURORA
"Mirroring numbers across the Metro area, Aurora and Centennial experienced 30 to 40 percent decreases in inventory across most zip codes. Sold numbers were up equal to the downward move for available homes and condos. Days on market also dipped and is now sitting at slightly over 1 month. The median price of a home is up compared to December 2019 at $383,625 while the median price in Centennial sites at $475,000. Condo inventory is also very low with median prices up about 3.8 percent year over year at $249,000 in Aurora and $305,000 in Centennial. We expect to see some improvement to our inventory as we move into the spring," said Aurora-area REALTOR® Sunny Banka.
BOULDER/BROOMFIELD
"The 2019 Boulder County real estate market finished without much pizzazz as pricing remained even with the year before. We had a healthy number of new listings, but sales were only up 4 percent from the year prior and with new listings up 9 percent, there was some leftover inventory. In spite of the less than exciting numbers, the market remains strong, with homes selling under an average of 48 days and a sales price/list price ratio over 98 percent. This 'slowing down' of the market really indicates a healthy one. This plateau was likely a necessary correction and while the numbers don't show growth, they indicate a solid, healthy market that is correcting itself and will likely stay strong in the future.
"Broomfield County enjoyed a strong and steady year. With 9 percent more listings than the beginning of the year and 19 percent more sold listings, the inventory was gobbled up and the prices rose 4.3 percent for the year. With average days on market at just 35 days, Broomfield experienced a solid, growing real estate market that remains firmly in the control of the sellers. Townhomes and condos fared just as well with an increase in price of 3.4 percent and sales under an average of 31 days. The numbers won't make any records, but they are indicative of a strong, steady market and one that is more vibrant than its Boulder County neighbor," said Boulder/Broomfield-area REALTOR® Kelly Moye.
COLORADO SPRINGS/PIKES PEAK AREA
"Imagine for a minute you can 'only afford' $400,000 or less and you happen to live in the Pikes Peak Region. You are likely going to wake up each day, find that 2 or 3 new properties hit the market over the last 24 hours in your search areas. You warm up a cup of coffee and call your REALTOR® to set showings only to find they are already under contract. That is the current cocktail our market is producing. Our median sales price rose 10 percent for single-family homes and 11.9 percent for townhome/condos. Low interest rates continue to keep this market hot and lower inventory continues to make it brutal to buy. Flip that pancake over though and you have a lot of happy sellers. In fact, you can buy a home in 2018 and sell it in 2020, and likely even walk away with some cash in your pocket.
"Our Colorado market has become so tough and unaffordable that the U-Haul report showed that people are now coming here less than they were just last year. In 2018 Colorado ranked number 16 on the list of states to move to. We now sit at 42 as word on the street is, we cost too much. Many are headed to Florida and Texas, the top 2 States to move to, although they did trade pole positions this year.
"Looking at the national picture, we see the Federal Reserve pushing funds into the dept market as it works to keep interest rates low and stabilize a diverse range of economic issues that ultimately impact our housing markets. The stock market continues to reach record highs and gold and silver values have pushed up amid global tensions and geopolitical factors," said Colorado Springs-area REALTOR Patrick Muldoon.
"2019 was indeed a banner year for the Colorado Springs-area housing market for single-family/patio homes. The past year resulted in the highest level of sales volume, as well as average and median sales prices, and the second-highest number of home sales compared to any other calendar year on record. The year-over-year single-family/patio home sales activity in December 2019 saw a more than 17 percent increase in monthly sales, a 3 percent increase in the year-to-date sales, a 25 percent increase in the months' sales volume, a 9 percent increase in year-to-date sales volume, a 10 percent increase in median sale price rising to $329,990, a 7 percent increase in the average sale price climbing to $364,584, and a 15 percent increase in new listings, along with an unfortunate 23 percent decline in active listings.
"Looking back 5 years and comparing single-family/patio home sales in December 2014 with December 2019, monthly and year-to-date sales are up 43 percent, monthly sales volume spiraled 104 percent, year-to-date sales volume soared 109 percent, the median sale price rose 47 percent to $329,990, and average sale price up 45 percent, ascending to $364,584. All of this escalation took place while active listings were down 50 percent.
"Of the 16,064 single-family/patio homes sold last year, 3.9 percent were priced under $200,000, 68.3 percent were between $200,000 and $400,000, 20.9 percent between $400,000 and $600,000, 4.6 percent between $600,000 and $800,000, 1.4 percent between $800,000 and $1 million, and 0.8 percent were priced over $1 million. Year-over-year, there was a more than 41 percent drop in the sale of single-family/patio homes priced under $200,000, primarily due to the inventory shortage, while we had a 27 percent increase in both, homes priced between $300,000 and $400,000 and between $500,000 and $600,000, and a 30 percent increase in homes priced between $800,000 and $1 million.
"Buyers generally purchase properties offering competitive values, even in a soaring real estate market. Unsurprisingly, even in a record-low inventory market with only 1-month supply, 18 percent of the El Paso County, and 14 percent of the Teller County active listings in the Pikes Peak MLS had price reductions. Unequivocally, the Colorado Springs-area housing market continues to be plagued by distressingly low inventory and serious affordability challenges due to ever-soaring prices," said Colorado Springs-area REALTOR® Jay Gupta.
DENVER
"Denver continues to show that December is a completely unremarkable month in regard to overall real estate market changes. It's necessary, however, that the statistical consistency ensues as it sets up the following months – reliably the most active of the year. During this past December, the number of new listings to the market only had a two-unit difference from the prior year. Days-on-market remained unchanged from last year, though 2018 and '19 were 17 percent less than the 35-day average we had in 2017. Our month's supply of inventory dipped below one-month in December to 0.9, though in contrast to 2018 (1.2) and 2017 (0.8), the picture hasn't radically changed.
"What occurs in December that is remarkable is how much less expensive it is to buy vs. November. The median price this past December vs. the previous month went down $20,000, while a little more; $25,588 in 2017 and $18,200 in 2017. Though less expensive, there is less inventory to choose from, fluctuating 0.2 – 0.4 months. What these numbers show, time and again, is how there really is an art to the timing, both for buyers and sellers, should their situation, flexibility and schedules allow. There is certainly a best time to buy, a best time to sell should the stars align, and the inventory provide," said Denver-area REALTOR® Matthew Leprino.
DENVER METRO
"The 2019 Denver-metro region literally closed strongly with 5,548 homes sold and closed, an 18 percent increase over December 2018. We had strong pending/under contract numbers in the previous months resulting in successful closed transactions. Despite the challenge of low inventory throughout the year, the Denver-metro region sold 6.4 percent more homes in 2019 than in 2018. The holidays and early winter weather did not deter sellers from getting their properties on the market in December, as we saw 9.3 percent more new listings this December than were listed the previous December.
"Sellers still experienced steady appreciation in 2019, with the average sales price up 3.3 percent and the median sales price increasing 2.5 percent compared to 2018. As we move into 2020, we anticipate the market to continue to be strong but still challenging as we seek to find the right homes for people with continued low inventories. Permit numbers would indicate we should experience a little inventory relief from new construction, but most of those homes will be priced above $500,000. Finding affordable housing in the metro area will continue to be a struggle, unless developers find a work-around of the construction defect legislation and regulation costs, so that condominium construction can fully return to the marketplace," said Denver-area REALTOR® Karen Levine.
DURANGO
"Incredibly, total year-end sales numbers in La Plata County are almost exactly even in 2019 when compared to 2018, up by just 5 sales to 1,138. While on the surface one could say the market is stable and the same forces were at work, each year was fantastically different than the other. 2018 was a year of record drought and a fire which closed major businesses for summer months. 2019 had record snowpack, with a sluggish first six months, followed by a burst of activity and strong December finish. Overall, inventory was up 4.7 percent affording buyers a bigger choice. Rates were significantly lower in 2019, which can have a noticeable effect on sales in La Plata County where there is a high cost to ownership and many residents struggle with breaking into the market. The median price climbed a small amount overall, just keeping up with inflation. Another trend at work is the movement of some purchasers out of Durango markets into Bayfield, where the median sales price is almost $175,000 less at $334,000 for a single-family home," said Durango-area REALTOR® Jarrod Nixon.
ESTES PARK
"Larimer County has remained strong through 2019 with no major growth or dips in single-family homes. New listings are down less than a half of a percent – a mere 28 homes less than last year. Townhome-condos are ending the year similarly. Sold listings were up just over a half of a percent from 2018, a 9-property advance. Days on market dropped 1 day from 83 to 82 and the percent of list price to sold is directly in line with single- family homes that are still fetching a healthy 99.3 percent compared to 99.7 percent last year. The average sales price has gone up 2.1 percent to $318,023 in 2019. New listings of townhouse-condos have been a definite trend and the healthiest growth category in 2019 with a 9.4 percent jump over 2018. While 2019 didn't show major growth or decreases, this does indicate a strong market with consistent sales and property values in Larimer County.
"2019 was the year for townhouse-condo sales in the Estes Park area while single family homes are showing signs of a correction in the market. Townhouse-condos had 7.1 percent more new listings, closed 10.1 percent more and fetched an average of $354,726, a 12 percent hike from 2018. Single-family homes are trailing behind with new listings down 14.5 percent compared to 2018. Closed sales are also down 10 percent and the average sales price dipped 1.3 percent to $599,906. Even days on market had substantial lengthening to 104 days in 2019 versus 87 in 2018, a 19.5 percent increase in the time it took from listing to close," said Estes Park-area REALTOR® Abbey Pontius.
FORT COLLINS
"The year-end numbers for the greater Fort Collins, north Larimer County area look much like its landscape – some rolling hills but mostly flat. Median price increased just 3.4 percent to $423,500. Months of inventory remains at just over two months of availability, yet the number of homes available for purchase went up 11.5 percent in 2019. For townhomes/condos, there's even more to choose from as that housing stock increased nearly 20 percent for the year. Interest rates have stabilized at just under 4 percent for a 30-year fixed mortgage and the affordability index improved 5.6 percent.
"However, when you look at what's happening in the individual price bands, the data gets a bit more interesting. The number of single-family homes sold in the $300,000 price range declined 13.5 percent, or 154 homes. Homes in the next price band, $400,000, jumped 6.5 percent and $500,000-600,000 homes sales increased 5.2 percent. The increases in these price points is what led to the median price going up slightly. But what does it say about the typical home buyer in this area? Are there fewer home buyers in the $300,000 price range? Probably not since that price point is highly representative of first-time buyers with limits on buying power, they are likely choosing to rent for a little bit longer to save for a down payment. Those buyers that have built equity in homes they already own are parlaying that equity with stable interest rates and moving on up the housing scale.
"While the numbers appear mostly flat, like the landscape between Fort Collins and Cheyenne, this pause in appreciation and increase in inventory is far more sustainable than the double-digit appreciation freight-train we've seen in recent years. Look for 2020 to provide opportunity for first-time home buyers as sellers adjust once again to this new normal in the housing cycle," said Fort Collins-area REALTOR® Chris Hardy.
"Normalcy is beginning to return to the market. Looking back on 2019 and looking ahead to 2020, we can see the trend of the last market cycle tapering to a close while the next cycle is being ushered in.
"Although the age-old definition of a balanced market being a six-month supply of inventory has not yet been reached in many, even most of the price ranges, the trend appears to be moving back towards that balance. Competition is still fierce for quality homes in the lower price ranges, but many second time and move up buyers are enjoying the benefit of a little more inventory, a little bit more time to make a decision on a home, and even having some negotiating leverage. At the same time, sellers are still confident that when their home is priced correctly and properly presented to the market in good condition, they can still attain a reasonably quick sale and stronger contracts with buyers who have had enough time to be more confident in their decisions, all of which usually results in a less stressful transaction for everyone involved.
"We may be moving into a sort of 'golden age' in real estate where conditions for both buyers and sellers are right so that both may achieve their end goals. As always, there are pitfalls, and transactions remain very complex, so consumers should do their due diligence and move forward with a sound plan that suits their needs," said Fort Collins-area REALTOR® Bob Sutton.
FREMONT/CUSTER COUNTIES
"Fremont County real estate sales ushered in the New Year with positive numbers in nearly all categories across the board. New listings were up 3.2 percent over 2018 and sales were up 4.3 percent. Buyers still need to be nimble as sales continue to outpace new listings. The average months supply of inventory for 2019 was 3.3 months, down slightly from 2018s 3.74 months. The median price of homes sold increased nearly 14 percent in 2019, while the average home price increased 5 percent. The only negative results for the year were small. The percent of list price received came in 0.4 percent less than the previous year and average days on market was just over 1 percent higher. It was a positive year and we're showing continued growth in the area with indications that 2020 will keep us in a positive direction.
"Looking at Custer County, we experienced a 15 percent increase in new listings over 2018 and a sales increase just over 1 percent. The median price of a home in Custer County increased 6 percent and days on market remained stable," said Fremont and Custer County-area REALTOR® David Madone.
GLENWOOD SPRINGS
"2019 came to a quiet close in the Roaring Fork and Colorado River Valleys. Inventory in both the single-family and townhome/condo markets remain low. Looking at the single-family market, there were 43 new single-family listings in December, the exact same as December 2018. Year-over-year, we saw a 10.6 percent decrease in new listings in single-family homes. The median sales price increased 36 percent over December 2018 with a year-over-year increase of 9 percent across the communities examined. The percent of list price received remains comparable to 2018 at 97 percent. December closed out with a 40 percent drop in active listings over December 2018 and an average of 3 months supply of inventory across the board.
"The townhome/condo market fared slightly better when it comes to new listings which were up 18 percent over December 2018 and a total of 11 percent year-over-year. Sold listings were down slightly in December but up nearly 17 percent over 2018. The median sale price for townhomes/condos rose more than 11 percent but the percentage of list price received remained flat at 98 percent. Currently, there are 67 available units which brings us to a 2.3 months supply of inventory.
"While our market continues to struggle with low inventory, which of course results in higher prices, we are starting to see some new construction which brings hope to first-time homebuyers, as well as move-up buyers. Spring should bring new resale inventory as well," said Glenwood Springs-area REALTOR® Erin Bassett.
GOLDEN/ARVADA – JEFFERSON COUNTY
"Despite a slight softening at the end of 2019, Jefferson County looks to remain a strong sellers' market going into 2020 with a nearly 36 percent decline in inventory. New listings are down 8 percent for both single-family homes and townhome/condos. The average days on market increased significantly to 40 days for single- family homes and 34 days for townhome/condos.
"Looking at pricing, the median sale price for single-family homes sits at $481,500, an increase of 6.5 percent year-over-year, and $300,000 for townhome/condos, an increase of 5.3 percent from this time last year. Homes are selling at asking price, indicating accurate pricing without any significant swings in either direction," said Golden/Arvada-area REALTOR® Barb Ecker.
PUEBLO
"Overall, the 2019 Pueblo market was about the same as 2018, plus or minus 2 percent. The two big differences were median sales price, which rose just more than 13 percent to finish the year at $210,000, and days on market, up 8.6 percent over 2018. 2019 sold listings slipped a total of 45 from 2018, just a 1.6 percent dip. We are still low on inventory with just 349 active listings at the end of the year, down nearly 33 percent from the end of 2018. This puts our months supply of inventory at 1.6 months, down more than 30 percent from the end of 2018. Total building permits will end 2019 at about 500, 60 more than in 2018. The last 3 years produced 1,300 permits compared to the early 2000s where that figure represented just one year of permits. New residential building is coming back, but we need more to satisfy to demand. December pending sales improved a total of 42 over 2018. Agents across the market remain positive that 2020 will be a little better than 2019 with interest rates remaining low and strong demand continuing. Once again, this past year, most of the sales and construction occurred in Pueblo West," said Pueblo-area REALTOR® David Anderson.
TELLURIDE
"Telluride home sales rose 12 percent from 2018 to 2019 reaching a 10-year high at $594.3 million. What was so unexpected was that 44 percent of the year's sales volume took place in the last quarter of the year. December 2019 alone was 112 percent above December 2018 sales and represents the largest monthly sales volume in Telluride's history. There were four condominium sales in the Town of Telluride that averaged $5 million each. The largest dollar sale was a condominium in the Town of Telluride that sold for $7.725 million with the second largest sale in December being a 700-acre vacant land sale 30 minutes west of Telluride for $7.25 million.
"Prices in the Town of Telluride for homes are double the price for homes in the Town of Mountain Village on a price per square foot. Prices for high-end condominiums in the Town of Telluride equaled prices for homes. We have never seen that before. Generally, it is my opinion that the walkability of the town of Telluride has been the single greatest factor in this trend, plus the quality of the high-end condominiums equals that of high-end homes. As in other Colorado markets, we have an inventory challenge. On January 1, there were 31 condominiums for sale in the Town of Telluride and 95 sold in 2019. This is the lowest amount of condominiums for sale in the Town of Telluride in my 30-year career. Most other categories of real estate for sale are low in inventory but not extremely low. With the strong Telluride economy and even better tourism, we are poised for another great year in 2020 for the real estate market," said Telluride-area REALTOR® George Harvey.
VAIL
"The past year can be defined by two very distinct markets in the valley. Through June, the market was negative 7 percent in units and 8.3 percent in dollars. Both categories were showing a malaise in productivity, however, the summer and fall seasons showed a very consistent upward trend from the first half of the year. We had improvement month-by-month versus 2018 performance, culminating with a yearly performance that closed out even on units and positive 3.2 percent in dollars. The performance is one of the strongest positives for the back half of the year I have seen in my tenure in the valley. This was accomplished with a market experiencing very tight inventory, particularly in key price points.
"Inventory continues at a very low level as the months supply of units sits at 5.7 months for townhomes/condos reflecting a 16.2 percent decline in supply. The single-family/duplex supply sits at 5.8 months down more than 28 percent.
"One very positive note to start the year are pending sales which are positive 7.1 percent on single- family/duplex units and plus 5.2 percent on townhome/condo product. Wrapping up 2019 has been a strong positive trend and we look forward to a continuance of same," said Vail-area REALTOR® Mike Budd.
New Listings – Denver Metro area (Adams, Arapahoe, Boulder, Broomfield, Denver, Douglas and Jefferson counties)
New Listings – Statewide
Inventory of Active Listings – Denver Metro area (Adams, Arapahoe, Boulder, Broomfield, Denver, Douglas and Jefferson counties)
Inventory of Active Listings – Statewide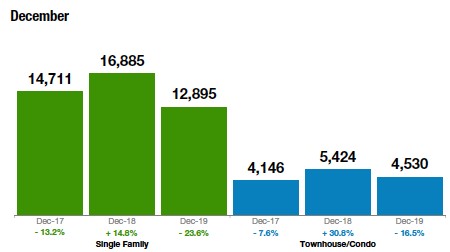 Months Supply of Inventory – Denver Metro area (Adams, Arapahoe, Boulder, Broomfield, Denver, Douglas and Jefferson counties)
Months Supply of Inventory – Statewide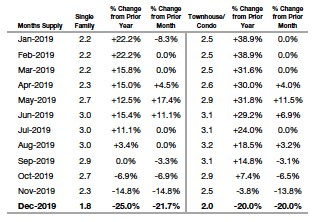 The Colorado Association of REALTORS® Monthly Market Statistical Reports are prepared by Showing Time, a leading showing software and market stats service provider to the residential real estate industry and are based upon data provided by Multiple Listing Services (MLS) in Colorado. The December 2019 reports represent all MLS-listed residential real estate transactions in the state. The metrics do not include "For Sale by Owner" transactions or all new construction. CAR's Housing Affordability Index, a measure of how affordable a region's housing is to its consumers, is based on interest rates, median sales prices and median income by county.
The complete reports cited in this press release, as well as county reports are available online at: https://www.coloradorealtors.com/market-trends/
###
CAR/SHOWING TIME RESEARCH METHODOLOGY
The Colorado Association of REALTORS® (CAR) Monthly Market Statistical Reports are prepared by Showing Time, a Minneapolis-based real estate technology company, and are based on data provided by Multiple Listing Services (MLS) in Colorado. These reports represent all MLS-listed residential real estate transactions in the state. The metrics do not include "For Sale by Owner" transactions or all new construction. Showing Time uses its extensive resources and experience to scrub and validate the data before producing these reports.
The benefits of using MLS data (rather than Assessor Data or other sources) are:
Accuracy and Timeliness – MLS data are managed and monitored carefully.
Richness – MLS data can be segmented
Comprehensiveness – No sampling is involved; all transactions are included.
Oversight and Governance – MLS providers are accountable for the integrity of their systems.
Trends and changes are reliable due to the large number of records used in each report.
Late entries and status changes are accounted for as the historic record is updated each quarter.
The Colorado Association of REALTORS® is the state's largest real estate trade association representing more than 26,500 members statewide. The association supports private property rights, equal housing opportunities and is the "Voice of Real Estate" in Colorado. For more information, visit https://www.coloradorealtors.com.