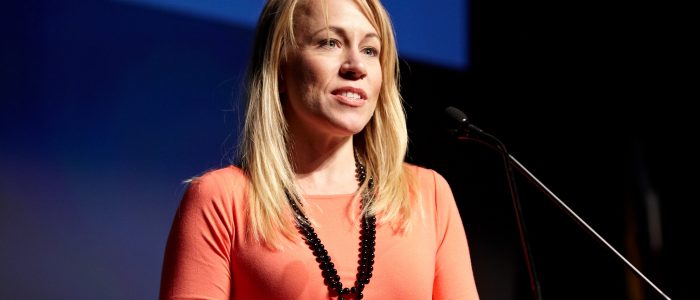 REALTOR® Leader Leanne Goff Loses Battle with Cancer
CAR's 2013 CYPN of the Year fondly remembered for enthusiasm and energy
Boulder-area REALTOR® member Leanne Goff lost her 2 and ½ year battle against relentless Glioblastoma brain cancer on Sunday, December 1, 2019. Leanne joined BARA in 2008 and quickly became a REALTOR® champion who gave, and gave, and gave. Leanne served as the first Chair for BARA's newly-formed YPN. She created a structure that is still in use today: Community Service, Education, Networking and Leadership Development. She led the fledgling YPN with huge enthusiasm and energy. Activities Leanne implemented included presenting Smart Money, Smart Moves to High School Seniors – a program that outlined the realities of living on your own. No one will ever forget the rowdy Ugly Sweater Christmas Party, the raucous Valentine's Day White Elephant Gift Exchange or Leanne's love of the Hope Firkins Educational Event where she met her love, Drew Smith.
Under Leanne's leadership, the BARA YPN won the coveted Young Professional Network of the Year from the National Association of REALTORS®. Leanne was honored in 2013 as the Colorado Association of REALTORS® YPN of the Year and in 2015 as the BARA Distinguished REALTOR®. In addition, Leanne served on the Board of Directors for 3 years. Leanne was the first person in the state of Colorado to earn her Master's Degree in Real Estate from REALTOR® University.
Leanne's contributions to our association will last a lifetime. We will miss her genuine effervescence and beautiful smile. Rest in Peace dear Leanne.
A memorial service will be held at 3 pm on Saturday, December 7, 2019 at Unity Columbine Spiritual Center, 8900 Arapahoe Road, Boulder, Colorado 80303.
Memorial donations may be made to either "Leanne L. Goff Trust for Alexis" or "Neuro Ananda Brain Cancer Research" and mailed to Kristin Pyle, 1601 Golden Aspen Drive, Suite 107, Ames, Iowa 50010.