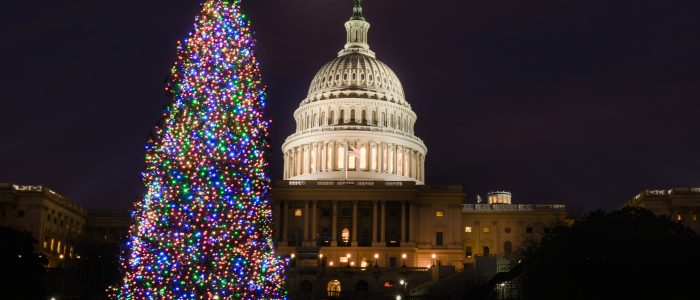 Grand Mesa, Uncompahgre and Gunnison National Forests Selected to Provide the 2020 Capitol Christmas Tree
Media Contacts:
Kimberlee Phillips
(970) 874-6717
Dylan Peters
(970) 874-6625
Coloradans will contribute 10,000 handmade ornaments to be created throughout 2020 capturing Colorado's colorful scenery and culturally rich and diverse populations  
Delta, Colorado, November 22, 2019 – Grand Mesa, Uncompahgre and Gunnison (GMUG) National Forests' officials and partners today announced that the GMUG would provide the U.S. Capitol Christmas Tree next year.
"Coloradans cherish our public lands, forests and outdoor spaces, and we're excited to announce that one of our magnificent trees is headed to Washington to help our nation celebrate the holidays," said Governor Jared Polis. "Colorado's spirit and beauty will be on full display, and we're proud to introduce our country to a reminder of the many things our Grand Mesa, Uncompahgre and Gunnison national forests offer."
Every year since 1970, USDA Forest Service has provided the U.S. Capitol Christmas Tree. Several smaller, companion trees will also be sent to Washington, D.C., to decorate government buildings and public spaces. Providing the U.S. Capitol Christmas Tree, also known as "The People's Tree," is a great honor for the State of Colorado and the Grand Mesa, Uncompahgre and Gunnison National Forests. It provides an opportunity to highlight the state's breathtaking cultural and natural resources and Colorado's world-class recreational settings and activities. The tree will be displayed on the west lawn of the U.S. Capitol Building in Washington, D.C., with a public tree-lighting ceremony in early December 2020.
"Colorado is home to 23 million acres of public lands and national forests where visitors and residents alike recreate and reconnect," said Colorado Tourism Director Cathy Ritter. "We sincerely hope the sight of a towering tree from Colorado on the Capitol lawn helps inspires deep pride in our country and happiness throughout the holidays, while showcasing the splendor of Colorado's Mountains and Mesas region."
The Forest will be working closely with Choose Outdoors for the project along with a host of other partners, sponsors and volunteers who will contribute funding and thousands of hours to help make ornaments and transport the tree from Colorado to Washington, D.C.
Dana Gardunio, District Ranger for the Ouray Ranger District and the project's coordinator, noted that providing the Capitol Christmas Tree puts a spotlight on the GMUG and communities across the Western Slope of Colorado.
"We are very excited about the opportunity to showcase the GMUG on a national stage. It will be a true collaborative effort and we are looking forward to engaging with all of our partners to help make it happen." she said.
Communities will be encouraged to share the experience of caring for, decorating and transporting this gift from Colorado to our Nation's Capital.
For more information on how to get involved, please visit our website at: https://www.fs.usda.gov/gmug
To follow the excitement for this year's tree coming from the Carson National Forest visit the Capitol Christmas Tree website at https://www.uscapitolchristmastree.com/.