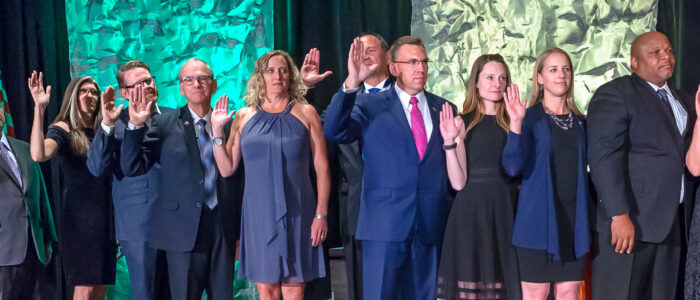 Colorado Association of REALTORS® Announces 2019-2020 Leadership; Janene Johnson Installed as Chairman

The Colorado Association of REALTORS® (CAR) installed its 2019-2020 Leadership Council during the organization's 99th annual State Conference in Beaver Creek, Colo. last week.
Janene Johnson, broker/owner of Real Estate of Winter Park in Winter Park, Colo. was inducted as chairman of the Colorado Association of REALTORS®, a role she will assume from Dec. 1, 2019 through Nov. 30, 2020.
Johnson has extensive experience with the Colorado Association of REALTORS® dating back to 2012. Of note, she has served on numerous CAR committees including the Legislative Policy Committee, the CAR Political Action Committee, the Regulatory Policy Committee, the Credentials Committee, the Sunset Review Chair Advisory Group, and as a District Vice President for the Mountain District.
In her new position, Johnson will serve as a conduit between CAR's more than 26,700 members and the Board of Directors. Working in tandem with the leadership council, she will assist with strategic planning, helping to set the organization's direction and vision for the coming year.
"I'm both honored and excited at the opportunity to serve this great organization at this point in my career," said Janene Johnson. "With several important 2020 goals in mind, my key focus will be to work hand-in-hand with our dedicated professional staff and team of volunteer leaders to develop a strategic three-year plan to help move our statewide association forward. As always, the good of the membership is at the forefront of my mind, and our ability to develop and begin to implement our strategic vision is the best way to ensure that each of our 26,700 members are well served."
"While we will always use a wide range of communications tools and resources, I'm also a strong believer in the power of personal, in-person communication to drive member engagement. As a part of that effort, I'll be helping lead the work of our leadership council and staff as we personally visit, listen and learn from each of our 32 local associations, as well as brokerages and key industry partners," said Johnson.
"The Colorado Association of REALTORS® is very fortunate and excited that we will be transitioning in 2020 to another great leader in Janene Johnson," said CAR CEO Tyrone Adams. "Speaking on behalf of all the state association volunteers and CAR staff, we are looking forward to working with Janene and her leadership Council as we navigate through Colorado's complex real estate industry."
---
Other top officers who will serve with Johnson are:
Robert Walkowicz (The Group, Inc., Loveland/Berthoud) – Chair-Elect
Donna Major (RE/MAX Advantage Realty, Pikes Peak) – Treasurer
Justin Knoll (Madison & Company Properties, Denver) – Immediate Past Chair
Kay Watson (MB-K Watson Properties, South Metro Denver) – Appointed Past President
The board's main responsibilities include leading and coordinating volunteer efforts of the association aimed at maintaining stability in Colorado's real estate industry, protecting private property rights, supporting efforts for affordable housing opportunities and providing resources and services designed to help Colorado REALTORS® succeed in their business.
Other members of the 2019-20 Leadership Council:
District Vice Presidents:
Piper Knoll (Madison & Company Properties, Denver) – Metro District Chair
Carol Peterson (Jim Smith Realty, Pagosa Springs) – Mountain District Chair
Abbey Pontius (Anderson Realty & Management, Estes Park) – Northeast District Chair
Jon Walker (Walker Asset Management Realty, Pikes Peak) – Southeast District Chair
Jason Witt (RE/MAX Mesa Verde Realty, Four Corners) – Western District Chair
Division Chairs:
Molly Eldridge (Coldwell Banker Mountain Properties, Crested Butte) – Member Services Division Chair
John Mitchell (MB-Mitchell Realty Services, Aurora) – Legal & Risk Division Chair
David De Elena (Coldwell Banker Residential Brokerage, Aurora) – Government Affairs Division Chair
Association Representative:
Sarah Thorsteinson (Summit Association of REALTORS®, Dillon) – Association Executive Representative
Ex-Officio
The Colorado Association of REALTORS® is the state's largest real estate trade association that represents more than 26,700 members statewide. The association supports private property rights, equal housing opportunities and is the "Voice of Real Estate" in Colorado. For more information, visit www.ColoradoREALTORS.com.