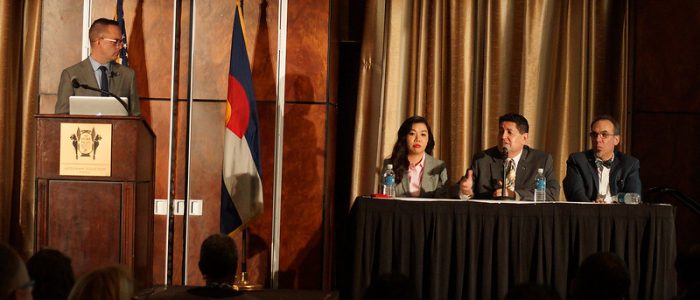 REALTORS consider the barriers to the American dream faced by many Americans
Any of us looking to buy a home in Denver would have to scrape together a down payment and worry about what interest rates will do.
But only some of us might, as Michael Lunden did just a few years ago, have to read an email in which sellers balk at our offer because they don't want a gay couple moving into the neighborhood. Or, as has happened to clients of Derek Camunez, arrive for an appointment to tour a home and be barred entry because of anti-Hispanic bias.
Lunden, who like Camunez is a broker in the Denver area, shared their stories Tuesday at the annual Economic Summit of the Colorado Association of REALTORS® to raise awareness about the barriers to the American dream faced by many Americans. They were joined by Lisa Nguyen, who is Asian-American, and Muriel Williams-Thompson, who is African-American, in urging their colleagues to see their role as advocates for clients.
"It is out there," Camunez said of discrimination. "It is up to us to take note of it and say something when you see it."
Elliot Eisenberg, an economist who spoke at the realtors meeting, said the economy as a whole is held back when some people are denied the chance to build wealth.
"Discrimination really has very high costs," he said. "We harm ourselves in our society when discrimination deprives people of the opportunity to buy the house they want."
To read the full article, please visit the Denverite website by clicking here.