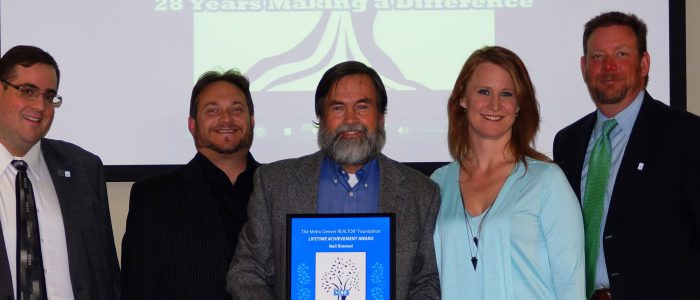 REALTOR® Family Remembers Neil Kimmel
Neil Kimmel, Owner/broker at Metro Brokers-Kimmel and Co and longtime member and leader of the REALTOR® family, passed away this past weekend.
Neil Kimmel has been a valued REALTOR® member of the Colorado Association of REALTORS® since 1976. He was one of the most active members serving on more committees than there is space to note. He served as a CAR Director for multiple three year terms, as President of CARHOF Board of Trustees, an active member of the Colorado REALTOR® Foundation, and was instrumental in establishing the Strum Foundation matching funds program. Neil dedicated a great deal of his time and money to helping those less fortunate in many arenas of life. This was evident in his dedication to CARHOF and the CAR Education Foundation. He was also a great voice for the value of homeownership and REALTOR® values. He was a strong supporter and dedicated fundraiser for RPAC at all levels.

"Great organizations usually have at least one member they can point to who is the conscience of the group," said Mark Trenka, 2017 CAR Chair. "That member is the voice everyone recognizes as the person who draws the group to consider some ways they should go to be just that much better on moral grounds. Since I became a REALTOR® and fully grasped the importance of giving back where we are needed, that voice came from Neil Kimmel."

Neil will greatly be missed by his REALTOR® family. His ideals, willingness to volunteer and professionalism will be remembered with great fondness. Neil's wife, Alanna Kimmel, is also a longtime member of the REALTOR® family and co-founder of Kimmel and Company.
Neil's service will take place on Friday, September 1st at 10am at Most Precious Blood Church, located at 2250 S. Harrison St. Denver, CO 80210.
Contributions in memoriam of Neil may be made payable to Colorado REALTOR® Foundation, 309 Inverness Way South, Englewood, CO 80112. Please designate the gift in remembrance of Neil Kimmel. For your convenience, online contributions may be made via Colorado REALTOR Foundation's website at www.corealtorfoundation.org/donations/.