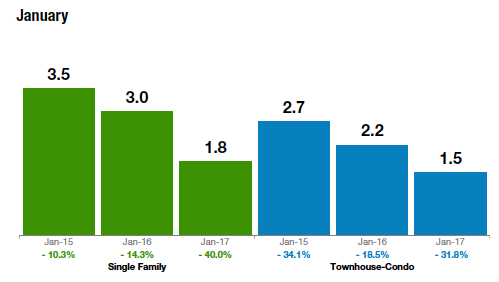 Despite Bump in New Listings, Record Low Inventory Continues to Dominate Colorado's Housing Market Conditions
Key findings from the January research report include:
Record-low inventory still dominates Colorado market
42 percent increase in January 2017 new listings over December 2016
Sold listings down 28 percent in January due to record-low inventory
Active listings remain at historic lows
Denver Metro area has just over one-month inventory supply – less than one month for condos and townhomes
ENGLEWOOD, Colo. – Feb. 10, 2017 – With 7,886 new single family and townhome/condominium listings in January 2017, Colorado's housing market enjoyed an unanticipated bump, according to the latest statewide housing report from the Colorado Association of REALTORS® (CAR).
The 5,877 new single-family listings and nearly 2,000 new townhome/condominium listings represented a nearly 42 percent increase over new listings in December 2016, both of which were at year-long lows. Despite the jump in new listings, strong housing demand and record low inventory helped keep the overall median price of a Colorado home flat in January 2017 at $314,000. Single-family homes across the state held relatively steady with a median sales price of $332,500, up just less than one percent for the month while the median sales price of townhouses/condominiums dipped a little more than 4 percent from its record high median price ($259,900) just a month earlier to $249,000, according to the CAR market trends research.
New Listings: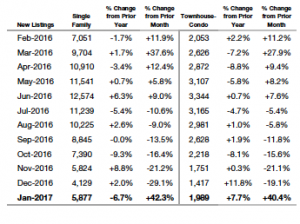 Inventory continues to be the driving factor across the state. There were just under 12,800 active listings for single family homes in January and just over 3,300 active condominium/townhome listings for the month, both representing all-time lows in the CAR market trends research (see chart below).

Overall, there were just over 16,000 homes on the market in January across the state, down nearly 37 percent from a year ago and once again representing one of the lowest monthly active listing totals in recent years. The combination of factors has driven the months supply of inventory for both single-family homes and townhome/condominiums to decade lows as well at 1.8 months and 1.5 months, respectively (see chart below).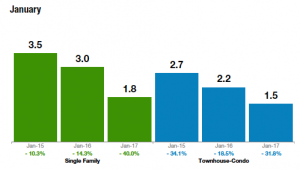 Statewide Inventory Supply
A dip in inventory supply was felt across the state with the Metro Denver Region sitting at just over one-month of inventory (1.1) for single-family homes, and condominium/townhouse inventory below a one-month supply (0.8). While the state's mountain region enjoys the highest inventory supply, 6.4 months, it is still down from 6.6 just a month ago. In the southwest region, where median sales prices increased 5 percent, inventory dipped from 6.9 months supply to 6.2. The northwest region, where median prices also increased 4 percent, inventory supply dipped from 4.1 months to 3.9 months. Inventory in the state's southeast region fell from 1.8 months to 1.5 and, in the northeast region, inventory supply fell from 1.4 to 1.3 months. A market is considered balanced with a 4-7 month supply of inventory.
The overall thin inventory across the state also took its toll on the number of sold listings in January 2017, down nearly 28 percent for both single-family homes and condominiums/townhouses.
Sold Listings Statewide
The limited number of active listings had little impact on the average number of days that for sale homes stay on the market (DOM). The DOM average edged up for single-family homes in January to 62 days, up three days from the prior month and maintaining its highest DOM average since the first quarter of 2016. DOM for condominiums/townhouses stayed steady at 51 days on the market before sale, in line with its Q4 2016 average.
When looking at housing affordability, a measurement based on the relationship between housing prices, prevailing interest rates and local income levels, single family homes took another hit in the month of January while affordability measurements for the state's townhome/condominium market improved with the overall decrease in the median sales price and relatively unchanged inventory supply.
Here are a few quotes about the most recent housing market conditions from Colorado Association of REALTOR® research spokespersons representing local markets across the state:
"In Boulder county, I would say our January is acting more like mid-April with brisk sales and new listings coming on the market sooner than we would typically expect," said Boulder-area REALTOR® Kelly Moye.
"January is off to a big start in the Telluride market with dollar amount of sales up 30% and the number of sales up 17%. The boom from the last quarter of 2016 in the Telluride market seems to be carrying over into 2017. There is a lot of optimism in our market about the Telluride economy and the overall U.S. economy too," said REALTOR® George Harvey from Telluride, Colorado.
"The market in the lower Roaring Fork Valley from Carbondale to New Castle is very brisk. Homes are selling in days and inventory is at an all-time low. Garfield County ended 2016 with a 12 percent increase in the median home price and 17 percent in the average home price. We expect the market to stay active through the summer with new home construction starts leading the way," said Glenwood Springs REALTOR® Erin Bassett.
"Market inventory is still tight, but improving ever so slightly in Larimer and Weld counties. The upper price ranges have a little more flexibility for buyers," said Ft. Collins-REALTOR® Bob Sutton.
OPPORTUNITY TO INCLUDE ADDITIONAL QUOTES FROM OTHER SPOKESPERSONS HERE
The Colorado Association of REALTORS® Monthly Market Statistical Reports are prepared by Showing Time, a leading showing software and market stats service provider to the residential real estate industry, and are based upon data provided by Multiple Listing Services (MLS) in Colorado.  The December 2016 reports represent all MLS-listed residential real estate transactions in the state.  The metrics do not include "For Sale by Owner" transactions or all new construction.
The complete reports cited in this press release, as well as regional reports specific to the Denver Metro, Mountain, Northeast, Northwest, Southeast and Southwest markets are available online at: https://www.coloradorealtors.com/market-trends/
###
CAR/SHOWING TIME RESEARCH METHODOLOGY
The Colorado Association of REALTORS® (CAR) Monthly Market Statistical Reports are prepared by Showing Time, a Minneapolis-based real estate technology company, and are based on data provided by Multiple Listing Services (MLS) in Colorado. These reports represent all MLS-listed residential real estate transactions in the state. The metrics do not include "For Sale by Owner" transactions or all new construction. Showing Time uses its extensive resources and experience to scrub and validate the data before producing these reports.
The benefits of using MLS data (rather than Assessor Data or other sources) are:
Accuracy and Timeliness – MLS data are managed and monitored carefully.
Richness – MLS data can be segmented
Comprehensiveness – No sampling is involved; all transactions are included.
Oversight and Governance – MLS providers are accountable for the integrity of their systems.
Trends and changes are reliable due to the large number of records used in each report.
Late entries and status changes are accounted for as the historic record is updated each quarter.
KEY METRICS GLOSSARY
New Listings –This is a measure of how much new supply is coming onto the market from sellers. For example, Q3 New Listings are those listings with a system list date from July 1 through September 30.
Pending/Under Contract – This is the most real-time measure possible for homebuyer activity, as it measures signed contracts on sales rather than the actual closed sale. As such, it is called a "leading indicator" of buyer demand.
Sold Listings – This measures how many home sales were actually closed to completion during the report period.
Median Sales Price – This is a basic measurement of home values in a market area and basically states that 50 percent of the homes sold were either higher or lower than the Median Sales Price.
Average Sales Price – This is another basic measurement of home values in a market.
Percent of List Price Received – The mathematical calculation of the percent difference from the list price and the sold price for those listings sold in the reported period.
Days on Market – A way to measure how long it is taking homes to sell.
Affordability – Uses median sales price, prevailing interest rates and average income to measure local housing affordability. A higher number is usually interpreted as greater housing affordability.
The Colorado Association of REALTORS® is the state's largest real estate trade association representing more than 23,000 members statewide. The association supports private property rights, equal housing opportunities and is the "Voice of Real Estate" in Colorado. For more information, visit https://www.coloradorealtors.com.