Construction Defects Reform Dies in House Committee
Unfortunately, after a long hearing, SB177 was defeated in the House State Affairs Committee, aka the kill committee, on a party line vote with the Democrats voting no and the Republicans voting yes.
We would like to thank our House sponsors – Rep. Singer and Rep. DelGrosso and our Senate sponsors – Sen. Scheffel and Sen. Ulibarri.  Thanks to each of you and other members that individually called upon their legislators and conveyed the importance of passing the bill.  Thanks also to our many members that responded to our Calls for Action.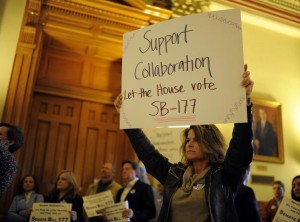 The Homeownership Opportunity Alliance will continue to discuss ways in which we can modify public policy to promote more for-sale, affordable condominium construction.  A few cities – Lakewood, Lone Tree and Parker – have already taken it upon themselves to enact local ordinances similar to SB-177.  As expected if this bill was defeated, many other Metro area municipalities are either currently considering similar ordinances or exploring the possibility of pursuing such.
Renee Zentz, with the Housing and Building Association of Colorado Springs, holds a sign up during a news conference at the statehouse. Metro-area mayors and affordable-housing advocates pushed for a construction-defects reform bill. (John Leyba, The Denver Post)
Committee Vote outlined below:
Foote – No
Humphrey – Yes
Lontine – No
Neville – Yes
Primavera – No
Ryden – No
Salazar – No
Tate – Yes
Thurlow – Yes
Tyler – No
Willett – Yes