E&O Coverage More Important Than You Think
We all know insurance is important. There's a reason we have coverage on our health, homes and lives. We understand why brokers in Colorado are required to carry errors and omissions (E&O) insurance.  The total paid claims against REALTORS® in Colorado annually is well into the millions of dollars. This includes all fees and legal expenses incurred defending claims.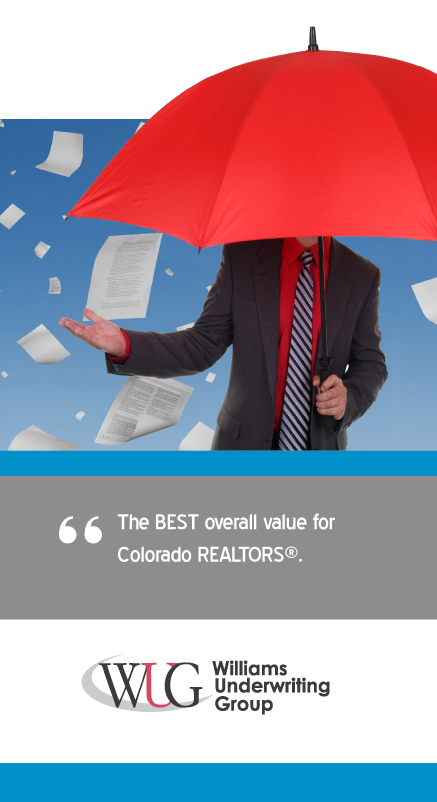 So if E&O insurance is so important, why do so many brokers buy the minimum coverage to protect themselves?  Most of us don't go out and buy the cheapest possible health insurance.  We know that if we ever truly need to use it, we're going to want broad coverage.  E&O insurance should be thought of in the same terms as protecting yourself.

Four years ago, the Colorado Association of REALTORS® teamed up with Williams Underwriting Group to create the Colorado REALTOR® E&O Program. The Williams policy gives you superior coverage and increased limits over the base minimum coverage.  And because you're a CAR member, you automatically qualify for the Additional Coverage Endorsement (a $40 value at no additional charge). This provides you with policy features you wouldn't otherwise have access to without additional premiums, including coverage for sale of owned residential property and higher limits for regulatory complaints.
In addition, the Colorado REALTOR® E&O Program offers individuals up to one million dollars of coverage.  Other competitors don't offer that individual limit in a base policy. This is especially important for clients who work with banks on foreclosures, relocation services, REO listings, or BPO's, where you are frequently required to carry a one million dollar limit.
You may be thinking that you'll just stick with the basic coverage because you've been brokering real estate transactions for many years and you've never had a claim. Claims are much more common than most brokers realize.  The vast majority of claims come from licensees who have never had a previous claim.
Please keep in mind one of the main reasons claims are denied is the allegations made against a licensee are not covered.  You owe it to yourself to have as broad as coverage as possible to limit the possibility of a claim not being covered.  If coverage is denied, you are left to pay legal fees and any settlements or damage awards on your own.  This could have severe financial implications for you.
CAR works on an annual basis with our partners at Williams Underwriting to identify market needs and provide our members affordable access to superior coverage.  The end result is better coverage for your dollar.
Click here for more information on the Colorado REALTOR® E&O Program.
Chris McElroy
Chairman, CAR Business Services, Inc.