2013 CAR Convention Wrap-Up
To quote our Keynote Speaker Bill Rancic, "Improve on a proven strategy."  That was certainly the thought process behind this year's CAR Convention.  Taking the elements from the event that were proven to be successful, we modified and changed where we could to improve the experience of not only our members, but our exhibitors and sponsors as well.
This year's event saw the introduction of a dinner show, coupled with the Inauguration of Jolon Ruch and her Leadership team.  Face, Denver's A-List number one vocal rock band provided the entertainment for a very memorable evening.  With the sold out crowd on its feet, the evening's celebration, hosted by comedian Sam Adams,  was a proper kick off to the next few days.
Monday began with the continuation of the popular Town Hall meetings, this year featuring NAR President Gary Thomas, economic forecaster, Patty Silverstein and DIA visionary, Kim Day.  The vision of today as well as tomorrow was extraordinary.  Monday also saw a new addition to the lineup in the form of the "Power Talks" luncheon.  Four dynamic and diverse speakers from the national speaking circuit each gave the audience an 18 minute teaser on their topic.  After hearing all four speakers, members were allowed to then take a class with the speaker they preferred.  Jared James, Crystal Washington, Jason Pantana and Erika Napoletano provided much information in a short span of time! A dynamic and full range of classes was also offered throughout the day.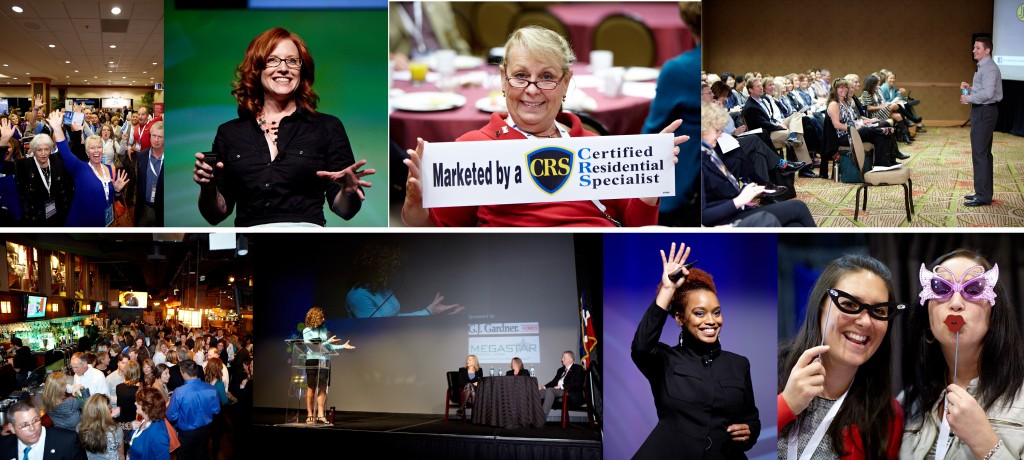 The opening of the Expo hall with a bold new layout, and fresh look brought many members in for a closer look.  We are very thankful to the many sponsors and exhibitors who helped to make the Expo hall a huge success.  The evening was rounded out with the Spirit of Colorado Reception, a beer tasting / food tasting at Rock Bottom Brewery.  Participants networked, danced and all received a commemorative beer pint glass and bottle opener!
YPNers had a strong showing at this year's Convention, and their networking reception on Monday night at Jazz @Jack's was a huge success! CYPN hopes to grow their presence in coming years at Convention with a reception fully incorporated into the registration system for next year's event.
Tuesday saw the addition of another new event, the "Breakfast of Champions" hosted by comedian Robby Wagner.  The breakfast served as an opportunity to fully recognize our outstanding members and the accomplishments and talent they bring to the table.  Tuesday also saw a sold out crowd attend our Keynote luncheon with Bill Rancic, who brought a unique and heartfelt message to all of the attendees.  Mr. Rancic also was part of a meet and greet, where he signed copies of his book, "You're Hired."  Another day of training and education sessions was also available to the attendees.
In short, this year's convention added many new elements, and refined the existing ones, improving upon a proven event.  Looking ahead, we want to continue this trend, and build upon the member experience as much as possible.  Feedback, and ideas are always welcome, as it is through this approach that we can make the experience enjoyable for all.
A huge thank you to our members, sponsors and exhibitors, as well as CAR Leadership for pointing us in the right direction!  I hope that your experience at this year's "Power Up and Connect" convention was time well spent.
DEREK CAMUNEZ | CO. Assoc. of Realtors® 2013 Conv. Chair